By Sumit Roy
Natural gas fell close to 2% to last trade near $3.60/mmbtu after the Energy Information Administration reported that operators injected 82 billion cubic feet into storage, in line with most analyst estimates. The injection was above last year's build of 32 bcf, and above the five-year average build of 72 bcf.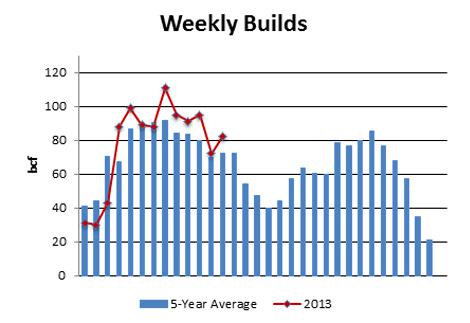 In turn, inventories now stand at 2,687 bcf, which is 448 bcf below the year-ago level and 15 bcf below the five-year average (calculated using a slightly different methodology than the EIA).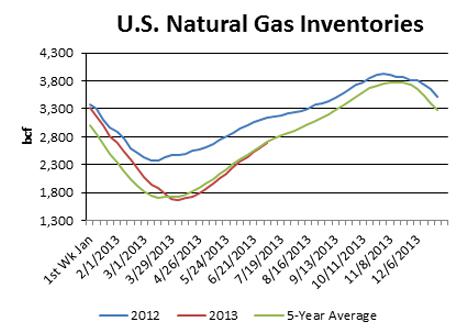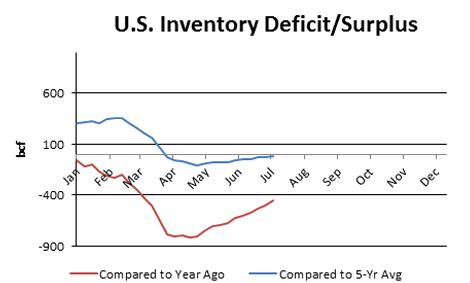 The weather last week was close seasonal norms, but much cooler than last year. The Edison Electric Institute said that utilities generated 81,804 GWh in the week ending July 6, which was 12.1% below the same week a year ago.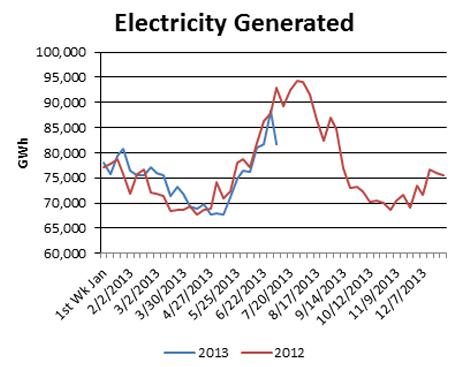 Looking forward, the NOAA's six- to 10-day outlook calls for warmer-than-normal temperatures across the West Coast, Midwest, and Northeast, but cooler-than-normal temperatures across much of the South.
NOAA Six- to 10-Day Outlook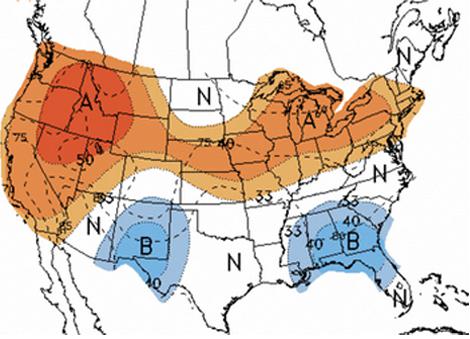 Meanwhile, the number of rigs drilling for natural gas in the U.S. rose by two to 355 last week, up from recent 18-year lows, according to Baker Hughes.
Natural Gas Rig Count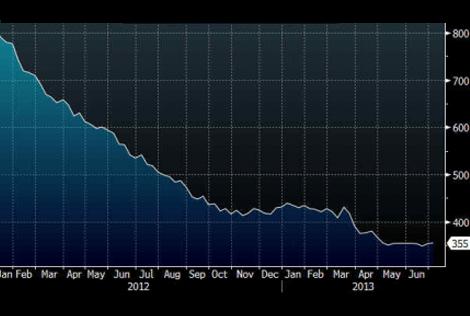 Natural Gas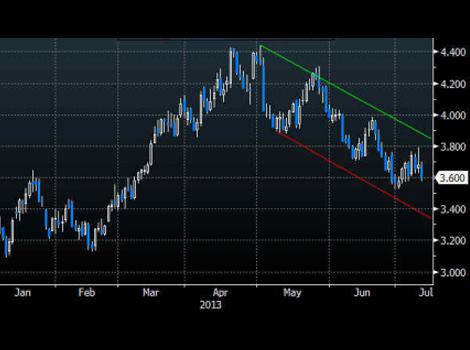 Bottom line: The latest inventory data from the EIA were bearish as the deficit vs. the five-year average fell from 25 bcf to 15 bcf. The deficit continues erode slowly but surely, and inventories are expected to swing into a surplus later this month. The weather last week was close to seasonal norms, thus the reported 82 bcf injection -- 10 bcf above the five-year average -- indicates the market was roughly 1.5 bcf/d looser than normal. Combined with a relatively normal summer thus far, we do not see any significant upside catalysts for natural gas on the horizon. As storage returns into surplus territory, prices may continue to drift toward the low-$3s in the coming months before rebounding ahead of the winter heating season.