Xinyuan Real Estate (NYSE:XIN) has been growing its book value steadily and consistently for 16 consecutive quarters. It pays quarterly dividends and does share buybacks. It is conservatively managed and has built a strong balance sheet. It trades at 1.87x P/E and 0.36x P/B. The current share price of $4.16 is about 68% of its unencumbered cash on the balance sheet.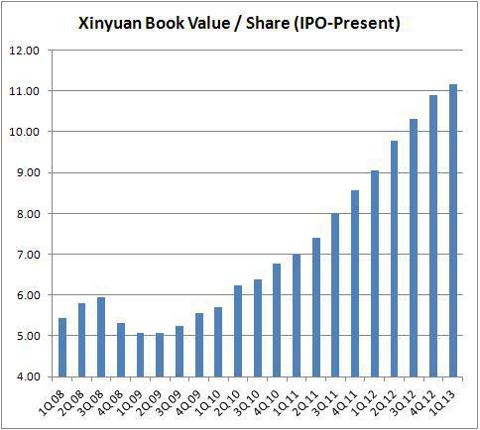 Xinyuan had a difficult 2008. It took on too many projects and had little cash. Its average home sale price went down by 15% in 2008. Over the following 4.5 years, the company has transitioned from a high-growth company (sales grew at an annualized rate of 107% from 2003 through 2007) to a steadily growing business with a strong balance sheet and consistent profits. Similar to Apple (NASDAQ:AAPL) after its difficult early 2000s, Xinyuan learned its lesson and has been cautious. It has not launched a sale/presale of a large new project over the past 7 quarters (except for a small expansion project Zhengzhou Century East A). Over the years, Xinyuan quietly re-built its balance sheet and reinvented itself into a safe haven for a storm. Below is a chart showing its cash balance.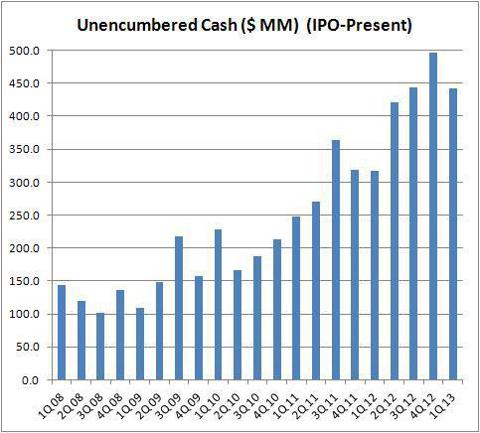 At the end of 1Q the company had $6.12/share of cash, not including restricted cash + deposits + prepayments totaling another $5.67/share. So the total cash is $11.79 per share. Last year Xinyuan's net earnings were $2.17 per share. The current stock price of $4.16 implies a 1.9x P/E. The company is undervalued compared to its peers. Its Beijing Daxing project, which will be launched in September 2013, is worth twice of the company's current market cap. And Xinyuan has 15 other projects.
The company's sales and profits will get a major boost starting in 3Q 2013. In the second half of 2013 and 1Q 2014, Xinyuan plans to start the presale of 5 new projects, including its 216-unit high-end condo project in Williamsburg, Brooklyn (designed by architects WASA/Studio A; marketed by the same team that handled the Time Warner building) and the company's flagship Beijing Daxing Xinduhui project (estimated $600 million value, to be launched in September). A total of 600K square meters ("SM") of gross floor area ("GFA") are planned to be unleashed. On the surface, those just more than double the existing 400K SM available GFA. Well it's much more - compared to those existing 400K SM GFA in Zhengzhou (selling at RMB 9,100/SM) and Jinan (RMB 8,800/SM), the new additions are in Williamsburg, New York City (around RMB 60,000/SM) and Beijing (may exceed RMB 30,000/SM). The company is entering a new stage of rapid growth and starts to deliver in top-tier locations. Its geographical diversification also deserves higher multiples.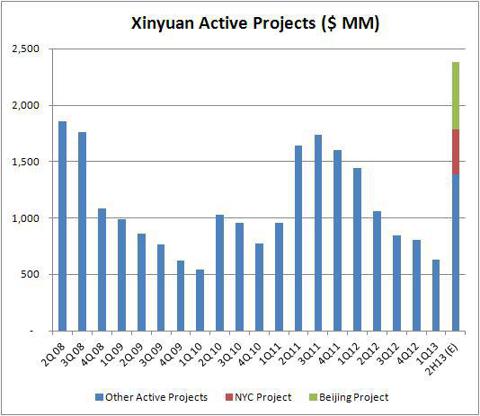 The real estate market goes up and down. It can be hot in some years; it is cold in some other. Xinyuan has maintained its annual revenue growth for 10 consecutive years.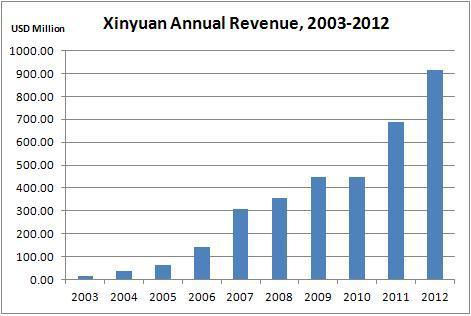 Current Market Condition
The Beijing market is warm/hot. Average home prices in June went up by 1.6% from May. The Brooklyn market is hot (bidding wars and all-cash offers). Transaction volumes in both markets have been robust.
History - After a Difficult 2008, Pioneer Learned a Lesson
Xinyuan is the first Chinese real estate developer to be listed on the New York Stock Exchange. Sam Zell of Equity International and John Griffin of Blue Ridge Capital were early backers. From 2003 through 2007, the company's revenue grew at more than 74% every year. The company went IPO in December 2007. The stock finished its first day of trading at $16.8, implying a 24.9x P/E and 2.49x P/B. Not excessively priced it seemed. Everything seemed rosy; future looked very promising. What could possibly go wrong?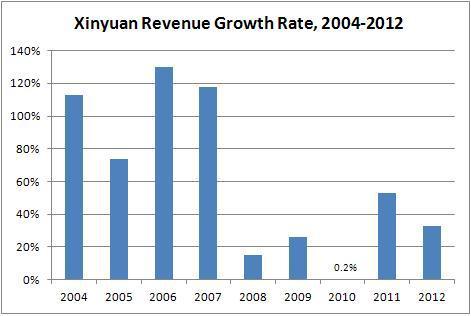 Below is a chart showing Xinyuan's diluted EPS from 2003 through 2012 (shares were private prior to 2008).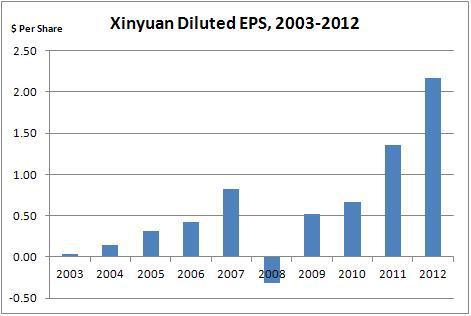 In 2Q 2008, the company had 1,796K SM of active projects and only $217 million of cash (including restricted cash). The company bit off more than it could chew. By comparison, in 1Q 2013, Xinyuan has 425K SM of active projects and $777 million of total cash (including restricted cash etc.), and the debt level is not significantly higher. As Xinyuan entered 2008 with that vulnerable over-stretched and over-leveraged position, market turned, as the global financial crisis caused homebuyers around the world to pause and retreat. The average sale price of Xinyuan's homes went down from RMB 6,300/SM in 2Q 2008 to RMB 5,343/SM in 2Q 2009. Sales volume shrank. In 2008 Xinyuan took an impairment charge, which caused a $0.32 per share loss in 2008. Investors fled, and P/E and P/B ratios plummeted.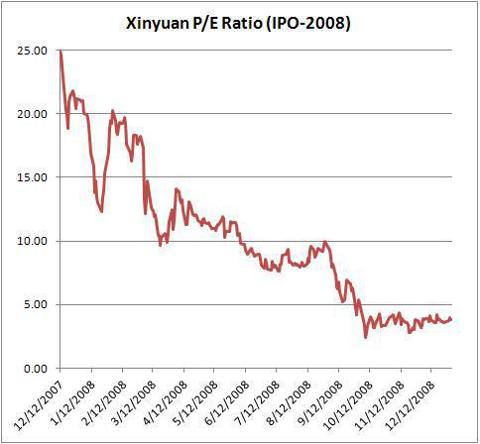 In April 2010 the government issued circular on housing policy and carried out a series of policies to restrain speculation and to cool the housing market. The effect of those administrative policies was significant and mortgage-lending activities were suspended in the markets that Xinyuan operates as local banks sought guidance. Having learned its lesson in 2008, Xinyuan had ample liquidity and delivered good results under low volume and went through the market downturn unscathed. Nevertheless, amid investor concerns about the Chinese real estate market uncertainty, Xinyuan's stock price and multiples fell, and have not recovered since.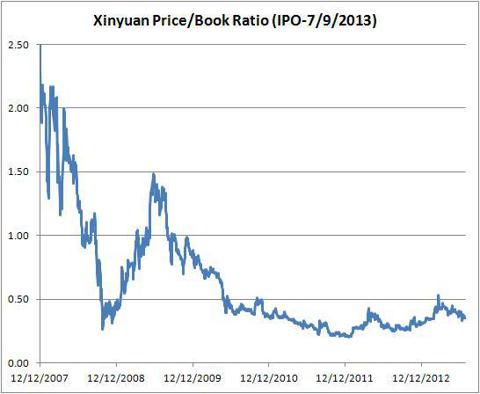 Sudden policy changes created a hostile environment for Chinese homebuilders. And Xinyuan learned to survive and prosper in such an environment. This presents an upside case. If Xinyuan can stay nimble and maintain profit margin under competitive and up-and-down markets, it could improve its profitability significantly as it grows in size and when the market is less hostile. One example is Tesla (NASDAQ:TSLA). As the doubters piled on, Tesla entered the market with razor-thin operating margin. However as it stays efficient and nimble and survived the difficult and competitive environment, its growth started to gain momentum.
Although Xinyuan's profitability and book value growth have been consistent for over 4 years, investors have not yet forgiven. Hell hath no fury like investors scorned.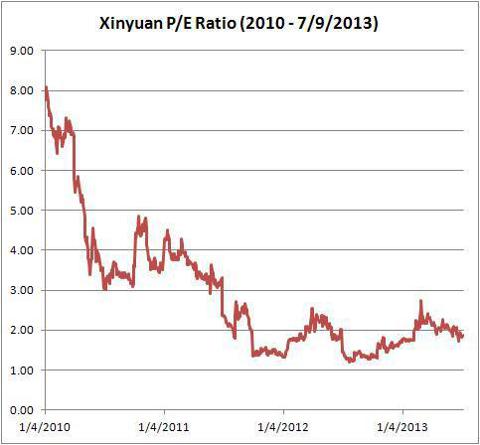 By comparison, U.S. homebuilders like Toll Brothers (NYSE:TOL) and KB Home (NYSE:KBH) have price/book ratios that are above 1.0x even in the most abysmal years. In the boom years, homebuilders fetch 3.0x price/book ratios. Perhaps a high homebuilder price/book ratios may also indicate a housing bubble.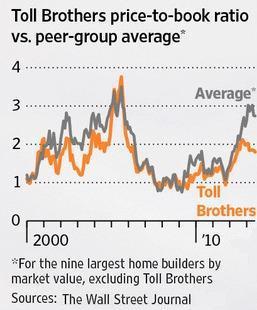 And for Chinese homebuilders, the average price/book ratio is currently around 1.4x, which is below the long-term average of 1.9x.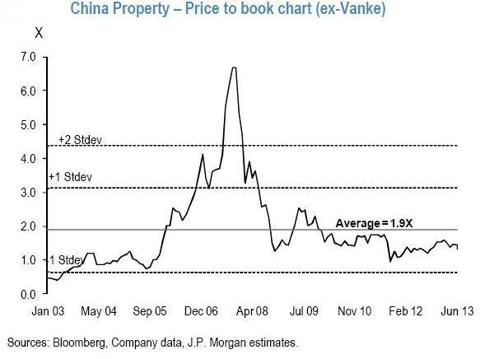 Overall, Chinese homebuilder stocks are cheaply priced from a historical perspective, as investors are pessimistic about the future and demand high-risk premiums. And Xinyuan is cheaper compared to its cheap peers.
Is It Real? Yes
After all the Chinese company bear raids by short sellers in 2010 and 2011, Xinyuan survived all the scrutiny. As a real estate developer, all of its projects are out there in the public, and transaction sales and prices are reported as public information. It deals with local governments to secure land and obtain permits. Its land and development sites sit in Brooklyn and Beijing and Zhengzhou etc. and wait for people to audit and admire. Every one of its apartments and houses are available for viewing by any potential buyers. Xinyuan is as safe and real as the houses and apartments it builds.
For 8 years in a row Xinyuan was ranked among the China Top 100 Real Estate Developers. In 2013 it was ranked 39th. Similarly ranked developers all have much larger market caps (mostly listed in Hong Kong and mainland) despite lower or no growth and lower profits.
The real estate projects are real and the downside is limited. The upside is not. One example: China HGS Real Estate (NASDAQ:HGSH) went up from $0.25 to $12.00 in less than 7 months earlier this year, and was trading at 37.5x P/E in April. It represents a 4700% return in less than 7 months. At 37.5x P/E, Xinyuan will be over $83.20 per share. Going back to December 12, 2007, when shareholders still loved Xinyuan, Xinyuan finished its first day of trading with a P/E of 23.5x. Right now it's 1.9x. How love fades away fast.
Chinese Economy
At current multiples, Xinyuan investors have priced in multiple apocalypses. This topic alone may deserve a separate article. In short, the Chinese economy is going through slow growth and deleveraging. Investors around the world are fearful. The June liquidity squeeze was caused by the People's Bank of China ("PBOC") tightening credit. The idea is that, credit grows too fast, and it needs to be controlled. The real economy is not growing that fast. Consider the Chinese economy as an overweight man. The Chinese government and PBOC have decided that, let's not wait for the fat man to go obese and get a heart attack. Let's get him on a diet and go through extraneous exercises before it's too late. Diet and exercises are never pleasant. It's painful and causes panic. But it's better early than late, and being healthy is good. The transition means slower growth but it ultimately primes the economy for less volatile and longer-lasting expansions.
China's deleveraging is chronic and not acute. China won't face a "Lehman" moment, but will need to spend many years solving the issues from excess credit and over-investment after stimulus packages including the $652 billion stimulus in 2008. Credit growth will need to be reduced to single-digits for many years, compared to the 23% annual increases since 2008.
One important ratio is the public debt/GDP ratio. According to CIA, the 2012 Japanese public debt/GDP ratio is 214.3%. In United Kingdom it's 88.7%. In United States it's 73.6%. And in China, it's 31.7%.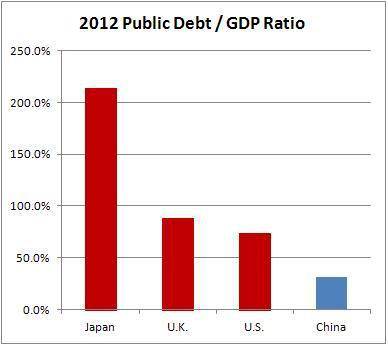 It means that for China, there is ample fiscal firepower left to recapitalize the banks if needed. The bad-loan ratios in the banking system are currently around 1%, although many bears assume they would go up. If they go up, they can be resolved by being brought onto the public balance sheet.
In the U.S., the last time the debt/GDP ratio was in the 30% range was around 1982 - 1984. People back then were bearish on the economy and inflation was rampant and outlook seemed so gloomy. We all know how the U.S. economy and stock market performed over the following 20 years.
In 1997, the entire Asia was in turmoil. Systemic bank failures and disruptive bankruptcies and currency crisis have engulfed almost every country, except China. With all the bears around the world looking at China, it stood there and took the punches. Unlike the rest of Asia, China has excess domestic savings, $3.5 trillion in foreign exchange reserves and no mismatch between the long-term domestic assets and short-term foreign liabilities of its banks.
China is still relatively a young economy, unencumbered by excess public debt like the developed countries have accumulated over the decades. It may be an overweight man, but he is young. As a result, China can afford to indulge in occasional credit binge and not get hammered too badly the morning after. After maybe 15 years, around 2030, I expect the situation to be different and with the public debt/GDP ratio at a higher level around 80% - 100% or higher (like today's U.K. and U.S.), a credit binge could cause serious trouble for the economy and the government may lack the firepower to resolve it. Let's be very worried, in 2030.
The China liquidity workout that started in June has ended in early July, as expected. Xinyuan does not use trust financing for its projects. It uses loan financing from major government-owned banks. The June liquidity workout had almost no impact on the company.
Chinese Real Estate Market
After the 2008 U.S. housing bubble, people around the world are more or less experts on housing bubbles. Xinyuan went through a 15% sale price drop in 2008, when it had little liquidity. With a much stronger balance sheet today, it can survive a much bigger drop, if there is one. And contrary to common belief, there will unlikely be a material home price reduction in China.
The central bank of the world's second largest economy, PBOC, is more powerful than the Fed in the U.S. It can inject liquidity when it sees fit without needing to worry about dramatic congressional hearings and public outcry - the public does not even know its actions. PBOC has been facing the task of trying to balance the need to support a slowing economy against curbing housing inflation. Home prices in China grew at a relatively fast pace every month in 1H 2013 (ka-ching for Xinyuan), making it difficult for policymakers to loosen monetary policy in a bid to boost growth.
The housing market is determined by supply and demand. Why is the demand so strong? Currently Chinese household formation far exceeds housing inventory on sale, and that is not likely to change any time soon. The speculators have been heavily restrained and mortgage financing curtailed. The Chinese culture values two things: family and education. The laws are landlord-friendly to an extreme (unlike in the U.S.) and the landlords can freely evict tenants. To get married, to start a family, owning real estate properties is almost a must for young bachelors. A home is the ultimate luxury product. And there is overwhelming social pressure to start a family. For education, private schools and international schools are very rare, and their qualities are poor. To get children into good schools, owning a home in the good school districts is mandatory. Every Chinese family can only have one child (or maybe two with the new policy, provided the father and mother are both from single-child families). How much would you pay for the education and future of your only child?
The Chinese home prices are high, but not absurd. The net capitalization rates in Beijing and Shanghai are currently around 2% - 3%. In New York City, the cap rates are 3% - 4%. The rents in Chinese cities grow at a faster rate than in NYC (while the absolute amounts are still lower than those of major cities around the world). So the cap rates should be lower given that it's expected to increase as the rents go up and approach those of international peers.
The Chinese government is applying all tools to cool the housing market by pulling down the demand. On the other hand, if the housing market becomes too cold, the government will have many tools in hand to fire up the home prices and stimulate the economy. And PBOC, with all the power it has, is standing by and ready to act. As a central bank, its primary, and perhaps only constraint, is inflation rate. The inflation rate in China is subdued at 2.7%, and PBOC is free to do what it wants.
Who are represented in the Chinese government? The rich. And they own a lot of real estate. The net worth of the 70 richest delegates in China's National People's Congress rose to 565.8 billion yuan ($89.8 billion) in 2011, a gain of $11.5 billion from 2010. The annual gain alone was more than the combined net worth of all 535 members of the U.S. Congress, the president and his Cabinet, and the nine Supreme Court justices. So the U.S. is managed by (relatively) middle class and poor people who represent the middle class and the poor. They focus on health insurance reform for the poor and social security and loudly condemn the rich. In China, with every wealthy individual having a (loud) voice in the government, and their wealth heavily tied to the real estate market, if the real estate market ever shows a little fragility, the government will not sit on its hands and do nothing.
The local governments depend heavily on the real estate market too. By law, the state (province) and local governments cannot collect state/local taxes. Their primary revenue comes from land sales. In 1H 2013, land sales comprise of 30.33% of Beijing's city public revenue, 32.28% of Shanghai's public revenue, and 74.90% of Guangzhou's public revenue. Land prices inevitably went up in 1H 2013. The state and local governments have a vested interest in supporting the growing real estate prices, as long as the growth is not out of control.
In all, the China housing market is stable and growing. Xinyuan investors have priced in multiple apocalypses, which will not come. The all-powerful Chinese government and PBOC are watching the real estate sector closely and pulling it back as it moves too fast, but ready to push it forward if it moves too slow. It's like a new father helping his young daughter riding a bicycle. Xinyuan will thrive in this market. And even in the unlikely case that the new father fails (in spite of the god-like power that he has) and the market turns, no matter how briefly, Xinyuan is well positioned to use its fortress balance sheet to seize the opportunities that the market movement may present. In late June, Xinyuan submitted bids in several land auctions in Beijing and Suzhou, including the Beijing Xiajiahutong land auction and Suzhou 2013-G-40 land auction. Xinyuan was outbid in all those auctions as the market was not cool enough.
Bond Issuance
Xinyuan issued $200 million of senior unsecured bond in April 2013 that matures in 2018. And in late June the U.S. central bank announced its plan to phase out its quantitative easing and the China central bank allowed key interest rates to rise when faced with the hot housing market in China. The world bond markets were roiled. Kudos to Xinyuan management for timing the market so well and further fortifying its balance sheet when the moment was right.
The 13.25% coupon rate does not appear to be too high in the sector, given the credit rating and it being a first-time issuance.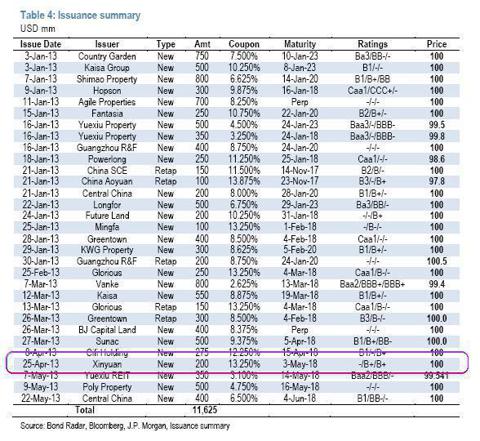 The bond retires the 15.6% Fosum note with an all-in cost (including warrants) of about 20%. In April 2010, Xinyuan issued the $40 million 3-year senior secured note to Forum Asian Realty Income II, L.P. This new cheaper debt will improve Xinyuan's financials and increase the company's profitability.
Although bondholders secured a 13.25% annual return through 2018, equity investors will realize much higher returns through 2018.
Fitch rated Xinyuan B+ for its bond offering. Fitch highlighted that Xinyuan's high proportion of land cost versus its selling price kept the profit margin relatively low. Land cost has been 20%-30% of Xinyuan's property selling prices. This is compared with less than 20% for most Chinese homebuilders. However, this represents a potential upside - if Xinyuan increases its scale (which it is doing steadily) and tweaks its fast turnover business model (which it is doing too) and sells more slowly thus allowing for land price appreciation, its margin would improve and it can generate more profits, further leveraging its growing sales. The company's 2012 contracted sales/total debt ratio of 2.7x was the highest among all Fitch-rated Chinese homebuilders. In other words, Xinyuan is the safest homebuilder in China and has the strongest balance sheet.
Recapitalization Potential
Theoretically, Xinyuan can lever itself and issue a $300 million bond and use the proceeds just to pay a $4.15 per share dividend, so shareholders can recoup their investment on day one. Alternatively Xinyuan can use the proceeds to buy back all of the outstanding shares. Xinyuan has kept a consistent dividend program and a share repurchase program. Although, issuing dividends and doing share buyback does not make sense from an economic perspective. Done right, with proper leverage, real estate development is one of the most profitable businesses on earth. Some NYC development projects can deliver 30% - 50% levered IRRs. When every dollar of Xinyuan's cash has the potential of earning 30% - 50%, paying them out as dividends and spending them on share buyback is a very expensive way to tell the shareholders "Yes we care about you."
Policy Risks
There are policy risks. The Chinese real estate market is heavily influenced by the government and Xinyuan has been navigating in that kind of on-and-off environment for over a decade.
Around October, the all-important Third Plenary Session of the 18th CPC Central Committee will be held in Beijing and it is widely expected that the financial markets and real estate market will be stable during the political sensitive period.
One potential way to hedge against policy risks and general market risks, is perhaps to short the other Chinese homebuilders with much higher multiples. They are mostly listed on the Hong Kong Stock Exchange.
The Jet Plane
Xinyuan leased a Gulfstream G450 jet. This caused furor and anger and shareholders launched a media campaign in China and threatened lawsuits accusing the management for being greedy and excessive. The management stated that it was an investment, which would create shareholder value. Xinyuan is switching its strategy toward high-end real estate developments. Obviously, using a jet plane to sell RMB 9,000/SM Zhengzhou apartments would seem excessive. However, projects like the Williamsburg development in New York City do require higher quality client service and management presence. Here is a short Chinese documentary about how Xinyuan did its NYC project. Xinyuan also bought about 300 acres of land in Reno, Nevada at a distressed price, and then sold the site with significant profits. It bought a portfolio of finished condominiums in California and two thirds of them have been sold for a tidy profit. With its increasingly global operation, the G450 does not seem to be too over-the-top. Shareholders still have the mindset that this is a tiny company operating on a shoestring budget. While the depressed stock price may create such a confusion, by 1Q 2014, Xinyuan will have over $2 billion worth of real estate projects under development and for sale, not counting its current potential land acquisitions in Beijing and Suzhou. Its annual sales and revenue will both exceed $1 billion. Spending $1.2 million a quarter on leasing a G450 does not seem too extravagant. It saves transportation costs and management's time, and according local real estate experts, is crucial in closing sales of the company's high-end condos.
Summary / Volleyball
Xinyuan is currently trading at 1.9x P/E. The company earned $2.22 per share over the previous 4 quarters. Starting in 3Q 2013 the company will enter a "hyperdrive" mode and fire on all cylinders. The Chinese housing market is stable and growing (they say don't fight the Fed, and please don't try PBOC and the Chinese government). Xinyuan has maintained a book value year-over-year growth rate of above 18% for 12 consecutive quarters.
Xinyuan is the official sponsor of the Henan Women's Volleyball Team, which is in the Chinese Women's Volleyball League (A Group). Once a week every season, over 105 million people in Henan can tune in to the sports channel and scream "Xinyuan" and root for the name and the team. Perhaps shareholders just need a little patience, a little passion, and a little confidence in Xinyuan like they do.
Disclosure: I have no positions in any stocks mentioned, but may initiate a long position in XIN over the next 72 hours. I wrote this article myself, and it expresses my own opinions. I am not receiving compensation for it. I have no business relationship with any company whose stock is mentioned in this article.