NorthWestern Corp (NYSE:NWE) is one of the largest providers of electricity and natural gas in the Upper Midwest and Northwest, serving approximately 673,200 customers in Montana, South Dakota and Nebraska. The company earns 84% of its revenue from Montana, 14% from South Dakota and 2% from Nebraska. Actually, 78% of its service consists of electrical utility service and the remaining 22% falls with natural gas. The utility company makes a bullish case for investment due to its performance over the past 5 years. Moreover, a state law that requires 15% of a utility company's energy supply to come from renewable energy by 2015 have made things very interesting.
In April 2013 it was reported that NWE is trying to restrict any new power it has to buy from small and independent wind power projects in Montana because it relies primarily of coal for power generation. These reports have been quashed by the company's launch of its first wind farm, the Spion Kop. The 25-turbine wind farm produces 40 MW, with each turbine powerful enough to supply 400 to 600 homes, depending on the size and electricity usage of the houses. When the state law regarding 15% power from renewable energy was passed, it was a burden on utility companies. But research by Energy Innovation indicates that this step might result in a complete change in the energy mix for utility companies.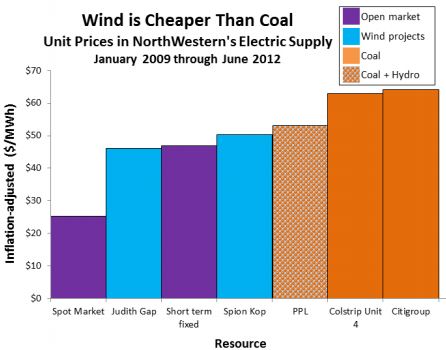 Spion Kop and the much larger Judith Gap wind farms are providing energy at a lower cost than coal powered plants in Montana. The prices depicted on the graph are based on inflation-adjusted project costs and actual megawatt-hours delivered. The spot market and short-term fixed represent contract prices for electricity bought up to 1.5 years ahead of time and an hour ahead of time, respectively. Wind power usually has a near-zero marginal production cost since it has minimal operational costs that have already been built in. Furthermore, this can also allow the additional wind on the system to lower the spot market prices at a time when supply outstrips demand. NorthWestern Corp is obviously aware of this price differential. The company's CEO suggested that plans for the future incorporate the effect of greenhouse gases that will eventually be facing federal restrictions. Seeing how this provides the perfect timing for investors to tap into this utility company, let's take a look at the company's fundamentals and stock performance.
Tracking Financials
For the past 5 years, NWE's revenue has either been marginally decreasing or stagnant. Its operating margin, on the other hand, has moved from 13.5% to 16.6% in the course of these 5 years. This has understandably caused the EPS to show consistent growth, resulting in a 50% increase in its value from 2008. On the cash flow front, NWE has seen a return to a positive cash flow for the last two years - a trend which was underscored by a strong positive net cash flow in Q1 2013.
In order to provide a subjective perspective to the company's finances, I've added NextEra Energy Inc (NYSE:NEE) and Dominion Resource (NYSE:D) to the review. This comparison will be a better indicator of the company's financial standing.
Indicator

Market Cap

$1.6 bil

$34.7 bil

$33.2 bil

Price/Earnings ttm

14.6

19.9

105.3

Price/Book

1.6

2.1

3.1

Net Income Growth (3 Yr Avg.)

10.3

5.8

-38.3

Revenue Growth

(3 Yr Avg.)

-2.1

-3.1

-4.0

Dividend Yield, %

3.64%

3.09%

3.80%

Return on Equity

11.2

11.0

2.7

Current Price

$41.13

$81.18

$57.12
Data from Morningstar on July 11, 2013
Valued in small-cap territory, NWE's net income growth has superseded its competitors over the last three years, while the declining revenue seems to be an industrial phenomenon. The industry average P/E stands at 28.6 and NWE is also the most undervalued stock of the three at $41.13. Furthermore, despite having a market cap of $1.6 billion, NorthWestern has not only been able to keep up with its much larger competitors but is fighting above its weight class because of the 3.64% yield.
Stock Performance
Gauging from the company's official releases and presentations, NWE aims to maintain a payout ratio of 60-70%. Its current TTM payout ratio stands at 53% and I expect it to grow for the remaining part of the year. Seeing how the company continues to show strong results in its margins and income, a dividend hike may well be on the way. Moving on, the graphs below illustrate the company's performance on the NYSE for the past 5 years and 12 months. Competitors mentioned in the previous section are also listed, in addition to the S&P 500 and the Dow Jones Industrial Average.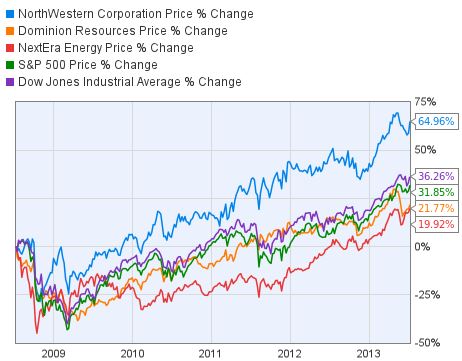 The company's financial supremacy continues on the stock market as well. NWE has consistently outperformed not only the competition but also the market averages. Interesting enough, the company was also the least affected by the 2009-2010 demand slump primarily because 83% of its utility customers are residential consumers. The stock has been rallying strong, especially in 2013. NWE's 52-week range is from $32.98 to $43.17, while its beta value stands at 0.68.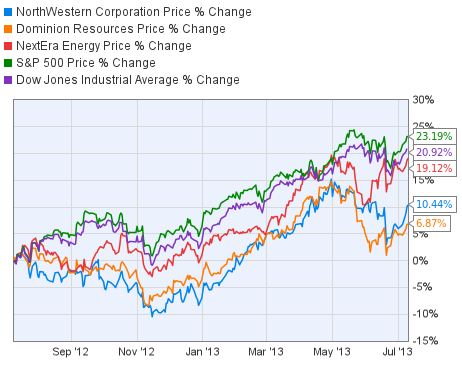 Over the past 12 months, however, NWE's stock has struggled and underperformed compared to the market due to the prevailing limitations of the industry. This is underscored by the underperforming nature of the company's competitors. Keeping in mind the company's proven potential and plans for the future, this undervalued stock looks to be a great opportunity.
Make or Break for Investors
On the national level, the Energy Information Administration's (NYSEMKT:EIA) 2012 National Energy Outlook predicts an increase in the percentage of renewable energy generation in the U.S. The EIA also predicts a percentage decrease in the electricity produced by coal powered plants due to a 1.4% increase in mine-mouth costs as coal companies have to move into reserves that are more costly to mine. NWE is expected to stick with coal-fired power plants for the short-term, but the increasingly apparent feasibility of wind farms in Montana is expected to force the company to supply more of its power from wind power. Until now, the company has justified its use of gas and coal power for electricity generation because of the requirement for diversification of assets. With wind farms making more economic sense, I believe that the company's energy mix will soon tip toward wind power.
Bottom Line
NorthWestern Corp has solid financials and stock performance to back it up. Its current price dip does not only make it undervalued, but it also provides a very favorable buy-in point with sustainable long-term growth prospects. With wind farms on the horizon, Northwestern is a solid buy.
Disclosure: I have no positions in any stocks mentioned, and no plans to initiate any positions within the next 72 hours. I wrote this article myself, and it expresses my own opinions. I am not receiving compensation for it (other than from Seeking Alpha). I have no business relationship with any company whose stock is mentioned in this article.