Yellow Media (OTC:YLWDF) is a Montreal-based holding of leading digital advertising and marketing solutions companies. Yellow Media has the largest, most comprehensive database of businesses in Canada.
With offices coast to coast, Yellow Media employs over 2,800 people. As recently as 2011, Yellow Media was Canada's largest Internet company according to techcrunch.com.
You can buy this digital business today at an EV/EBITDA multiple of 5.7x. Download my worksheet here and let's do some math.
The Quick Pitch - Cheap and Getting Cheaper By The Year!
This digital business has an EBITDA run rate of $43M/Quarter. This is $172M/Year.

Yellow Media's net debt at the end of Q2 is $672M.

There are 28M common shares outstanding.

The price per common share is $11.20.

For the digital business alone:

EV/EBITDA = [(28*$11.20) + $672M]/$172M = 5.7x

It gets better. In 1 year's time you get the digital business for:

EV/EBITDA = [(28*$11.20) + $418M]/$192M = 3.8x
Still don't believe you should own it? Maybe you could use some context. Here are the top three reasons you should buy.
Reason No. 1 You Should Buy
On an absolute basis it is undervalued. If you employ a DCF Analysis and use a 10% WACC and assume that the business is not growing, you find that the EV/EBITDA should trade at 10.3x.

Reason No. 2 You Should Buy
Other digital growth businesses trade at a higher multiple.
RLOC - Reach Local 28.2x
OMC - Omnicom 8.88x
IPG - Interpublic 8.88x
GOOG - Google 14.83x
Reason No. 3 You Should Buy
Struggling print businesses trade at a higher multiple.
LEE - Lee Enterprises 6.53x
GCI - Gannett 6.48x
WPO - Washington Post 6.20x
NYT - The New York Times Company 6.66x
I encourage you to take a look at the Operational Key Performance Indicators below before you buy to get a feel for the highly recurring nature of this business. But, before you do, I didn't even mention that by buying Yellow Media at this valuation you get a business that is presently producing $290M/Year of EBITDA for free. How do you like them apples?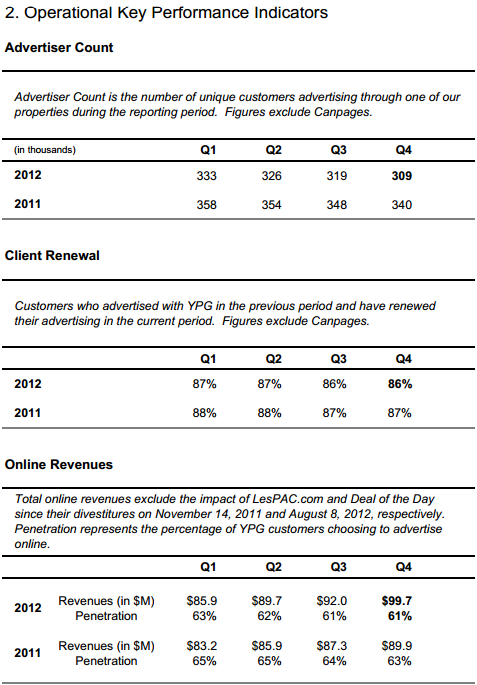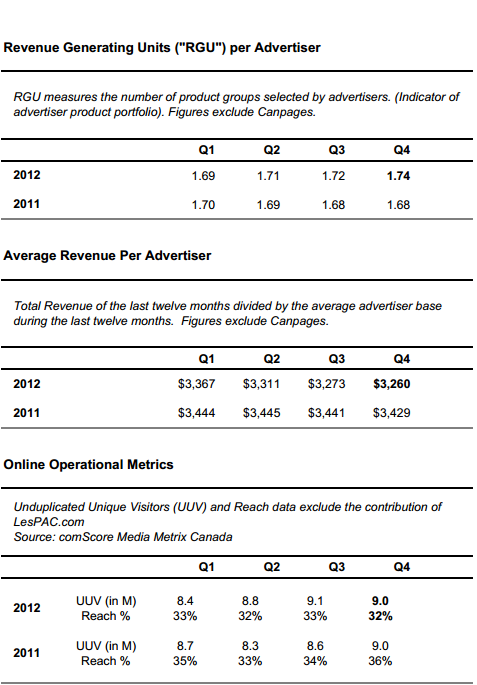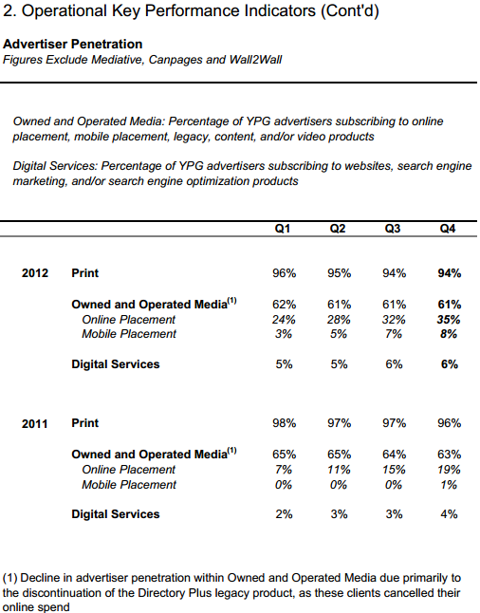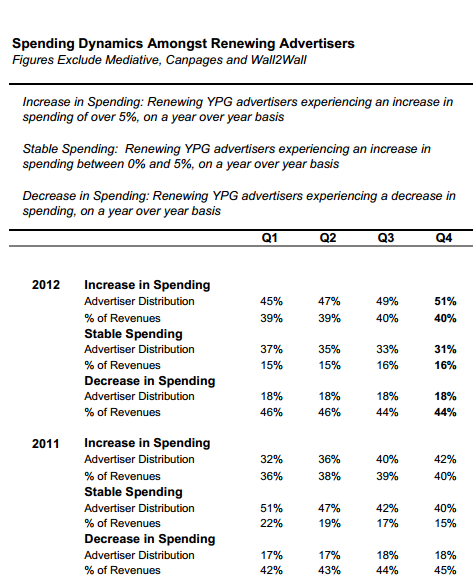 Disclosure: I am long OTC:YLWDF. I wrote this article myself, and it expresses my own opinions. I am not receiving compensation for it (other than from Seeking Alpha). I have no business relationship with any company whose stock is mentioned in this article. I own the stock and the warrants of yellow media.