Back in late April, I illustrated the poor performing environment of the precious metals sector and predicted a continued decline in bullion prices. I pointed to three leading factors, which has an adverse effect on bullion prices including: (1) the market fearing an end to the QE program; (2) an economic slowdown in China; and (3) India's continued economic deceleration.
Recent events that took place suggests a rise in bullion prices (in particular silver) is just around the corner.
1. Bernanke signaling no early end to QE
Yesterday at the FOMC meeting, Ben Bernanke indicated that the Fed will keep its money printing presses ramped up for the next little while, stating that "highly accommodative monetary policy for the foreseeable future is what's needed for the U.S. economy." Global equity and commodities markets rallied following Bernanke's seemingly dovish comments about the QE program.
Why is this significant?
An end to the Fed's QE program means that the rate of U.S. inflation will likely fall, meaning investors have less incentives to hold precious metals (both gold and silver but particularly gold) in order to avoid a corresponding decline in the value of cash investments.
Why the Fed can't and won't end the QE program
The U.S. economic recovery is so weak and the global economic condition is the worse we've seen in a long time (especially in the EU).
Over the past year, more than 2 trillion USD in AAA bonds were issued around the world in order to stabilize the global economy. So if central bankers stop doing that (i.e. end the QE program) the bond markets will crash and mayhem will rip throughout the global financial markets. As long as QE continues, the fear of inflation or hyperinflation exists and so precious metals will look increasingly attractive to investors.
2. India silver imports on track for record numbers in 2013
The future outlook of India didn't look too good back in April. A combination of decreasing middle class consumption and a worsening trade deficit was threatening an economic slowdown for India. However, since April 2013, when gold imports in India have dipped, silver imports have seen sudden spurts.
The chart below depicts India's total silver imports between 2008, and 2012. According to these figures from GFMS Thomson Reuters, India imported a record 5,048 tonnes of silver in 2008.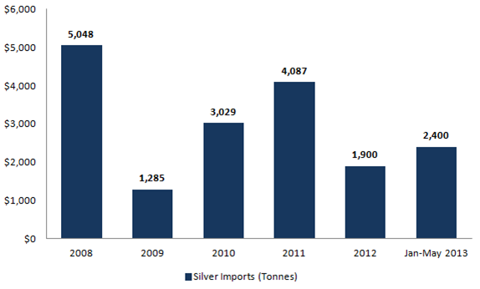 This was the year that silver hit a record high of $21 and record low of $9. That doesn't mean history will repeat itself, but as Joseph Wittreich wrote, "History does not repeat itself, but it rhymes." We'll likely see a steep rise in silver prices but at different price levels. In my most recent article I wrote about a potential turning point for bullion prices, which will occur within the next 6-7 weeks.
If the present trend of large monthly silver imports continues as depicted by the graph above, India is poised for a record year in 2013. According to GFMS Thomson Reuters, India has already imported 2,400 tonnes of silver in the first 5 months of 2013 compared to 1,900 tonnes for the entire year in 2012. If we estimate another 1,500 tonnes for June and July, that's nearly 4,000 tonnes of silver in only the first 7 months of 2013. This is a telling tale of how the global demand for silver has picked up over the past month or so.
3. Gold-to-Silver Ratio has reached significant levels
The gold-to-silver ratio has reach 1:66, the lowest that we've seen in nearly 3 years. What is important to note is that historically the ratio of gold to silver has averaged 1:13. Additionally, we're not too far from the 2010 ratio of 1:70 when silver prices rose 170%--arguably one of the greatest rallies ever in the history of the white metal.
China continues its economic slowdown
China remains a wildcard with two key measures of economic activity in China pointing in different directions: economic growth falls; and inflation rises.
On Tuesday, China's National Bureau of Statistics reported economic data showing the consumer price index (CPI) increasing 2.7 percent year-on-year (YOY), whereas the producer price index (PPI) fell by 2.7 percent YOY.
Conclusion
Overall, I believe that the macroeconomic rationale for precious metals has never been stronger despite China's slowdown, and India's strong silver demand is a major factor.
Disclosure: I have no positions in any stocks mentioned, and no plans to initiate any positions within the next 72 hours. I wrote this article myself, and it expresses my own opinions. I am not receiving compensation for it (other than from Seeking Alpha). I have no business relationship with any company whose stock is mentioned in this article.