[Editor's note, July 13: This article has been revised since original publication, as the author updated it to reflect July 12 share prices of AMZN and the resulting PE values. Apologies for any confusion this may have caused.]
The rapid growth of e-commerce has spurred Amazon (NASDAQ:AMZN) to new heights is well witnessed by its long-standing trend towards higher prices. The company has been experiencing mixed fortunes characterized by falling revenues in the midst of rising earnings in recent quarters, although this trend is expected to change for the better in the coming years. The company's stock closed the day on 12th July 2013 trading at $304.52 with a 52-week high of $304.74 and a low of $213.88. Amazon stock is currently consolidating its near all-time high price and may consequently require some time before it gets really going. The stock has been trading above its 50-day and 200-day moving averages in recent times as evidenced in the charts below: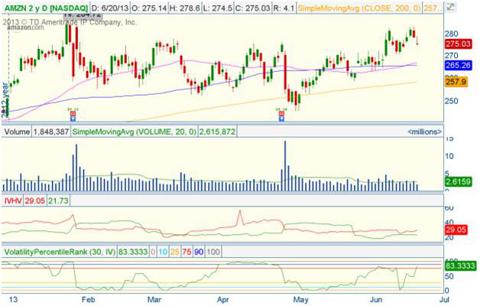 (Source:Thinkorswim)
The high valuation of Amazon stock may seem to suggest a short-term neutral-bullish price action.
Mixed Q1 2013 Performance
Amazon announced its Q1 2013 revealing that the company recorded better-than-expected EPS but slightly lower-than-expected revenues. The firm managed to rake in revenues amounting to $16.07 in the quarter and returned an EPS of $0.18. The revenue figure was slightly below Wall Street estimates of $16.07 while the EPS was well above Wall Street estimates of $0.08 per share. Operating income fell 6% to $181 million compared to Q1 2012 when it came in at $192 million. Net income was also down by a worrying 37% to $82 million compared with Q1 2012 when it stood at $130 million.
Amazon thus performed below its Q4 2012 levels when it recorded $21.27 billion in revenues and an EPS of $0.21. Below is a summary of Amazon's expected market performance in the last 4 quarters as well as how well (or badly) investors received these revelations:
2013 Q1
2012 Q4
2012 Q3
2012 Q2
Earnings Growth (Year-on-Year)
-35.71%
-43.66%
-528.57%
-97.56%
Revenue Growth (Year-on-Year)
21.88%
22.01%
26.94%
29.47%
Earnings Reaction by Investors
-7.24%
4.76%
6.87%
7.86%
Growing Revenues, Falling Earnings
Amazon has been showing a rather curious trend where earnings keep on falling despite rising revenues. You can see that clearly from the chart above, which shows that revenues for the company keep rising while earnings are trending southwards. This trend, however, has not been of major concerns to investors, who have mostly been pleased by the announcements of earnings expectations.
Excellent Market Performance Compared with Peers
Amazon has performed relatively well compared with its peers Barnes & Noble (NYSE:BKS), eBay (NASDAQ:EBAY) and Apple Inc.(NASDAQ:AAPL).
Amazon
Barnes & Noble
eBay
Apple
Sector
Year-to-Date Return
9.53%
22.33%
-0.60%
-21.24%
7.55%
Apple Inc. is considered to be Amazon's indirect competitor in tablets, specifically iPads, which compete against Amazon's Kindle devices. Apple is of course the market leader in tablet and iPad sales by a wide margin. Although Amazon and Apple might not compete directly against each other in the tablet market segment, it is widely expected that Amazon's recent move that saw the company slash prices for its loss-leading Kindle Fire HD by a whopping $30 from $199 to $169 is likely to spur considerable sales growth, quite likely at the expense of Apple's iPads.
Barnes & Noble seems unable to keep up with the disruptive change occasioned by Amazon's online business model. Barnes &Noble shares have dropped in the face of Amazon's challenge and the once-revered bookseller is losing traction and is now considered a cliff-hanger whose future hangs in the balance.
Expected Performance in the Coming Quarters
It is perhaps instructive to start by saying that Amazon has been missing analysts' estimates for revenues and net margins by almost 240% in the past 3 quarters, of course with the exception of Q1 2013, when it met Wall Street and consensus estimates. Amazon is expected to show much better performance in Q2 2013 by posting a 9 cents EPS. Average EPS for the whole year 2013 is expected to be $1.30-a powerful turnaround from 2012 loss per share of 9 cents. Earnings are expected to rise by a healthy 24.1% in the year.

2014 is expected to be even better for Amazon - average EPS for the year is estimated at $3.55 per share; revenue will grow 22% compared to the current year.
Longer-term growth for Amazon is rosy when viewed from just about any perspective. Earnings are expected to grow by a blistering 37.7% year-on-year in the coming 5-year period. Of course the poor performance in the recent past times gives a good base effect for relative strong growth in the future, but, still, Amazon's expected future growth is quite impressive even in absolute terms. Bear in mind that Amazon is the leading online retailer, and that should explain why it will be quite difficult to grow its gross margins, which currently stand at 25.6% - 10 percentage points below its peers. Upcoming online retailers such as Overstock.com are expected to provide headwinds for Amazon.com, but not enough to slow down the online retail giant significantly.
Amazon's growth is expected to come from the company's mobile and media business divisions, particularly its Kindle devices that operate on Amazon Studios and Android OS. Amazon recently discounted its loss-leading Kindle Fire HD from $199 to $169. The company also expects the growing popularity of ebooks to drive even more growth in the coming years.
Amazon and Kindle
Amazon recently announced that it had lowered the price of its 7-inch 32 GB Kindle Fire HD from $199 to $169, albeit on a temporary basis. While Amazon is no stranger to drastic price cuts, the move has been hailed as highly strategic by industry pundits and aficionados since it is likely to cash in one the burgeoning growth in tablet sales currently being witnessed. Amazon revealed that it was planning to expand production volumes, which would result in improved cost efficiencies and cut costs - some of which it was passing to its customers. In any case, the useful life-cycle of the Kindle Fire HD was coming to a close and the third-generation Kindle is expected to hit the markets any time now. Amazon also permanently lowered the price of the 8.9-inch Kindle Fire HD to $269.
Other than drive sales for the Kindle device, analysts also see the price reduction as a move intended to increase app downloads from Amazon's app store, a market segment in which Amazon earns high margins. The move coincided with Barnes & Noble's exit from the tablet manufacturing business. Its 7-inch 16 GB Nook HD sells for $149 and Amazon's 7-inch Kindle Fire HD can now compete favorably with it.
Amazon is planning to release its own set-top boxes that will compete with Boxee, Roku and Microsoft's Xbox. The company also recently released a Mobile Ads API that will enable app developers to insert display Amazon ads into their apps to encourage the app users to download apps directly from the Amazon store.
Amazon is quite cagey when it comes to revealing its Kindle sales to the public, ostensibly in a bid to steal some market share from Apple Inc. Below are estimates of Kindle sales in the last few quarters: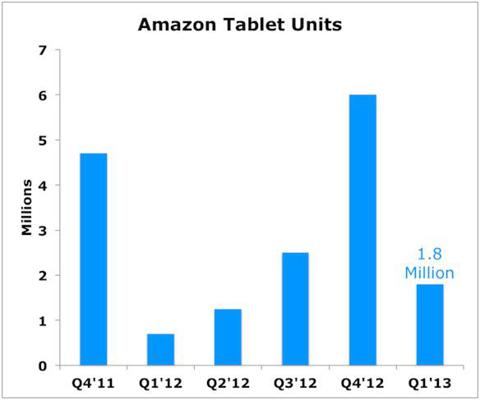 Source: IDC.
Amazon recently took a page from Netflix (NASDAQ:NFLX) by streaming its own video content. The company has been rapidly expanding its library of video content to the current more than 140,000 videos compared to Netflix's 75,000. Its $79 annual subscription fee is cheaper by about a dollar per month compared with Netflix's $7.99/month.
Amazon is planning to release its own set-top boxes that will compete with Boxee, Roku and Microsoft's Xbox. The company also recently released a Mobile Ads API that will enable app developers to insert display Amazon ads into their apps to encourage app users to download apps directly from the Amazon store.
Although AMZN stock is expensive at 95x forward 2014 earnings and trading at a premium to its peers' 50.3x forward earnings valuation, investors still seem to prefer it to its peers,' mainly banking on the company's impressive 33.7% sales growth as opposed to its peers' average of 12.75%. Amazon shows no signs of slowing down any time soon and the consensus price target for its shares is $317.03. It's a Buy.
Disclosure: I have no positions in any stocks mentioned, and no plans to initiate any positions within the next 72 hours. I wrote this article myself, and it expresses my own opinions. I am not receiving compensation for it (other than from Seeking Alpha). I have no business relationship with any company whose stock is mentioned in this article.