As expected, July didn't provide much of a boost to retailers, as the majority of companies reporting monthly results missed consensus analyst estimates. A combination of unseasonably cool weather, a later Labor Day this year causing tax holidays and promotions to be shifted into August, and consumers continuing to be cautious with their spending resulted in the 11th consecutive month of same-store sales declines.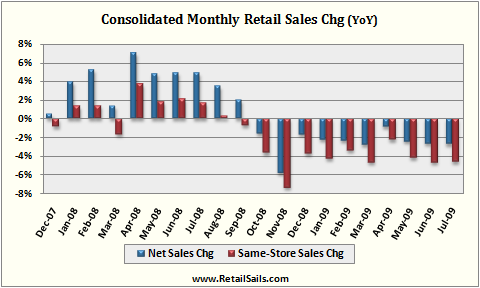 Overall net sales for July were $27.976 Billion, a 2.7% decline from July 2008. On a comparable same-store basis, sales were down 4.6% from the prior period vs. a gain of 1.7% last July. Retailers continue to be up against tough comparisons from last year when shoppers had stimulus checks to spend. There was decidedly little gains in July from back-to-school spending. Almost every retailer mentioned the effect of Labor day falling a week later than last year – most didn't start back-to-school promotions until late July or early August, and it seems most consumers are willing to wait for deals to begin the seasonal shopping.
While sales tax holidays throughout August should provide a marginal incentive for shoppers, the extraordinary success of the cash-for-clunkers program could siphon off discretionary dollars that would have otherwise been spent on items such as clothing and home furnishings. With a steady diet of deep discounts and promotions available to them, consumers aren't going to be paying full price anytime soon.
The theme for this month was inventory control and cost cutting. The majority of retailers said they had much lower levels of clearance inventory than last year, and continue to focus on the bottom line. Though the majority of stores have struggled to drive sales growth, they have managed to deliver on the bottom line, as companies including Gap (NYSE:GPS), JC Penney (NYSE:JCP), and American Eagle Outfitters (NYSE:AEO) raised their guidance for 2nd quarter earnings.
However, cost-cutting and inventory management can only go so far. The best that can be said about top-line results since the start of the year is they have stabilized at a low level. Most retailers have lean inventories prepared for back-to-school shoppers, and are willing to run out of merchandise rather than be forced into steep markdowns. Expectations for back-to-school season are extremely low, so the hope is that the Holiday season can save the day. Based on the trends in personal income and savings, unemployment, and consumer confidence, we don't see much near-term upside for the retail industry. We expect same-store sales for August to be down in the range of -4-5%.
Below we break out the results by sector and provide the highlights of each company. For more detailed information on company performance, click on the company name below:
Apparel & Accessories Stores:
Total net sales for the month declined 7.7% to $2.691 Billion from a year ago, while same-store sales decreased 8.8% on top of a 5.2% decline a year ago. This was the 15th consecutive month of negative same-store sales, and next to department stores apparel has consistently been the worst performing sector. While standouts Aeropostale (NYSE:ARO) and The Buckle (NYSE:BKE) once again posted positive year-over-year comps, both companies missed analyst estimates and growth has slowed considerably over the past couple of months. The worst performer in the sector is once again Abercrombie & Fitch (NYSE:ANF), who's posted 12 consecutive months of double-digit declines. Based on the outlook for back-to-school, the sector will most likely continue to struggle, and the hope is that shoppers will be ready to spend again by Christmas.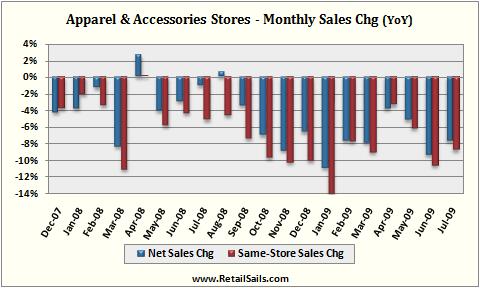 Department Stores:
Total net sales were $5.434 Billion, a decline of 8.1% from July 2008, while sales were down 9.1% on a comparable same-store basis from the year ago period. Department Stores have been the worst performing sector throughout the recession, and they have now reported 15 consecutive months of comparable store declines. The one bright spot was Kohl's (NYSE:KSS), who reported their first month of positive same-store sales since last June. Nordstrom (NYSE:JWN) beat estimates, and results have been slightly improving since the start of the year, but a big reason for July's better-than-expected results was the Anniversary Sale which started on July 17th. JC Penney (JCP) started early and often with back-to-school promotions, but wasn't able to lure many shoppers in July. We expect Kohl's to continue to outperform its peers on a relative basis, but overall the sector will continue to struggle through the back-to-school season.
| Company | Net Sales | Net Sales Chg | Same-Store Sales Chg |
| --- | --- | --- | --- |
| Bon-Ton | $178.8 Million | -9.6% | -9.8% |
| Dillards | $439.1 Million | -15.0% | -12.0% |
| JC Penney | $1.194 Billion | -10.6% | -12.3% |
| Kohl's | $1.080 Billion | 5.2% | 0.4% |
| Macy's | $1.377 Billion | -10.7% | -10.7% |
| Neiman Marcus | $199 Million | -25.8% | -27.3% |
| Nordstrom | $806.0 Million | -4.1% | -6.9% |
| Saks | $159.7 Million | -14.9% | -16.3% |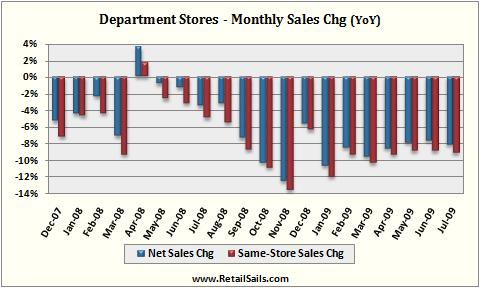 Discount & Variety Stores:
Total net sales decreased by 3.0% to $12.666 Billion from the same period last year, while same-store sales declined 5.2% – the worst results since November. While the sector was luring frugal shoppers last summer, most companies have struggled over the past few months as consumers cut back on everything but necessities. The strongest performers have continued to be off-price retailers TJX and Ross Stores (NASDAQ:ROST), who have taken market share away from traditional department stores and apparel stores. Wholesale clubs have been burned by gas price inflation and foreign exchange, but even stripping those out have seen sales growth slow. We should see a pickup in demand from back-to-school shoppers, but there is no sign of an imminent turnaround.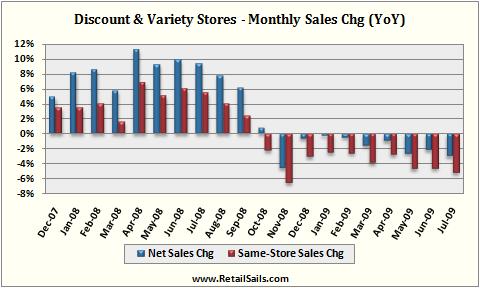 Drug Stores:
Total net sales were $7.186 Billion for the month, an increase of 4.5% from a year ago, while comparable same-store sales were up 1.3%. This sector is once again an out-performer for the month, driven mostly by robust pharmacy demand, as front-end sales continue to be relatively soft. That could change, however, with back-to-school season providing the stimulus. The National Retail Federation said they expect 18% more shoppers to visit drug stores this year than last year, as they have both the price point and convenience factor to lure frugal shoppers.
| Company | Net Sales | Net Sales Chg | Same-Store Sales Chg |
| --- | --- | --- | --- |
| Rite Aid | $1.929 Billion | -2.3% | -0.6% |
| Walgreen | $5.257 Billion | 7.3% | 2.0% |