Dividend Aristocrat Bemis (NYSE:BMS) has a problem with its cash deployment priorities. Briefly, it is putting the cart before the horse on increasing the dividend. Here's a slide from a June 2013 presentation: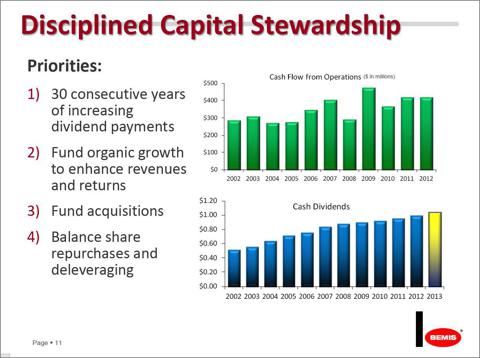 The point is, it will not be possible to increase the dividend unless the company first spends appropriately on innovation and up-to-date facilities. Increasing the dividend belongs further down the list.
A Look at the Data
Here's a table from my spreadsheet on Bemis, showing investment in property, plant and equipment compared to depreciation and amortization.

This speaks for itself. Bemis didn't spend enough to overcome the effects of depreciation. Eventually it closed the obsolete facilities. On a positive note, capex in the presentation mentioned above is now projected at $175 million, an increase from recent levels.
R&D
Analysis of this item is difficult, as many competitors are privately held and company operations aren't directly comparable.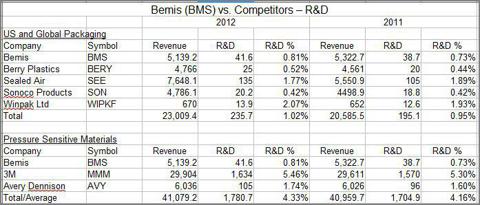 After reviewing such information as is available, I conclude that BMS spends somewhat less than the competition, and certainly is outgunned in PSM (Pressure Sensitive Materials), where 3M (NYSE:MMM) and Avery Dennison (NYSE:AVY) have substantially greater resources.
The approach to R&D is different. From the 10-K:
Our research and development engineers work directly on commercial production equipment, bringing new products to market without the use of pilot equipment. We believe this approach significantly improves the efficiency, effectiveness and relevance of our research and development activities and results in earlier commercialization of new products. Expenditures that are not distinctly identifiable as research and development costs are included in costs of products sold.
The above suggests that commercialization will be effective. I suspect that genuinely new products, as opposed to new applications for existing materials, will proceed less rapidly.
The company recently created and filled a management team position, hiring William E. Jackson as Vice President and Chief Technical Officer. From the press release:
...Dr. Jackson will be responsible for leveraging Bemis' research and development capabilities across our global operations and diversified applications.

Dr. Jackson joins Bemis from Dow Chemical where he participated on Dow's technology leadership team and held the position of Vice President, Global Research and Development - Dow Building and Construction, a $2 billion global polymer business. Prior to Dow, he spent 16 years with GE, in Plastics, Lighting and Appliances in leadership R&D, market development and application engineering roles. In addition, Jackson serves as Chairman of the US Industrial Advisory Board to the Department of Energy US/China Clean Energy Research Center. He received his BS in Geology from the College of Wooster and received his MS and Ph.D. from Stanford University in Geology, with an emphasis in Material Science and Geochemistry.
This action, together with the announced increase in R&D, indicates that Bemis is moving in the right direction on this aspect of its operations. Over the past ten years, margins have decreased, which is an indication that R&D has not been effective in developing new products that command high margins.
Dividend
Bemis has increased its dividend on a regular basis for many years. However, recent increases have been modest, and the payout ratio has been increasing. The increases may not be sustainable for the reasons discussed earlier in this article. At recent prices, the yield is 2.52%.
Valuation
Because the company just did a restructuring, historical information is less useful than usual in determining value.
Using 4 years actual plus an estimate for 2013, five-year average EPS works out to $1.97. Applying a historical average multiple of 17.6, I develop a target of $35, well less than recent prices above $41.
Why I Sold
I recently removed BMS from my Synthetic Dividend Growth Portfolio, earning a small profit for a short hold. It's over-valued by my preferred method.
After reviewing operations, I see corrective action being taken to overcome a history of inadequate capex and ineffective R&D. However, the stock is priced for a successful outcome, which has not yet occurred.
Disclosure: I have no positions in any stocks mentioned, and no plans to initiate any positions within the next 72 hours. I wrote this article myself, and it expresses my own opinions. I am not receiving compensation for it (other than from Seeking Alpha). I have no business relationship with any company whose stock is mentioned in this article.