HomeStreet (NASDAQ:HMST) missed the mark on its most recent earnings release and has seen estimates drop substantially over the last six months. It is a Zacks Rank No. 5 (Strong Sell). It is the Bear of the Day.
Mortgage Rates Move Up
Over the last few weeks, interest rates have moved higher and that has caused rates for mortgages to increase as well. Along with light housing inventory, this will keep some buyers on the sidelines, which could hurt the real estate lending business for HMST.
Company Description
HomeStreet (HMST) is a diversified financial services company headquartered in Seattle, Wash., serving consumers and businesses in the Pacific Northwest, California, and Hawaii. The company operates four primary lines of business: Community Banking, Single Family Lending, Commercial Real Estate Lending, and Residential Construction Lending. Its principal subsidiaries are HomeStreet Bank and HomeStreet Capital Corporation.
Earnings History
The most recent quarter was a big miss, with the company reporting earnings of $0.74 when the Zacks Consensus Estimate was calling for $0.84. The 10-cent negative earnings surprise translates to a 11.9% miss. The top line also came in $5 million light, so that's another miss of 6% on top. Besides that quarter, things have been mostly good for HMST. Prior to the earnings miss the company posted four straight positive earnings surprises.
Small Bank
HomeStreet Bank is a Washington state chartered savings bank with a network of 23 retail bank branches, 28 standalone lending centers, and three standalone commercial lending centers in Washington, Oregon, California, and Hawaii. Its size may keep some investors out of it beyond its limited geographical footprint.
Earnings Estimates Plunge
Estimates for HMST have done nothing but fall all year. The 2013 Zacks Consensus Estimate was $5.40 at the start of the year, and that quickly dropped to $5.07 in the following month. By May the number was down to $3.57, and it is currently at $2.93. That is a significant decrease in just a little over six months. The 2014 Zacks Consensus Estimate has also been moving lower. It stood at $5.43 in February, but had fallen to $4.12 in May and is currently $3.73. The question becomes: When will estimates stop falling?
Valuation
The valuation picture HMST looks really good -- that is, if you can get past the whole negative earnings growth expectations in 2013. The P/E multiples of 4.6x trailing and 7.7x forward would make value investors get interested, as would a 1.2x book multiple. But investors need to look past low multiples and understand why they are low before making an investment in a stock like HMST.
The Chart
The year-to-date chart is one that will turn the stomachs of most investors. The limited footprint of the company can expose it to specific weaknesses that may be seen just in the Pacific Northwest, and that is a risk that many may not want to see. In the more immediate term, the increased rates may help net interest margin, but those rates are likely to change soon.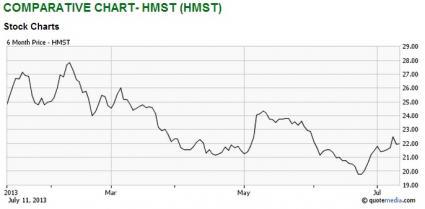 HomeStreet: Free Stock Analysis Report (email registration required)