Five years ago nuclear energy was projected to be the best alternative energy source to coal. But, since the shale gas boom in 2009, prospects for nuclear power faded. For example, industry leader, Exelon (NYSE:EXC), saw its stock price drop from $90 in 2008 to about $31 today.
Further, accidents like Fukushima do not help the case for nuclear energy. But according to a poll conducted by the Nuclear Energy Institute, public support is finally returning to pre-Fukushima levels. The NEI poll showed 81% of Americans believe nuclear energy is important for the nation's future energy needs, and 82% said nuclear plants should continue to develop nuclear energy to meet growing energy demands. Further, as discussed below, government regulations are becoming less strict in the industry.
So, with dissidence declining now is a great time to invest in companies planning on expanding their nuclear operations.
New support for new designs
Only 5 commissioned nuclear plants broke ground in the past 30 years. And, only 4 more are projected to be installed in the next few years. The other 100 reactors in the U.S. are over 30 years old. They are outdated in terms of design and are unable to meet recertification regulation requirements.
This makes investing now an even greater opportunity while the infrastructure is still being built up. When reactors are retired, the amount of energy generated from the nuclear industry decreases. So, if nuclear power is to be a component of the U.S. energy output, new plants must be built.
The biggest hindrance to building new reactors is the Nuclear Regulatory Commission's (NYSE:NRC) requirements for new plants. Hussein Khalil, director of Argonne's Nuclear Energy Division, said that safer reactor designs are not invested in heavily because of industry reluctance. After all, why would firms invest in the development of a design if there is no guarantee it will be approved by the NRS?
A solution is found through a 2006 NRC licensing procedure, which allows utility companies to choose from pre-approved designs. Now, utility companies can simply choose where to build plants knowing that the designs are already approved. With four new plants approved for licensing right now, utility companies are already showing confidence in investing in nuclear power.
Who are the big contenders for nuclear power?
Exelon Nuclear dominates the industry with an overall capacity factor of 92.7%, revealing that Exelon nearly maximizes its operating potential. Despite economic headwinds, 2012 growth investments in plant upgrades paid off-Exelon's output increased 500 Mega Watts. One MW provides enough electricity to power about 600 homes. So, with no new construction, technology investments increased output to 300,000 homes.
Exelon's balance sheet and stock price do not reflect the company's strength. Last March, the $7.9 billion acquisition of Constellation Energy and its regulated utility, Baltimore Gas and Electric, caused a re-evaluation of company assets at lower values. One potential reason for the lower valuation is to account for the weakened financial position having doubled its debt while growth projections fell 11% after the acquisition.
Valuation before acquisition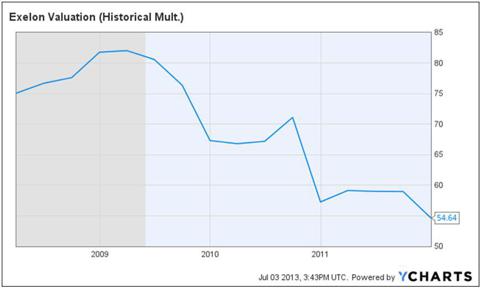 Valuation after acquisition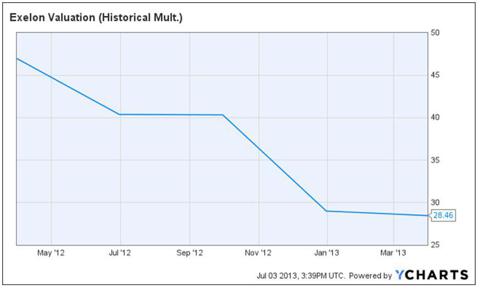 This acquisition makes Exelon one of the nation's largest energy service providers with operations in 47 states. Exelon is a great investment because it is trading near its 52-week low. This price is the lowest in 9 years, making it a great time to buy at a low support level. It will be a big player when nuclear energy takes off again.
Also, investors should watch FirstEnergy (NYSE:FE) as it grows its nuclear operations. Despite rising nuclear fuel prices, FirstEnergy managed to cut its nuclear operating costs by $13 million this past year. This contributes to the $94 million it cut altogether in operating expenses (6% decrease) throughout 2013. As a result, it boasts an operating margin of nearly 14% (second among listed competitors).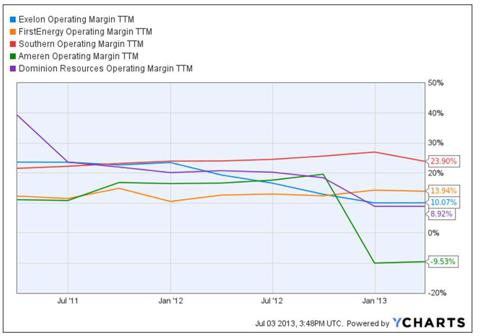 Nuclear energy accounts for one-third of the company's generating capacity and comprises about 20% of its revenues. With the number of plants being decommissioned, look to FirstEnergy to be a big investor in new plants.
A major contributor to the "King Coal" name, Ameren (NYSE:AEE) reports that 81% of its energy generation comes from coal. Nuclear generation comes at a distant second at 15% while natural gas only comprises 3% of Ameren's total generation. As environmental regulations increase in the coming years and coal generation decreases as a result, Ameren will be forced to convert its coal plants to another source of energy.
It is already prepared for the transition. For example, Ameren will invest $3.6 billion in plant upgrades by 2020 to comply with regulations. Nuclear energy is the most probable source for Ameren as it is the cheapest alternative behind coal.
Another company, Dominion Resources (NYSE:D) consistently outperforms the industry, making it a company to watch when nuclear energy rebounds.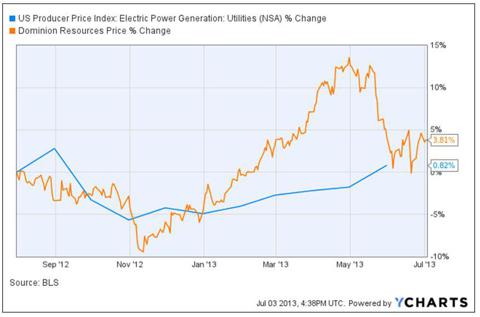 Dominion also boasts a P/E ratio of 107.65, which is more than three times its competitors.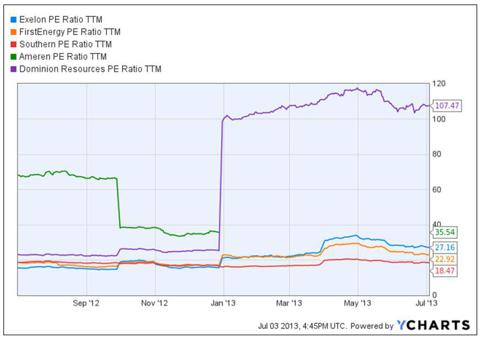 As stated in its 2012 Annual Report [pdf], Dominion understands nuclear energy is necessary for the future:
"If the nation were to replace these [decommissioned nuclear reactors] generating sources under current rules with only gas and renewables, that is the type of strategy that will lead to energy insecurity…. State-of-the-art nuclear reactors…must also be part of our energy future."
Southern Company (NYSE:SO) is also poised to gain from the nuclear energy boom. For example, It currently operates three plants and is considering operating more (two are in construction). Moving forward, Southern looks to be nothing short of profitable. It reports both double-digit profit and operating margins that result from low costs of operation (12.26% and 23.79% respectively). And, as seen by the below chart, it generates great value for investors compared with the competition:
| | | |
| --- | --- | --- |
| Company | Return on Equity | Dividend |
| Southern Company | 10.89% | 4.60% |
| Exelon | 4.48% | 4.00% |
| First Energy | 13.40% | 5.87% |
| Ameren | -13.58% | 4.60% |
| Dominion | 2.98% | 4.00% |
Southern is in for the long haul.
Nuclear energy will power through
Nuclear energy fluctuates with public opinion. But now, nuclear power is rebounding. U.S. citizens unanimously agree nuclear power is essential for future energy needs. This means certain companies must step up and invest now, to meet market demands later. Investors who jump on board now may ride the industry to the top.
Disclosure: I have no positions in any stocks mentioned, and no plans to initiate any positions within the next 72 hours. I wrote this article myself, and it expresses my own opinions. I am not receiving compensation for it (other than from Seeking Alpha). I have no business relationship with any company whose stock is mentioned in this article.