With the growing complexity of the IT field, PC Connection (PCCC) offers customers a one-stop source for all of their IT needs. The company is a $419 million small-cap direct marketer of a variety of IT solutions that serves small to medium sized businesses, consumers, local, state and federal governments and educational entities. PC Connection focuses on the following six areas: Data Center, Networking, Storage, Software, Lifecycle and Mobility. Despite the crowded IT services space; PC Connection is carving out a profitable niche by fostering strong customer and supplier relationships.
PC Connection's products include computer systems, software and peripheral equipment, networking communications, point of sale systems, and other products and accessories. The company also offers the design, configuration and implementation of IT solutions. Sales are generated through telemarketing, field salespeople, websites, catalogs and other advertising media. It does not manufacture IT hardware or software, but resells the products of other companies such as Apple (NASDAQ:AAPL), Microsoft (NASDAQ:MSFT), Hewlett-Packard (NYSE:HPQ), Cisco (NASDAQ:CSCO), IBM (NYSE:IBM) and many others. PC Connection also adds its own specialized services to assist customers in optimizing their IT needs.
The company uses data analytics to acquire new customers and increase market penetration. The data is gathered from webinars, podcasts, email campaigns and other sources. PC Connection uses the data to better engage customers and to determine their specific needs. Customers look to PC Connection to help them understand the latest technology and how it can improve their performance.
PC Connection has found that more customers are seeking total IT solutions, rather than just merely acquiring products. Total IT solutions involve the design, development, integration and management of products and services. PC Connection has the advantage of being product-neutral as the company carries a wide variety of brands, services and advice tailored to customer needs. Therefore, customers have a lot to choose from in terms of products and services rather than being stuck with a narrow product line.
Undervaluation From the PC Stigma
PC Connection is undervalued because investors are putting too much emphasis on the overall decline in PC sales. Perhaps the company should change its name to IT Connection, which would better represent the broader product line that it offers. The company's largest product category by sales is notebooks/tablets with 19% of net sales. The next highest selling product category is Accessories/Services, which comprises 17% of net sales. The PC sales are included in the Desktop/Server segment, which comprises 15% of net sales. Since servers are included in that product category, PCs comprise an even smaller percentage of net sales.
The lack of love on Wall Street despite the gains of the past few years has the stock with a trailing P/E ratio of 13.3 and a forward P/E of 11.76. Even more compelling is the PEG ratio of 0.45, which takes the 5-year projected earnings growth of 25% into account. This shows that the company is growing earnings at a rate that is faster than the stock growth. Since stock prices tend to eventually catch up with earnings growth over the long haul, the prospects for future gains look positive. I can reasonably surmise that if the stock was fairly valued with a trailing P/E ratio of 15, the EPS of $1.26 would give the stock a price of $18.90. Thus, the current stock price of $16.80 is about 12.5% undervalued.
Sales are also outpacing the stock price as evident in the low price to sales ratio of 0.19. Revenue has increased every year since 2009 as the economy recovered from the financial crisis. It is not all that common to find price to sales ratios under one. This shows customers are demanding its products and services but investors have not bid up the stock price to match those sales increases. Investors are not giving enough credit to the growing portions of the business, such as notebooks/tablets, software and accessories/services. Those categories comprised 51% of the company's net sales in the first quarter of 2013. The same categories comprised 46% of net sales in the first quarter of 2012.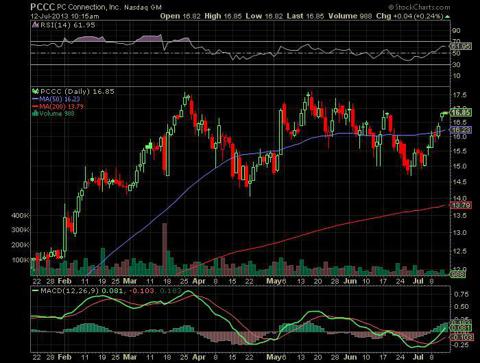 Growth Catalysts
The migration to cloud-based solutions for customers should be a positive catalyst for the company. Customers are demanding cost effective solutions and PC Connection is planning to aggressively expand its cloud-based solutions while deepening customer relationships. This will be a growing source of revenue and earnings for the PC Connection for at least the next five years.
Another catalyst for the company is its pursuance of strategic acquisitions and alliances. The focus here will be on adding new customers, strengthening the current product line and adding management talent. By focusing on companies that truly add value to the business, PC Connection will ensure that it gets a good bang for the buck.
PC Connection is continually looking to expand its products and services. The company works closely with vendors to identify and market new hardware and software product offerings at aggressive prices. Plans are also continually in place to expand its IT solution services. Customers have increasingly complex hardware and software needs and PC Connection works to find creative solutions for them. Investments have increased in the following areas: Lifecycle, Data Center, Networking, Mobility, Storage and Software Services. This is designed to increase the amount that customers will spend on IT, which will further expand revenue growth.
The company is also increasing its target marketing with a goal of expanding the number of active customers and to increase sales to existing customers. This will add another dimension to increasing revenue and earnings through Internet marketing, catalogs and sales representatives.
Risks
The IT hardware, software and services market is highly competitive which represents the primary risk to PC Connection. Some manufacturers will occasionally establish their own direct marketing campaigns, thus bypassing PC Connection as a reseller. This could eat into some of the company's sales.
There are also direct competitors such as Insight Enterprises (NASDAQ:NSIT) and CDW (NASDAQ:CDW) that offer similar products and services. Each company is working to increase their share of the $140 billion IT market. PC Connection needs to establish deep customer relationships with new and existing customers to maintain and increase its piece of the IT pie. It looks like the company has the right strategies in place to meet its current revenue and earnings expectations.
How Large Is the Opportunity?
The company experienced over 25% annual earnings growth in the past five years. It is expected to maintain 25% annual earnings growth for the next five years. Given the company's undervaluation and high earnings growth, the current stock price of $16.81 should reasonably increase to about $50 in five years. This represents a total potential gain of 197% over a five-year period. The earnings increases should drive the stock higher over time. Eventually, the stock price should approach the mean annual earnings growth over the long term, therefore I'm using 25% in the calculation as annual stock gains. The gains might be lower in some years or higher in others, but over time the stock price should approach the mean annual earnings growth.
I think if PC Connection can continue to establish deep customer relationships, the earnings expectations will be met. The efforts to have customers confide in PC Connection as a one-stop shop for all of their IT needs with personalized support will foster those deep relationships. Investors will increasingly catch on that the company is overcoming the PC stigma as its earnings continue to increase through its broad array of products and services. The IT world is a rapidly changing, dynamic industry. PC Connection doesn't have to make the physical products. It just needs to offer the latest products with great support and service at good prices to continue its success.
Disclosure: I have no positions in any stocks mentioned, and no plans to initiate any positions within the next 72 hours. I wrote this article myself, and it expresses my own opinions. I am not receiving compensation for it (other than from Seeking Alpha). I have no business relationship with any company whose stock is mentioned in this article.