Shares of SemiLEDs (NASDAQ:LEDS) have fallen 19 percent over the past two trading sessions as the company once again delivered a disappointing earnings report on Thursday morning. At this point, no one should be surprised; the company has now missed estimates in 9 of the 10 quarters in which it has been publicly traded.
Shares are also down about 40 percent since reaching highs over $2 per share in late April, after a stunning three-session, 83 percent, run that appeared to come largely on the coattails of good news for the sector. That news included the introduction of an energy conservation bill in the Senate that appeared to brighten the outlook for LED producers, plus positive commentary from LED equipment maker Veeco Instruments (NASDAQ:VECO) and analysts following that stock.
I argued that the spring rally was essentially irrational; indeed, it appears to have been aided, if not sparked, by a series of posts on trading blogs and message boards, according to comments on my April piece and emails received through this site. Thursday's results only added further evidence to the argument that SemiLEDs has little, if any chance, of becoming a viable competitor in the LED chip and component market.
Revenue was just $3.5 million for the quarter; the GAAP net loss was more than three times that amount, coming in at $11.0 million, or 40 cents per share. GAAP gross margin was negative 129 percent; operating margin negative 287 percent. The one bright spot (if you can call it that) was that cash burn was limited, falling $2.5 million sequentially with free cash flow of negative $2.9 million.
To be fair, at Friday's close of $1.32, investors might still see some reason to buy LEDS -- perhaps on the balance sheet. Cash and equivalents total over $1.49 per share, above the company's share price. Tangible book value sits at exactly $3 per share, better than double Friday's closing price.
Of course, if cash burn continues -- cash and investments have dropped by nearly $15 million in the first nine months of the fiscal year (ending in August) -- the current net cash balance will be of little consolation. Notably, SemiLEDs had $94 million in cash as of May 31, 2011; it now has little more than $41 million. Meanwhile, half of the company's book value comes from property, plant, and equipment. According to Thursday's 10-Q, three-fourths of the gross PP&E value comes from "machinery and equipment." While the company has taken a $7.5 million charge against the equipment already, it seems likely that the carrying value of that equipment is not anywhere equal to its market value. Veeco executives have bemoaned the fact that equipment "selling prices have been under considerable pressure"; as such, it appears likely that, in a liquidation, SemiLEDs' used equipment would have to be sold at a considerable discount.
There should also be little confidence that management will find a way to return those assets to shareholders. While the company has come near collapse, CEO Trung Doan has said little to show any understanding of the company's dire position or its lack of any significance in the LED industry. On a conference call following a fiscal second quarter report in April 2012, Doan said "our strategy is working" after delivering a quarter with negative gross margins. In Thursday's release, he blamed "a combination of one-time events" for the quarterly results, which he then called "a brief setback." Here's a visual depiction of the effect of these "brief," "one-time" effects: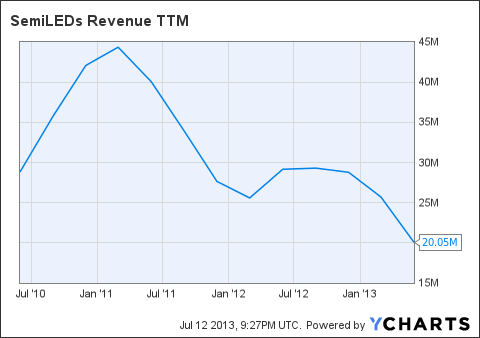 LEDS Revenue TTM data by YCharts
Doan again ignored the drop in Thursday's call, telling listeners the $3.5 million in quarterly sales "feel to be our expectation [sic]," despite the fact that the company had guided for $5-5.5 million in its FQ2 conference call just three months earlier.
The company's constant strategy changes offer little more comfort. Initially, the company claimed it was "significantly dependent" on a joint venture in China named China SemiLEDs. That JV would default in October 2012 (according to the most recent 10-K) and its carrying value would be reduced to zero. In that 10-K, the company then announced the primary use of its products would be for "general lighting applications, including street lights and commercial, industrial, and residential lighting." This came just months after the company settled a patent-infringement lawsuit by Cree (NASDAQ:CREE) and agreed to pay a fine and accept an injunction against importation of lighting products into the United States.
In its filing, the company said it had a new line of products that would not be subject to that injunction. How the R&D department created a new line of competitive, non-infringing lighting products in no more than four months was not explained. By April 2013, the priorities had again changed; executive VP Ilkan Cokgor said on the FQ2 conference call that ultraviolet applications had become the "main focus" of the company. Lighting moved to second place, while chips for camera flashes on smartphones --a category not previously mentioned in filings or conference calls as far as I can tell -- were added to the company's core competencies.
The new camera flash line did receive orders in May, according to Doan on the FQ3 call, but it did not pass a qualification test at one of the company's customers. Similarly, the company's new EV chips -- part of the line introduced in the wake of the Cree settlement -- failed to be qualified in the quarter as well, raising questions about their readiness to contribute to revenue any time soon. SemiLEDs does have orders in both segments, according to executives, and expects contributions in the November quarter, but investors should hardly have confidence that its products will be accepted by those customers soon -- or at all.
This is not a matter of industry turmoil, either; lighting-focused Cree has nearly tripled since October and now trades at over 37x forward earnings. There is a growing market and a growing demand for the types of products SemiLEDs aims to make; the problem is the demand is for products from other competitors. LEDS is a stock with terrible fundamentals, questionable management, and a balance sheet that only looks decent in the context of a 92 percent decline in the share price since LEDS' December 2010 IPO. Over the past two years, the company has burned substantially more cash that it has left; meanwhile, it forecasts a Q4 loss of nearly $8 million, roughly 18 percent of its remaining cash balance and nearly 10 percent of its tangible book value.
Going forward, LEDS may see some bounces similar to those seen in March and April if good news hits the LED sector and/or LEDS competitors or suppliers. Nimble traders may look to ride any coattail gains, though that is always easier said than done. It's likely difficult to short the stock given its thin float (10.4 million shares, according to finviz.com) and low price, but any such gains would likely present a solid short opportunity. For investors, however, LEDS is simply not worth any risk, because there seems little chance that there will be any reward.
Disclosure: I have no positions in any stocks mentioned, and no plans to initiate any positions within the next 72 hours. I wrote this article myself, and it expresses my own opinions. I am not receiving compensation for it (other than from Seeking Alpha). I have no business relationship with any company whose stock is mentioned in this article.