We will all look fondly back at the period of this March and April when companies were rewarded handsomely for diluting their shareholders by 20, 40, 50%+ - I will remember seeing my REIT shorts destroyed as REITs diluted shareholders in excess of >50% and yet the stock went up. But that fairy tale era seems to be over. Being serially diluted is fun when you fear for the life of your company but not so fun in normal times. It appears we are heading back to normal.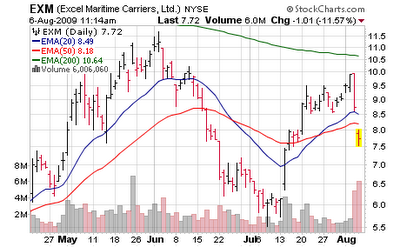 Excel Maritime Carriers (EXM) announced a dilution today of about 13%, 6M shares. Compared to peer DryShips (NASDAQ:DRYS) who has diluted shareholders around 84 times in the past year (I exaggerate), it's a small dilution [May 8, 2009: DryShips Joins the Dilution Parade]. What I love about these companies is they don't announce it at the same time as earnings - EXM announced earnings just yesterday and then waited another day to drop this on shareholders. That's a bit uncouth, but I've seen many a company do this in the past few months. [Emphasis mine.]
Excel Maritime Carriers Ltd (NYSE:

EXM

- News), an owner and operator of dry bulk carriers and a provider of worldwide seaborne transportation services for dry bulk cargoes, announced today that it has priced its offering to the public of 6,000,000 shares of its Class A common stock.
The Offered Shares have been priced at $8.00 per share. The net proceeds from the Offered Shares will be approximately $45.1 million (approximately $51.9 million if the underwriters exercise in full the over-allotment option).
The Company expects to use the net offering proceeds for repayment of debt as well as to build up its committed capital expenditure reserve account, which the Company may utilize for future capital expenditure requirements.
Much like with coal, there are any number of names to play the dry ship sector. I am ambivalent on which one most of the time - EXM happens to be our horse. We sold out almost our entire position about 3 weeks ago (we sit with a whopping $300 worth of shares) and today's stock price has actually broken the deal price of $8. Further there is a gap in the chart down in the low $6s. I'm going to be patient and see if we can fill "down there" in the future - so we'll place a limit buy order down there and see if one day in the next 3 months the market corrects and we can get filled. It's a potential short after today's action, but this type of stock is like the
Las
Vegas casinos in that they can move 10-15% a day, so it's a tough one on either the long or short side.
I didn't bother posting earnings because it's
irrelevant
- basically these stocks are a play on the "return of global trade/growth/China". But since we have another reason to talk about the stock...
Dry bulk shipping company Excel Maritime Carriers Ltd (

EXM

) posted a

37 percent drop in quarterly profit, hurt by the decline in the charter rates for its ships and higher expenses. Net income for the quarter was $78.0 million, or $1.05 per share, compared with $123.6 million, or $3.06 per share, in the same quarter last year. Excluding items, the company posted a net income of 86 cents a share.
Voyage revenue fell 25 percent to $98.4 million. Total expenses rose 4 percent to about $89 million.
Excel said that

66% of its fleets' operating days for the second half of 2009 are now locked up in long-term charters, and 53% for 2010.
These are not "buy and hold" type of stocks as you can tell by the volatility... unless we're in the middle of a bubble (i.e. decoupling circa 2007) in which case you can buy and hold them for a few months. [
Oct 1, 2007: A Chorus for Dry Bulk Shippers - Enough Already?
]
Long Excel Maritime Carriers in fund; no personal position