This article will be focused on the stock analysis of Syntel, Inc. (NASDAQ:SYNT), which represents a great investing opportunity given its cheap valuation, compelling growth outlook, and stable business model.
Business Overview
Founded in 1980, Syntel provides information technology outsourcing services worldwide. The company is consisted of 4 business segments - Application Outsourcing ("AO"), Knowledge Process Outsourcing ("KPO"), e-Business, and Team Sourcing. The 4 segments represent approximately 75%, 15%, 8%, and 2%, respectively, of the company's total revenue in 2012 (see chart below).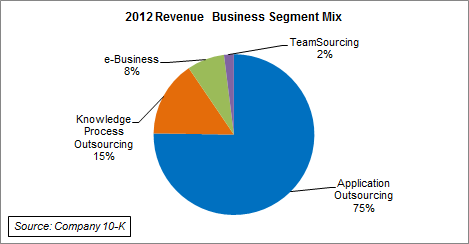 The AO segment covers the lifecycle of software applications including development, maintenance, testing, migration, infrastructure services, and cloud computing. The KPO segment provides outsourced solutions by assessing business process and identifying processes suitable for outsourcing. The e-Business segment offers advanced technology services such as architecting, web solutions, data warehousing, and enterprise resource planning. Lastly, the Team Sourcing division provides technology consulting services to assist customers with system projects.
About 75% of Syntel's 2012 revenue is derived from its customers in financial services industry, 15% from insurance, 16% from healthcare, 4% from manufacturing, 6% from retail, and 6% from various other verticals (see chart below).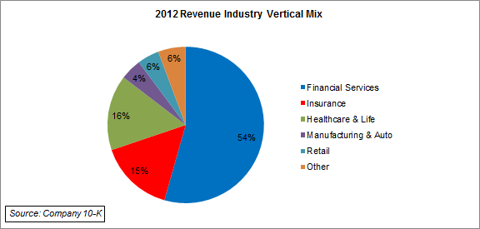 A number of development offices located in India and the US allow Syntel to forge a global delivery model to provide customized services to its ~135 customers residing in North America, Europe, and India. In 2012, Syntel generated approximately 92% of its total revenue from North America and 7% from Europe.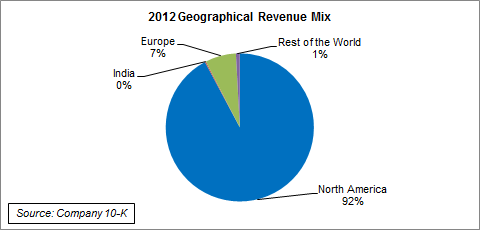 Stock Overview
Syntel went IPO in 1997. Since then, the stock has appreciated by 669% and achieved a market capitalization of $2.9B (see chart below). Year to date, the stock has returned 27% and it is currently at its all-time high at ~$69. Based on the next 12-month consensus EPS estimate of $4.53, the stock is valued at a forward P/E of 15.3x.

Financial Overview
Syntel's revenue has grown from $410.4M in 2008 to $723.9M in 2012, representing a CAGR of 15.2%. The historical top-line growth was driven by solid performance across all 4 business divisions, especially the AO segment, which was the primary growth contributor (18.7% CAGR).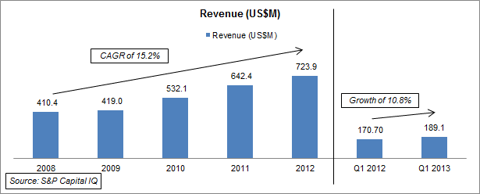 Over the same period, Syntel has been able to maintain a strong operating margin. Although the EBIT margin has fallen from 29.9% in 2009 to 22.7% in 2010, the company has managed to boost the performance back to 29% level since then. Due to the solid margin trend, Syntel's EPS has grown notably by a CAGR of 20.6% from $2.10 in 2008 to $4.44 in 2012 (see charts below).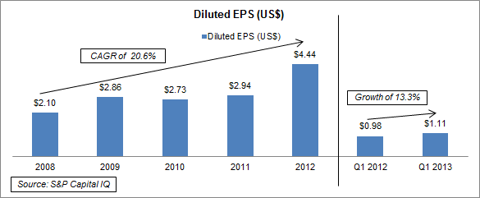 In terms of liquidity position, as of Q1 2013, Syntel carries only $50M in debt and has $438M in cash, representing a net cash position of $388M. Syntel's cash generation is supported by the company's robust free cash flow margin, which ranged from 9.5% to 16.6% in the past 5 fiscal years (see chart below).

Industry Tailwind
Syntel operates in an industry that enjoys secular growth tailwinds. According to NASSCOM, an Indian-based industry association, the total value of India's IT service exports has grown from $50B in 2010 to $69B in 2012, and the figure is forecasted to expand at a CAGR 13% through 2020 (see chart below). Labor cost arbitrage is believed to be one of the primary growth drivers as corporations are increasingly focusing on cost reduction and efficiency. In addition, the growing global competition of streamlining IT product development and speed-to-market have also contributed to the growth as offshore IT service providers with substantial operation scale and global delivery model are able to effectively respond to these market challenges.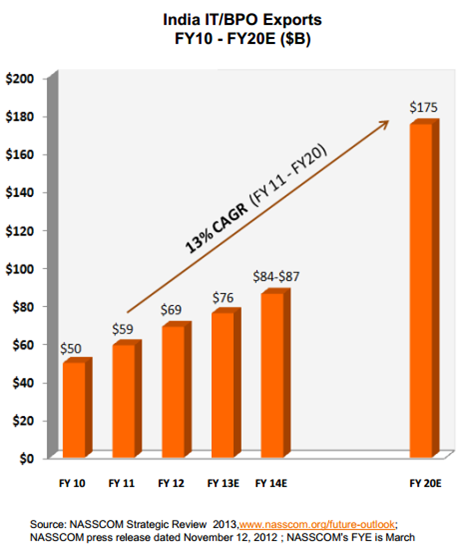 Moreover, given Syntel's above 50% revenue exposure to the financial services vertical, the company would be the direct beneficiary of increased IT service spending by financial institutions as a result of higher regulatory reporting and trading requirements imposed by Dodd-Frank Act and Basel III. Further, the healthcare industry, which is Syntel's second largest vertical exposure (16%), is also expected to experience an increased IT spending due to the adoption of ICD 10 diagnostic reimbursement code and migration to electronic health records.
Competitive Advantage
Syntel's global delivery model, superior customer relationship, vertical expertise, and stable business model are the key competitive advantages that allow the company to capitalize on the industry growth trends.
Depending on the complexity and stage of the assignments, Syntel can flexibly platform its services on-site at customer's location, off-site at the company's US offices, or offshore at its Indian delivery centers. All of Syntel's global offices are connected through a dedicated data and voice network, thus enabling a seamless service delivery capability. In addition to the service flexibility, the benefits also include quick turnaround, easy access to the most knowledgeable work team, 24/7 support, scalability, and cost effectiveness.
To avoid offering commodity-like services, Syntel has differentiated itself from other competitors by offering superior customer services to cultivate a long-term partnership and pursue a high rate of repeat business. From initially providing services based on Syntel's expertise in the software life cycle, the company will develop an in-depth understanding of a customer's business process and its industry dynamics to exploit opportunities for additional higher-value services. This effort is evidenced by the fact that approximately 99% of the total revenue generated in 2012 was from customers that Syntel has worked with for at least one year and that about 67% of the total revenue was derived from recurring services.
Through Syntel's effort to continuously develop in-depth knowledge of the customer's business and industry to drive new service opportunities, the company has developed in-depth methodologies and proprietary knowledge applicable to specific industries such as financial services, healthcare, insurance, manufacturing, and retail. In addition, the Syntel's wide range of service offerings and experience dealing with multiple computing platforms have enabled the company to address a range of customer needs and seize additional contract opportunities.
Given Syntel's sticky customer base, the company had demonstrated its business stability in the 2009 financial crisis. In the year, the company managed to grow its top-line by 2.1% (supported by 79% employee utilization rate (see chart below), which is even above its historical 5-year average) and maintain a 29.9% operating margin, resulting in an EPS growth of 36.2% over the prior year. The economic downturn had a limited impact on Syntel's liquidity position as the company was still able to generate a 13.8% free cash flow margin in 2009. In addition, staff stability has also contributed to Syntel's solid performance. Since 2007, employee attrition rate has ranged from 11.0% to 16.4%, which is below the industry benchmark according to management (see chart below).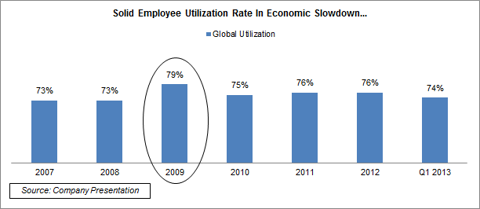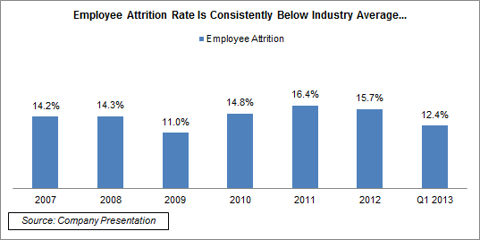 Current Development
Syntel's Q1 2013 earnings have beaten consensus estimate. On a year-over-year basis, Q1 revenue increased by 10.8% from $170.7M to $189.1M and Q1 EPS rose by 13.3% from $0.98 to $1.11. Q1 operating margin expanded from 26.1% to 27.4% year-over-year.
In large industry verticals, financial services was the primary growth driver as this vertical sales was up 9.5% year-over-year, followed by insurance revenue, which increased by 28%. Although healthcare revenue was down by 6% year-over-year, management remains optimistic regarding the underlying revenue driver (i.e. conversion from ICD 9 to ICD 10 diagnostic reimbursement code and migration to electronic health records).
Management believes fiscal 2013 will be a better year than 2012 as customer demand is increasingly robust. As such, 2013 revenue range guidance was raised to $785M to $815M and EPS range guidance was boosted to $4.25 to $4.50. Management noted that they have 80% visibility into the low end of the revenue guidance.
Additional Upside Driver
American Express (NYSE:AXP) is now Syntel's largest customer and contributes approximately 27% of the total revenue. The next largest customer, State Street Bank (NYSE:STT), contributes about 17% of the revenue. Over the past few years, Syntel has done an excellent job by expanding its range of services with these anchor customers and successfully driven above-average sales growth rates (see charts below). In Q1 2013 earnings call, management indicated that Syntel has started focusing on further penetrating and developing relationships with existing clients ranked 3rd to 30th as these customers remain significantly under-penetrated relative to American Express and State Street Bank. Given Syntel's past success with the 2 anchor customers, it is reasonable to believe that management's initiative would be fruitful in the near-to-medium term.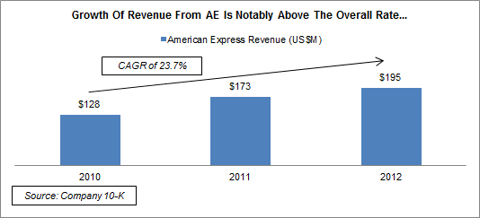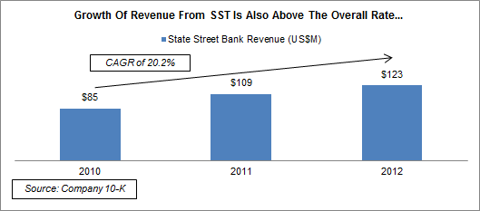 Syntel's management has also demonstrated strong execution in meeting market's expectation as reflected by the fact that the company has exceeded consensus earnings estimates in 19 out of the last 20 quarters. As such, it is fair to expect the company's financial guidance to be prudent and the chance for beating market expectations to remain high.
Moreover, Syntel's current net cash balance of $388M is equivalent to approximately $9 per share or 14% of the current share price. Any capital allocation plan potentially announced in the future (e.g. buyback, dividend, and/or M&A) would be a plus to shareholder value.
Valuation
From a relative valuation standpoint, Syntel shares are trading at an attractive level. According to the comps table shown below, Syntel's various growth estimates are slightly below par. On the profit side, however, the company's profitability margins and capital return metrics are all considerably above the peer averages. In terms of liquidity, Syntel's robust free cash flow margin is significantly above par. Both the company's current and quick ratios also outperform the comps, reflecting a healthy balance sheet condition.

Syntel is currently trading at a forward P/E of 15.3x, which is 12% below the peer average. Given that Syntel's consensus growth estimates are generally below the peer averages, this P/E multiple discount appears to have accounted for that miss. After considering the consensus 5-year earnings growth rate, the stock's 5-year PEG remains 12% below par. As Syntel's profitability and liquidity performance is notably superior to the comps, I believe the PEG discount is exaggerated as even a premium can be warranted.
In addition, Syntel's forward P/E is also trading at a 4% discount to that of S&P 500 Index, which currently stands at 15.9x (see chart below).

Again, I believe this discounted level is compelling as the stock valuation should reasonably deserve a solid market premium provided that 1) Syntel's 5-year consensus earnings growth estimate of 14.5% is considerably above the average estimate of 8.2% for the S&P 500 companies; 2) the company's profitability and liquidity performance is also notably above the market averages; and 3) the stock's P/E traded at a market premium prior to the end of 2012, and there have been no significantly negative corporate developments since then.
Some investors may argue that Syntel's valuation discount is justifiable as the company's revenue is largely concentrated on American Express (27%) and State Street Bank (17%). However, I believe the risk is actually limited by the fact that Syntel provides services to these 2 customers through a series of smaller contracts (instead of a single large contract) with various renewal dates. In addition, management has indicated that most of the services offered to these 2 customers are mission-critical and thus the probability of contract termination is likely to be low.
US Working Visa Reform
The US government is currently mulling a working visa reform which may restrict companies with above 15% employees holding the US work visa from placing oversea staff in the country starting from October 2014. Given that the offshore IT service providers typically deploy a significant number of oversea employees in the US for cost efficiency reason, the potential visa reform is likely to materially dissolve the cost advantage. The likely impact has been seen in the declining share price of some of Syntel's peers as they cut performance forecast accordingly.
In my view, the visa issue would likely have limited impact on Syntel's share price provided that:
1. The company has approximately 10% of its overall employees on visas, which is below the peer average and therefore the operational impact would be less than many of its peers.
2. Management has indicated that Syntel's operation is flexible enough to cope with the potential challenge without significant cost and operational impact (e.g. altering on-site/offshore staff ratio).
3. The stock valuation is currently trading at a discount to the comps and market, providing some buffer for any negative sector impact.
Conclusion
Given Syntel's healthy growth prospect and robust financial performance, the discounted valuation appears to be very compelling and provides a decent margin of safety to investors. As discussed previously, I believe Syntel's current fundamentals should reasonably substantiate a premium PEG multiple relative to the comps. As the company continues expanding its line of services with existing customers and deliver solid results, I would expect the valuation multiple to rise accordingly. Any new major client addition or capital allocation plan announcement would drive an additional price upside. Based on a PEG ratio of 1.3x, which is 8% above the current comps-average at 1.2x, the upside is approximately 23%.
All facts and data used in the article are sourced from S&P Capital IQ, company financial filings, and company presentation unless otherwise specified.
Disclosure: I am long SYNT. I wrote this article myself, and it expresses my own opinions. I am not receiving compensation for it (other than from Seeking Alpha). I have no business relationship with any company whose stock is mentioned in this article.