This week's commentary from Fed Chairman Ben Bernanke sent signals suggesting the U.S. central bank is in no rush to put an end to its quantitative easing programs, and that these strategies might remain in place even if the economy does manage to pick up at a modest pace. This was something of a surprise for currency investors, as most of the trade positioning has been based on the expectation that these programs will start to see reductions in September. Needless to say, this dovish surprise pushed valuations lower in the PowerShares DB US Dollar Index Bullish (NYSEARCA:UUP) and created bullish moves in the CurrencyShares Japanese Yen Trust (NYSEARCA:FXY) and the PowerShares DB US Dollar Index Bearish (NYSEARCA:UDN). Shortly after, the Bank of Japan completed this month's monetary policy meeting, electing to refrain from adding to its stimulus programs. Seen in combination, the USD/JPY dropped to new short term lows and reversed the pro-Dollar trends that have been running for more than a month.
But these moves are unsustainable, and the latest dip in the U.S. Dollar will be short-term in nature. Those looking to play the likely upward moves in the USD/JPY forex pair should consider the PowerShares DB US Dollar Index Bullish fund, as this is one of the best way to buy into the latest dip. Supporting this position is the fact that most of the main central banks around the world (in the Eurozone, England, and Japan, in particular) are all drifting toward additional stimulus easing as a means for supporting their economies. So, while the Bank of Japan did elect to hold off on adding stimulus at its current meeting, there are disagreements over whether or not the current policy levels will enable Japan to rise to its 2% inflation target. At this stage, there is little to suggest that the U.S. Federal Reserve will not be the first central bank to start reducing stimulus and enacting hawkish monetary policies. This adds to the case for a bearish stance for the CurrencyShares Euro Trust ETF (NYSEARCA:FXE), and the CurrencyShares British Pound Sterling Trust (NYSEARCA:FXB) as well.
Finally, we have the Reserve bank of Australia which is also expected to cut interest rates before the end of the year. Shorter-term, what could easily cause weakness in the Australian Dollar can be found in weakening GDP growth for its largest trading partner, China. Next week, we will see the Chinese GDP, which is expected to show an annual rise of 7.5%. Any downside surprises here will weigh on the Aussie and should lead to a bearish stance on the CurrencyShares Australian Dollar Trust (NYSEARCA:FXA). Growth rates in the U.S. are not expected to show much in the way of strong improvements, but when we compare those rates to what is seen in the rest of the world, the U.S. looks like an excellent alternative. Add to this potential reductions in stimulus and you have a recipe for consistent strength in the currency through the summer.
Chart Perspective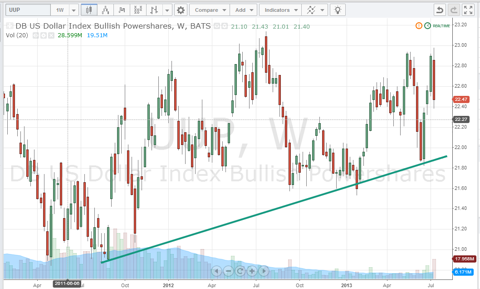 In the PowerShares DB US Dollar Index Bullish fund, prices are now making the attempt to grind through resistance at 22.95. We have seen a well defined series of higher lows, so an upside break is still expected. Look to buy into support at 22.20.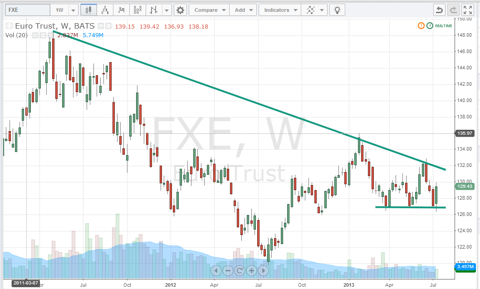 In the CurrencyShares Euro Trust ETF , prices have now tested support at 127 three times, and the structure is unlikely to hold if we do see a fourth test. Given the consistent series of lower highs, this downside break is expected, and traders should use bounces as opportunities to turn bearish.
Disclosure: I have no positions in any stocks mentioned, and no plans to initiate any positions within the next 72 hours. I wrote this article myself, and it expresses my own opinions. I am not receiving compensation for it (other than from Seeking Alpha). I have no business relationship with any company whose stock is mentioned in this article.