According to the Organic Trade Association, sales in the organic industry in the US have increased by 9.5% year-over-year. According to the Natural Food Merchandiser, sales in this industry increased 9.7% in the natural channel and 11% in mass retailers. This growth in the US has been possible due to the health conscious customers who are willing to spend extra on natural and organic products. Companies like Annie's (NYSE:BNNY), the largest premium natural and organic brand dealing in product categories like macaroni and cheese, snack crackers, Fruit snacks etc, has benefited from the strong growth in the industry.
About Annie's
Annie's is a natural and organic products retailer having 135 products in the categories of meals, snacks, dressings, condiments and others.
Meals: This segment contributed 47% to the net sales in 2013 as compared to 43% in 2012. It includes products like macaroni & cheese, canned meals, pasta and skillet meals and frozen pizza. Out of these products, macaroni &cheese contributes major sales. Growth is driven by offerings in macaroni & cheese and new product innovations in the meals category.
Snacks: This section includes products like cheddar bunnies, bunny grahams, fruit snacks, snack mix, granola bars, and pretzels, which have contributed 39% to the net sales in 2013.
Dressings, Condiments and other products: this is another important category which contributed 17% in 2012, but its contribution declined to 14% in 2013 due to discontinuation of the cereal products line and reduction in the types of offerings in this category.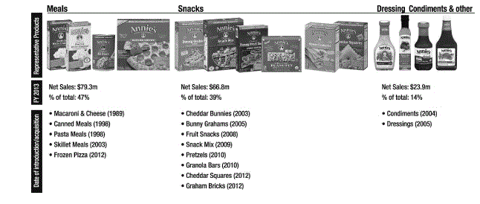 Source: Company Report
Annie's sells its products through three channels i.e. mainstream grocery [Kroger (NYSE:KR), Safeway (NYSE:SWY)], mass retailers [Target (NYSE:TGT), Costco (NASDAQ:COST), Wal-Mart (NYSE:WMT)] and Natural retailers [Whole Foods Market (WFM) and Trader Joe's]. Annie's customers are generally those with higher incomes, who are less sensitive to price increases, are health conscious and able to spend more on natural and organic products.
Revenue is generated from the following three channels: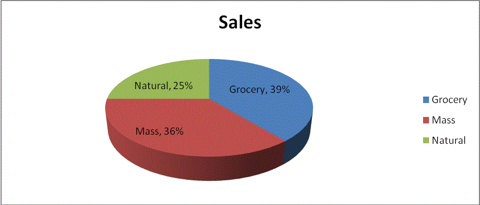 Financial summary
The company reported that net sales for 2013 increased by 20.3% to $170 million. Growth is coming mainly from the meals and snacks segments, with increased contribution of 31% and 18% respectively. The dressing, condiments and others category didn't show any growth due to discontinuation of the cereal products and reduction in offerings. Net sales of the company are also affected by about $1.1 million due to the voluntary pizza recall by the company. The company reported a 20% increase year-over-year in EPS from $0.24 to $0.29, which is slightly above the consensus estimate of $0.28.
Growth opportunities
Penetration should increase more
The company currently has around 6.5% penetration in the US. According to the Organic Trade Association study, 17% of the US population is already aware of organic products and is also willingly opting for these products. The next 25% are aware of the benefits, but are cost conscious. According to the company reports, Annie's currently has 7.5 to 8 million customers. There are around 19 million customers who are willing to pay for healthy food, and it has further scope to expand towards the next 22 million high income households that have children under the age of 18, and they can be potential customers for the company. The company has great scope to grow with increased penetration. Its individual category penetration is very low.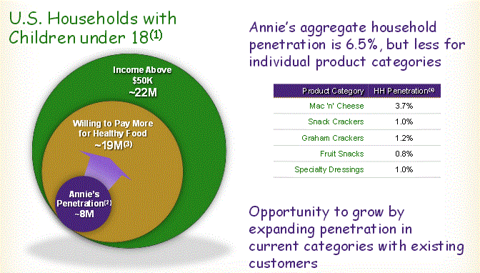 Source: Company Report
Encourage consumers to shop across the categories
The company has low penetration in individual categories, and out of its 8 million customers, most of the households purchase macaroni and cheese, so there is scope to encourage the existing customers to shop across the other categories too.
Main highlights
Recall and re-launch of pizza
The company launched its frozen pizza in January 2012, but had to go for a voluntary recall of pizza due to discovery of metal fragments in the pizza dough by the manufacturer of pizza crusts. The company had outsourced its production to a contract manufacturer. So it found that the metal fragments originated from third-party flour mills from where it sourced the pizza flour. The company stopped production immediately and began the recall of all pizza made with this flour. The company incurred additional cost of the returned pizzas, in addition to the cost of new suppliers and the cost of raw materials. Its net sales were negatively affected by $1.1 million due to this recall. The company re-launched the production of frozen pizza again in 4Q13 with flour from an alternate source. The company stated that it has regained most of its distribution, but it has not achieved distribution level as pre-recall yet.
Product innovation
The company has a history of new product launches every year. It has launched the mac and cheese line in 1989, Fruit snacks in 2008, snack mixes in 2009, bunny pretzels and snacks in 2010 etc. Here are some new products launched by the company which are attractions of 2013,
Microwaveable macaroni & cheese cup: As mentioned earlier, macaroni & cheese is the highest selling category in Annie's' portfolio. The company is planning to expand this category with introduction of microwaveable mac & cheese cup and Real Aged Cheddar, White Cheddar and Gluten Free Rice Pasta & Cheddar. These cups are 'easy and quick to make' and so are convenient for busy families.
Cheddar Squares and Graham Crackers: the company is planning to expand its snack category with introduction of Cheddar Squares and Graham Crackers. After the success of Cheddar Crackers it has launched Cheddar Squares with great taste and high quality. The company is also planning to launch Graham Square in honey and cinnamon variety for all ages.
In March 2013, it has launched deluxe skillet meals with category size of $285 million.
"Frannie", frozen strategy of Annie's
The company has a frozen strategy under which it has launched 7 initial frozen categories totaling $12 billion. The company launched its frozen crust pizza in January 2012 and is expected to launch additional product line in 2014.
Conclusion
Annie's initially launched frozen pizzas but subsequently recalled them because the manufacturer found metal fragments in pizza dough. The company re-launched frozen pizza. Now it has started gaining momentum. The company's stock price is also showing an upward trend, and is up 34% year to date. I believe the company can continue its upward momentum and is a good long term buy given its history of product innovation and new product launches.
Disclosure: I have no positions in any stocks mentioned, and no plans to initiate any positions within the next 72 hours. I wrote this article myself, and it expresses my own opinions. I am not receiving compensation for it (other than from Seeking Alpha). I have no business relationship with any company whose stock is mentioned in this article.