Molycorp (MCP) is a stock that we bought recently. We believe the worst is over for MCP, and the recent technical and fundamental analysis show that MCP might be able to start a bullish uptrend in the next few weeks.
MCP is the second largest producer of rare earth minerals outside of China. Their products include oxides, alloys, metals and magnets. The company has 26 locations across 11 countries and has more than 2700 employees worldwide.
Rare earth metals are used for numerous applications and include clean energy technologies, advanced transportation systems, consumer electronics, energy efficient lightning, computer applications, advanced communications and satellites and healthcare technologies together with medical devices.
The future
The future looks bright for MCP. The company has had a number of problems in the last few years, but I believe that the new management has done a great job and will provide further stimulus. Firstly, there has been a number of cost cutting procedures put in place that has helped the bottom line. In the latest earnings report, the CEO stated: "As our production levels increase, we expect our cost of production to steadily decline".
Furthermore, recent news came out that the SEC has concluded the investigation on MCP. There was no enforcement action. This is very positive for the company and clears any problems. This investigation started in August 2012, so long term investors can breathe a sigh of relief over this news.
Latest earnings report
The latest earnings report was a stellar, one and shows that the company's future may turn the corner. Here are a few comments that caught my eye. I believe that this makes 2013 an exciting one and the next earnings report can be a big one for MCP:
We are however beginning to see signs of demand returning to more normal levels across several segments. Customers appear to be working down inventories that were built up in 2011 and 2012 and we are starting to return to more normal purchasing patterns.

We continue to conserve cash aggressively, and have implemented measures such as layoffs, salary cuts for all senior management and other initiatives. Based on our current forecast, I believe we have sufficient liquidity for execution of our business plan.
The numbers
Net revenue came in at $146.4m, which was 9% higher than the fourth quarter. Chemicals and oxides revenue increased to 11% from $57.9 million in the fourth quarter of 2012 to $64.2 million during this first quarter. This was due to improved volumes together with a slight increase in pricing related to a favorable product mix. As of March 31st 2013, the company had $404.8m in cash.
Fundamental Analysis
Market capital $1.28b
Cash position $404.83m
Float of 134.2m
36.5% of float is short.
15m shares have been bought by insiders in the last few months. See here.
Technical analysis
Let's start by analyzing the daily chart. Share price is now over the 50 day moving average, which is a bullish sign. Volume has been increasing, meaning institutions have been buying recently. Furthermore, price has broken the descending trendline, another bullish sign.
(click to enlarge)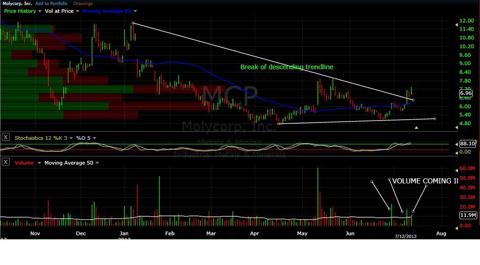 The weekly chart also shows bullish action. The price closed above the 10 day moving average. The next resistance is the 50 day moving average at $8.24.
We have initiated a position in the $7 September calls last week. Our group risks 1% of the entire portfolio on each trade. We like the prospects of MCP going forward and believe that next earnings call will be positive for the company. The strong cash position, new management, strategic planning and the improved technicals are things we like, and are reasons why we have initiated a position in MCP.
Disclosure: I am long MCP. I wrote this article myself, and it expresses my own opinions. I am not receiving compensation for it (other than from Seeking Alpha). I have no business relationship with any company whose stock is mentioned in this article.