A few months ago I laid out my general business development company ("BDC") investment philosophy and I would like to expand on those ideas for investors with different needs and create a framework for four ideal BDC portfolios. My "Latest BDC Rankings: Discounted At Last?" has an oversimplified table ranking each BDC based on the five general categories I use to evaluate investments, and in my weekly newsletter I explain that the table is misleading for investors that do not weight each category according to their individual investment needs. Out of the 25 BDCs that I follow, I will pick five for each portfolio type (with the exception of the general portfolio) along with recommended weightings. The four types of portfolios are:
I will cover each of these portfolios in detail with recommended allocations in the following articles as well as updates as needed after quarterly earnings releases and relevant economic events. For each of the portfolios, I will consistently try to optimize the following:
Total returns
Risk to reward ratio
Gains from undervaluation
Industry diversification
Sustainable and growing dividends
Industry diversification for each portfolio will take into account the recommended weightings by sector as discussed in "BDC Risk Profiles: Part 5 - Industry Diversification," and I try to stay away from BDCs such as Hercules Technology Growth Capital (NASDAQ:HTGC) and Horizon Technology Finance (NASDAQ:HRZN) that focus on healthcare, technology and energy efficiency, with companies that have limited operating histories and conduct business in regulated industries that could be affected by changes in government policy and regulations as discussed in this article.
There are a few managed BDC funds/ETFs such as Market Vectors BDC Income ETF (NYSEARCA:BIZD) and Wells Fargo Business Development Company ETN (NYSEARCA:BDCS) that have a dividend yield of 5% to 7% which is much lower than the average BDC with 9.3%. The top 10 holdings account for over 70% of the portfolios and rarely contain some of the best BDCs due to size limits or trading volume. If these funds were well-managed they could have a much safer mix with a higher yield.
What is a BDC?
BDCs were designed to facilitate the flow of capital to small and mid-sized private companies by Congress as part of the Small Business Incentive Act of 1980. They operate in a market that is mostly overlooked by banks, and their non-bank structure gives them flexibility to invest in multiple levels of a company's capital structure. BDCs are a special subset of investment companies regulated by the Investment Company Act of 1940 which was created to instill investors' confidence in these companies and to protect the public interest. Most BDCs are Regulated Investment Companies ("RICs") designed to avoid double taxation, using the "conduit theory," where capital gains, dividends and interest are passed onto shareholders; they avoid taxation at the corporate level, but are required to distribute at least 90% of interest, dividends, and gains earned on investments. RICs are also required to distribute 98% of net investment income to avoid paying a 4% excise tax. BDCs are limited in the amount of financial leverage they can use with debt to equity ratios of less than 1.0, which is much lower than banks and REITs. They are required to diversify their holdings and to have at least 70% of total assets considered as "qualifying assets," and offer managerial assistance to the businesses they invest in.
Why do I like BDCs?
I like the idea of investing in companies that capitalize smaller private businesses that are unable to get growth capital from typical banks. BDCs have substantially outperformed the overall financial sector recently and will hopefully continue to do well for another few years as discussed in "BDC Risk Profiles: Part 5 - Industry Diversification".
The chart below indicates that the U.S. economy is currently in mid-cycle expansion, based on various analyses of historical trends, and most economists believe we have been in this phase since the second half of 2010. The mid-cycle phase is the longest (typically 4 years) and could end as early as late 2014 followed by an average 18 month late-cycle before going into another potential recession, which is historically the only part of the cycle that BDCs underperform. This would imply a few more years of outperformance, and most analysts have 'overweight' recommendations for the financial sector.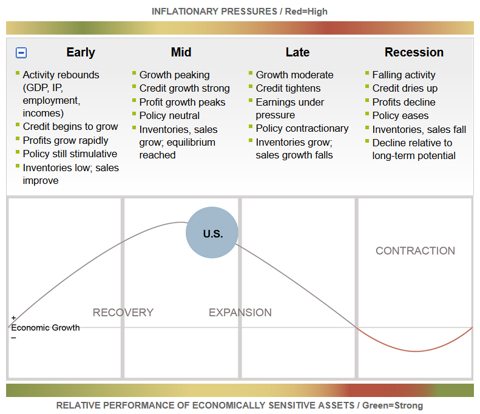 As we head into the late-cycle, there will a tightening of credit and, as we have already seen, there will be yield compression and rising interest rates. However, there is not always a chronological progression in this order, and there have been cycles when the economy has skipped a phase or retraced an earlier one.
What does rising rates mean for BDCs?
I believe that most BDCs will benefit from rising interest rates. The recent spike in rates implies that the economy is stronger than anticipated, which is positive for BDCs that lend to companies and rely on a healthy economy. Most BDCs have variable rate investments as discussed in "BDC Risk Profiles: Part 6 - Interest Rate Sensitivity," and as rates rise, so will the income from these investments. Recently, many BDCs have issued long-term fixed rate notes and locked in borrowings at lower rates. Historically, BDCs have fallen in the short term as interest rates suddenly rise and yield investors sell off as a group, but in the long term, they outperform the overall market.
My portfolio and evaluation criteria:
My overall portfolio is considered conservative with a majority of it in cash and municipal bonds seeking capital preservation. The remainder is allocated to riskier income-producing investments that fluctuate as a percentage based on macroeconomic indicators. These investments include high yield bond funds, BDC, MLPs, REITs, utility funds, and defensive stocks. It is my opinion that investors should not have a single holding (a stock or fund) that represents more than 1% of the total portfolio, which is why it's better to buy a few of the same type of investments than trying to pick the 'best' one.
These are the five general criteria I use to evaluate BDCs:
Profitability (EPS to cover dividends, NAV and EPS growth)
Risk (rate sensitivity, diversification, portfolio quality, volatility)
Payout (sustainable, consistent, growing)
Analyst Opinions
Valuation (NAV, P/E, PEG)
See this link for a "List of 25 BDCs That I Follow" and the associated focus articles.
Risk Averse Portfolio
This portfolio is for investors who do not want to worry or 'babysit' their investments and are not using them as a major source of income or capital appreciation. Many of the low risk BDCs are currently overvalued and low yielding, but during market corrections, they tend to outperform the others with less volatility and still pay a healthy dividend with long term capital appreciation.
In a recent series of articles "BDC Risk Profiles," I took an in-depth look at the relative risk levels of each BDC. Specifically, I looked at portfolio credit quality, investment asset classes, diversification, non-accrual rates, portfolio yield, fixed/variable rate loans, leverage, interest rate sensitivity, volatility ratios, market capitalization, insider ownership and trends, institutional ownership and trends, and management/operational history for each BDC. Here are my current relative risk rankings for the BDCs I follow (10 implies the least amount of risk):

Risk does not necessarily indicate that an investment is bad, and in bull markets usually the riskier stocks outperform the overall market. Most of the BDCs that I consider to be risky have had the most impressive performance, such as Hercules Technology Growth Capital (HTGC), American Capital (NASDAQ:ACAS), KCAP Financial (NASDAQ:KCAP) and MCG Capital (NASDAQ:MCGC), which are up 13% to 30% year to date compared to Solar Senior Capital (NASDAQ:SUNS), Fifth Street Finance (FSC), and Main Street Capital (NYSE:MAIN), that have appreciated less than 5% since the beginning of the year. Risk is a double edged sword and goes both ways. After the most recent comments from the Fed regarding its plan to begin paring back its bond-buying program later this year, ACAS fell 10% in less than a week, even though it was already trading at a discount compared to other BDCs. The chart below shows the stock price performance for the BDCs that were publicly traded during the financial crisis with ACAS, MCGC, KCAP, BlackRock Kelso Capital (NASDAQ:BKCC), Gladstone Capital (NASDAQ:GLAD) and Apollo Investment (NASDAQ:AINV), falling 70% to 90% in price compared to MAIN and FSC, both of which outperformed that S&P 500.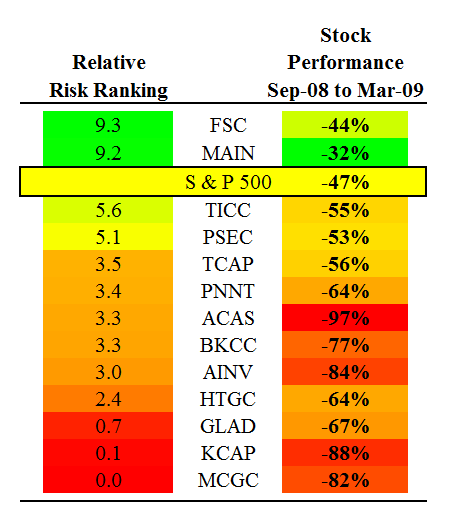 As discussed in "BDC Risk Profiles: Part 1", BDCs invest in a variety of asset types to maximize return on investment. Investments range from safer senior secured loans, such as term loans and revolvers to riskier subordinated unsecured loans or even riskier, preferred or common equity and warrants. Some BDCs invest in collateralized loan obligation ("CLO") securities that are potentially riskier and less transparent than direct investments in portfolio companies, have a lower repayment priority, are thinly traded, making them less liquid, difficult to value and more volatile. Some of the BDCs that invest in CLO type vehicles are KCAP with 22% of its portfolio, TICC Capital (TICC) at 29%, Prospect Capital (NASDAQ:PSEC) at 17%, and ACAS with 4%. The following chart shows the different investing philosophies for PennantPark Floating Rate Capital (NASDAQ:PFLT) and PennantPark Investment Corporation (NASDAQ:PNNT).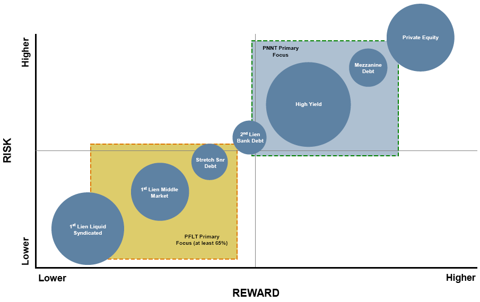 As the chart implies, the higher the risk the higher the reward, which is why riskier BDCs pay higher dividend yields such as the ones talked about in the next section. This is another reason BDCs are usually priced based on net asset value ("NAV") with yields that range from 6.3% for MAIN to 12.2% for PSEC.
Investors in this type of a portfolio should be aware that many of the 'safer' BDCs are overpriced due to yield seeking investors that are concerned about capital preservation. As interest rates spike, many of these investors will sell baskets of high yielding stocks regardless of underlying fundamentals. This should be seen as an opportunity to buy for the long term.
As discussed earlier, when choosing BDCs and allocations for a lower risk portfolio, I will still try to optimize the total return, payout yields, and risk to reward ratio, while trying to minimize the amount of relative risk. Potential stocks for the portfolio are MAIN, PFLT, and SUNS.
High Yield Portfolio
This portfolio is for investors that are willing to take on a little more risk with less capital appreciation but higher dividend yields. When considering payout yields, it is important to understand if the dividends are sustainable, ideally through net investment income with special dividends covered by realized capital gains. It is also important to look at NAV stability to indicate if the value per share is stable after paying its dividends. Dividend growth supported by historical EPS growth will be a major consideration for this portfolio as well.
Along with high yield BDCs comes higher risk. Some investors believe that maybe they are just underpriced, and that might be true some of the time, but in general, the market has a way of pricing things efficiently, especially in the case of BDCs with large amounts of institutional investors that own over $12 billion, or almost half of the industry, and often have teams of analysts, as well as access to corporate and market data that most retail investors do not.
Currently the highest yielding BDCs are PSEC, TICC, and Full Circle Capital (FULL), near or over 12% but FULL does not have a sustainable dividend, has adeclining NAV and low projected EPS, indicating there is a good chance it will cut its dividend soon. The average BDC currently has a dividend yield of 9.3%, but for this portfolio, I would expect to see an additional 200 basis points or around 11.3% given current rates. Again, I will try to keep the risk to a minimum, and since valuation levels and yield are correlated, many of the BDCs in this portfolio will be undervalued with a potential for short term capital appreciation.
Value & Growth Portfolio
This portfolio will most likely have the highest turnover and needs more attention than the others. This is for investors looking for capital appreciation in the long and short term, while willing to take on a little more risk. As discussed in the high yield portfolio, most likely these BDCs will have higher yields with the exception of ACAS, which is undervalued, but does not pay a dividend.
I consider many things when assessing valuation levels, including current NAV and EPS multiples as well as growth rates and projected earnings. I also take into account the risk ranking, and I believe there is a strong correlation between investors' perception of risk and the valuation multiples they pay. I use 'total return' to evaluate performance, taking into account dividend yield plus long-term capital appreciation. NAV growth per share (or at least NAV stability) is an important indicator for many reasons, including the demonstration of growth or preservation of investors' capital through appreciation of assets and/or the reduction of liabilities. BDCs are usually priced based on NAV multiples, so a growing NAV per share usually leads to incremental capital gains for investors. Currently the five most undervalued BDCs are TCP Capital (NASDAQ:TCPC), Medley Capital (NYSE:MCC), FSC, TICC, and PSEC. ACAS is undervalued as well, but not as much in my opinion.
As with the other portfolios, I will try to minimize risk and maximize dividend yield, but focus on valuation levels looking for capital appreciation.
Optimal BDC Portfolio
Obviously each investor has different needs, so there is no 'optimal' portfolio that 'fits all,' but I believe there are BDCs that offer higher returns for the amount of risk as well as potentially being underpriced. This portfolio is for the investor seeking the optimal balance between risk and reward with a higher than average payout and capital appreciation. The number of BDCs will change as opportunities present themselves.
This portfolio will also focus on 'total return' as discussed in "Triangle Capital: Is It Priced For Total Return?" and take into account expected NAV and dividend growth as well as the current dividend yield to come up with the overall expected return for each BDC. For example, Triangle Capital (NYSE:TCAP) has a dividend yield of 7.6% which is considered to be low but given its recent growth in dividends as well as NAV, the total expected return is closer to 20% a year.
Another consideration will be having a mix of stable seasoned companies with larger market caps and younger smaller cap BDCs with higher growth potential and are usually priced lower due to lack of investor awareness or historical track record. MCC, TCPC, THL Credit (NASDAQ:TCRD), Fidus Investment (NASDAQ:FDUS), Golub Capital BDC (NASDAQ:GBDC) and New Mountain Finance (NYSE:NMFC) all have 3 years or less history as public companies as well as market caps near $500 million or less and lower pricing multiples (except GBDC and FDUS) than most BDCs.
I generally do not put much weight in the analyst opinion category, and see it more as a lagging indicator, but the four BDCs with the highest analyst recommendations are TCPC, FDUS, Solar Capital (NASDAQ:SLRC) and Ares Capital (NASDAQ:ARCC). The payout and valuation categories are weighted less than the profitability and risk categories because they are often tied together, and I try to avoid double counting of criteria. As BDCs are undervalued, their yields tend to be higher than the average BDC, but hopefully investors are pricing investments based on perceived risk, which is why I look at each risk profile to determine appropriate pricing in the valuation category.
Ideally the optimum portfolio would have lower risk than the average BDC, higher profitability and growth, slightly undervalued and higher than average payout yields.
There are a few BDCs that I would not recommend in any portfolio due to declining NAV per share, unsustainable dividends, overvaluation, or lopsided risk to reward ratio, including MCGC, GLAD and FULL.
Investors should only use this information as a starting point for due diligence. For my most recent price targets see my "BDC Buzz Report" or my overall BDC rankings table see "Latest BDC Rankings: Discounted At Last?".
Disclosure: I am long TCPC, MAIN, PFLT, ARCC, TCRD. I wrote this article myself, and it expresses my own opinions. I am not receiving compensation for it (other than from Seeking Alpha). I have no business relationship with any company whose stock is mentioned in this article.