I know little about the Hatfields and the McCoys, save that their family feud apparently ended with the last hanging in Pike County, Kentucky during 1890. Carl Icahn, of Icahn Enterprises L.P. (NYSE:IEP), who has partnered with Southeastern Asset Management, Inc. in opposition to Michael Dell, CEO of Dell (DELL) and Silver Lake Partners, is a more familiar, and lawful, combatant. Though the activist investor does not win all of his proxy fights - drawing on memory, CVR Energy, Inc. (NYSE:CVI) has been his only successful bid at complete company control in recent years - it is nearly certain that his well-financed army of advisors has scrutinized all available information before he decides a tussle is worth it. As a retail investor, who lacks the same resources as parties involved, but follows the situation closely, a potential way to profit involves acknowledging that proxy voting force probably is not a tool, and instead, recognizing the ramifications.
Dell Inc. shares currently trade at $13.32. There are two indirectly competing offers for them. The company's CEO and Founder Mr. Dell seeks to take the firm private in pursuit of his own plans. In order to do so, he must secure the approval of the majority of stockholders, exclusive of his own 15.6% stake. He is offering $13.65 per share. So, if anyone buys stock today, and Dell prevails on Thursday, July 18, there is a potential gain of roughly [ $0.33 / $13.62 = ] 2.4% in under a week. Many journalists have been reporting that if the deal is defeated, the stock would trade much lower; with Dell himself saying about $7.90 per share would vaporize.
Presently, the risk does not appear to outweigh the reward. Further, billionaire short seller James Chanos has publicly stated his bet against DELL. There is no dispute that the corporation's PC business is deteriorating. Lastly, an offer for the company from another party intimately familiar with it has been withdrawn.
However, while a volatile situation involving motions to elect a new Board is probable to ensue a defeat, I am not sure that stock can be expected to drop to a price of $5.42. One reason is that Carl Icahn appears to genuinely want to take control. Amidst three advisory entities' declarations of support for Dell's bid, Icahn has urged shareholders to seek a Delaware judge's appraisal of the company - a rarely successful occurrence according to The Wall Street Journal. As of Friday, he has also sweetened his $14 per share offer to include a ¼ a warrant to purchase a share at a $20 strike price, that expires seven years from now. Estimates of added value range from $0.72 to $0.85, with the entire offer worth up to $15. This alternative should serve to cushion a selloff; though it faces obstacles that may prevent an immediate increase in share price.
Underlying it all, there are prospects for those who wish to own equity in the corporation. According to multiple parties, higher growth and higher margin Enterprise Solutions; and Dell Services, with revenue up 2% for Q1; are the future of the company. Further, Icahn and Southeastern Asset Management say that Dell's stock is worth approximately $23 per share (including $15.80 in operating value, and $7.40 in cash and investments), and $20 if no value is assigned to the PC business. Evidently, they are willing to pursue a proxy fight if conditions include a stock determined to be 45% undervalued.
It is not obvious to me why shareholders would vote to wash their hands of the company at $13.65 price. There is apparently a higher paying alternative: the choice of tendering in exchange for better compensation, or hanging onto stock in anticipation of a turnaround of a further indebted Dell. Many parties' holdings are currently devalued due to the company's flagging results, and may be described as "Trapped money." The immediate matter involves questions about whether they wish to be freed of the situation, realize losses, and move on; or accept better immediate terms in exchange for allowing a future in public markets. Financing arrangements are in place for a leveraged recapitalization, including $2B of Icahn's own money, $1.6B from his investment bank, and $5.2B lined up through Jefferies & Co. However, one finance professor strangely says "The banks didn't give him a lot of money."
If the Dell bid is actually defeated, the share price may tumble some. It could then be advantageous to acquire stock. Also, if there is a clear sense that the price has bottomed, enhanced compensation might be obtained for selling options, perhaps through a put spread, in a volatile situation. Any parties that are inclined to oppose the initiative to take the company private may be doing so out of preference for the alternative offer. Therefore, getting $14 plus ¼ a warrant in exchange for each share, at a lower cost, can be increasingly probable after Thursday.
Media reports describe the ballot situation as close. About 45% of shares are needed to win. The following table shows declared opposition on June 24, 2013.

A recent story says that 1.3% stakeholder Highfields Capital Management also plans to vote with the opposition. BlackRock, Inc. (NYSE:BLK), which owns 9%, is declining to comment.
A 45 day "Go-Shop" process is in effect that outwardly helps the Board meet its fiduciary responsibilities regarding the agreed-upon buyout. According to the opposition, such procedures have only resulted in a "Superior Offer" requirement being made in 12% of $100M acquisitions since 2005. Further, the winning bid over that time has turned out to be 20% higher on average. Among the restrictive provisions in place is a requirement that a person must own at least 50% of outstanding equity for a dividend or repurchase to be acceptable. So, for the initiative to keep the company public, someone would need to own 880M shares under current rules. The alternative offer does entail buying 1.1B.
If Icahn and Southeastern successfully gain control of Dell, neither the founder nor the Board are to remain in place. It might be unsettling to some: Michael Dell created the company through his entrepreneurial spirit. However, in support of a coup d'état or sack, there is a negative presentation of results that have been obtained since 2007, and under his renewed leadership:
Some who have owned the stock long term may be silently troubled. An assessment of executive competency is typically a part of due diligence processes. However, an opportunity to vote for a plan because it gives a higher immediate return, without necessarily acknowledging any issue involving rubber-stamping management through recent years, should have appeal.
The contemporary success of competitors is important for those who would like to be part of the company's future. For example, Meg Whitman, the newest CEO of Hewlett-Packard (NYSE:HPQ), has overseen her share price's 100% appreciation since November, 2012. HPQ's success is a reason given by Yachtman Asset Management for opposition to Dell's offer. A year-to-date chart comparing the stocks follows: Dell has been outpaced by HPQ since March, after the $13.65 offer in January, and agreement in February; but remains ahead of The S&P 500.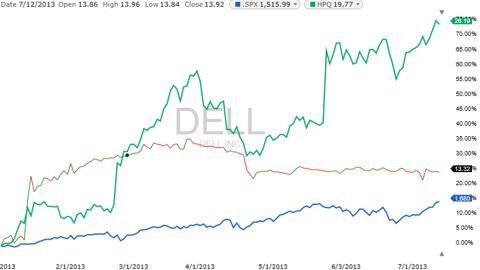 There is a court initiative, and also a more lucrative offer being made to shareholders, in order to forestall the Dell proposal. It seems to me that the favored process for retail investors includes a bumpy ride ahead. It may not involve the kind of turbulence that Mr. Dell forecasts when one's seat belt is necessary to keep him off the ceiling, but shares can probably be obtained for lower prices if his buyout is defeated. It could then make sense to, all but fecklessly, vote for new management. For others, inflated option premiums are worth considering.
Disclosure: I have no positions in any stocks mentioned, and no plans to initiate any positions within the next 72 hours. I wrote this article myself, and it expresses my own opinions. I am not receiving compensation for it (other than from Seeking Alpha). I have no business relationship with any company whose stock is mentioned in this article.