Duke Energy (NYSE:DUK) is the leading regulated utility company in the U.S. I remain bullish on DUK, as it has attractive valuations (shown below), it offers high dividend yield of 4.50% and has decent earnings growth projection of 4% for the upcoming years.
S&P Utility Index was almost up 20% for the year 2013, as of April 30, on a total return basis, and the 10 year treasury yield stood at 1.67%. However, the recent increase in 10 year treasury yield resulted in a pullback for the utility sector. Earnings outlook for utilities remains relatively stable and positive, but the rising treasury yields remain a headwind for the utility sector. The recent pullback in the utilities provides investors an opportunity to add high quality electric utilities to their portfolio. Duke Energy is a good choice for the investors who are looking for exposure to the large and diversified utility.
DUK has been moving in a constructive manner with the filed rate cases. In Q2'13, the company got rate case approval from North Carolina Utilities commission. The settlement stipulates an increase of $150 million in 2013, followed by $31 million in 2014. Another important rate case was settled in North Carolina last month, June. The settlement guaranteed a $235 million in revenue, 10.2% allowed ROE and an equity ratio of 53%. DUK has filed one more rate case increase of $220 million in South Carolina, with capital structure of 53% and ROE of 11.25%. The hearing on the pending case is due later this month, and if the request is approved, the new rates will go effective this fall. Successful outcomes of the rate cases are important to strengthen the near term earnings outlook for DUK.
DUK is expected to experience a rate base growth 4%, from 2013 through 2015, that is most likely to support the bottom line expansion. The graph below displays the earnings base growth for DUK.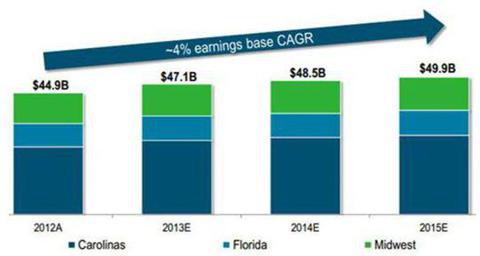 Source: Duke Energy
Another important earnings driver for DUK is the cost cut initiatives undertaken. The company has targeted to reduce non-fuel operating and maintenance expenses by 5%-7%. Targeted cost reduction will be achieved by functional consolidation, system consolidation and improving the supply chain process.
Last month, uncertainty regarding the company's new CEO was addressed. Lynn Good, Duke's chief financial officer, was elected by the board of directors to succeed Jim Rogers as CEO. Lynn Good will receive an annual salary of $1.2 million. Jim Rogers will continue to work as chairman of board until January 1, 2014, after that he is likely to be replaced by an independent director.
DUK is an attractive investment option for the income seeking investors, as it offers a high dividend yield of 4.50%. Dividends paid by the company are backed by its solid operating cash flow yield of nearly 11%. DUK has been consistently increasing its dividends over the years; annual dividend has increased from $2.88 per share from 2009 to $3.12 in 2013. The company has a long term target payout ratio range of 65%-70%. Also, DUK has a long term earnings growth target of 4%-6%, in contrast to analysts forecast of 5.5%.
As a dividend paying utility, DUK's share price performance remains exposed to change in treasury yields. If the treasury yields rise, DUK share price will drop to keep its dividend yield attractive in comparison to treasury yields.
Conclusion
DUK is a high quality regulated utility company. Cost saving initiatives, rate cases and earnings base growth are the possible stock price catalysts for DUK in the future. Moreover, the company also offers a high dividend yield of 4.50%. Furthermore, DUK valuations remain attractive as it has a lower forward P/E, P/S and P/B in comparison to its competitors (as shown below). Therefore, I have bullish stance on DUK.
| | | | |
| --- | --- | --- | --- |
| | Forward P/E | Price to sales (P/S) | Price to book (P/B) |
| DUK | 15x | 2.3x | 1.2x |
| Southern Company (NYSE:SO) | 15.75x | 2.4x | 2.2x |
| NextEra Energy (NYSE:NEE) | 15.75x | 2.5x | 2.2x |
Source: Yahoo finance
Disclosure: I have no positions in any stocks mentioned, and no plans to initiate any positions within the next 72 hours. I wrote this article myself, and it expresses my own opinions. I am not receiving compensation for it (other than from Seeking Alpha). I have no business relationship with any company whose stock is mentioned in this article.