On June 30th, Onyx Pharmaceuticals (NASDAQ:ONXX) issued a press release both acknowledging and rejecting a takeover offer from Amgen (NASDAQ:AMGN) on the grounds that it significantly undervalued the company.
Immediately following the press release, in which Onyx's Chairman and CEO Anthony Coles indicated that he is actively exploring the potential to combine Onyx with another company in order to create additional value for shareholders, Onyx's shares experienced a surge in price to a peak of $136, 13% higher than Amgen's bid of $120 per share.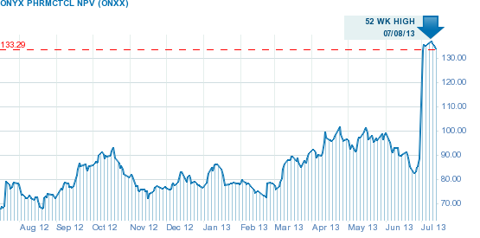 Since the announcement, Onyx's share price started trending slightly downward from its peak and the rumor mills went on hyperdrive trying to figure out who among pharmaceutical multinationals would be the lucky winner of Onyx's fortunes.
Bayer AG (OTCPK:BAYZF) was put forward as the most likely candidate because of its ongoing relationship with Onyx. However, Bayer's commercial relationship with Onyx dates back to 2005. If Bayer wished to buy Onyx it would have done so already, back in 2010 when Onyx's shares where trading in the low $20s.
Many analysts put Pfizer (NYSE:PFE) forward as a more credible buyer. We took a critical look at the potential merits of such a deal, however, we only managed to come up with reasons against it.
1. Sutent (Sunitinib)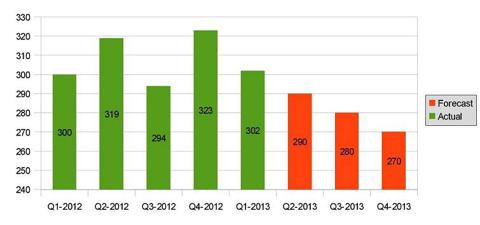 Pfizer's Sutent - 2013 Sales Forecast - Pharma Reports
Pfizer's Sutent, a first generation oral multi-kinase inhibitor approved by the FDA in 2006 for the treatment of advanced renal cancer, is currently considered the standard of care for the treatment-naïve patients with advanced disease.
Sutent experienced a (-7%) sequential decline in revenue to $302 million in Q1 2013 as a result of stiff competition in the renal cancer space. Onyx's Nexavar is one of the main competitors in the space.
2. Inlyta (Axitinib)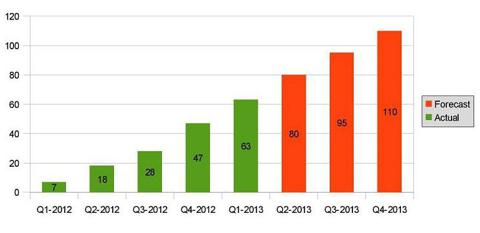 Pfizer's Inlyta - 2013 Sales Forecast - Pharma Reports
Pfizer's Inlyta (Axitinib), a second generation selective oral inhibitor of vascular endothelial growth factor (VEGF), was launched in the US in January 2012 as a second-line treatment for patients with advanced renal cell carcinoma after the failure of one prior systemic therapy. Inlyta was launched in Japan in June and in Europe in September.
Inlyta was shown to outperform Onyx's Nexavar in delaying disease progression and is currently being investigated as a first-line treatment for the disease, a position it has already achieved in Japan where it is gaining market share from Nexavar and is even cannibalizing Sutent's revenue.
3. Nexavar (Sorafenib)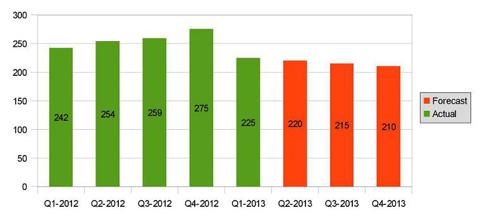 Bayer's Nexavar - 2013 Sales Forecast - Pharma Reports
Bayer' Nexavar, a first generation orally available multiple kinase inhibitor developed by Onyx Pharmaceuticals, was approved for the treatment of patients with advanced kidney cancer by the FDA in December 2005. It was approved in the European Union in July 2006 for the treatment of patients with advanced kidney cancer who have failed prior therapy or are considered unsuitable for other therapies.
In Q4 2007, Nexavar was approved in both the US and the EU for the treatment of patients with unresectable liver cancer and was approved in January 2008 in Japan for the treatment of renal cell carcinoma, and in July 2008 in China for the treatment of hepato-cellular carcinoma.
During Q1 2013, Nexavar realized global sales of $220 million, a decline of (-18%) from its quarterly peak of $275 million in Q4 2012. According to industry analysts, Nexavar has reached peak sales and might realize a mere $870 million in global sales for the whole of 2013, a decline of (-16%) from its 2012 peak sales of $1 billion.
The renal cancer space is getting extremely crowded with six targeted products already approved for the indication and many more are in clinical trials. More selective, second generation products like Inlyta and GlaxoSmithKline's (NYSE:GSK) Votrient (pazopanib) are gaining market share from first generation products like Sutent and Nexavar.
It is true that Nexavar has doubled its sales in China in the liver cancer indication during 2012, however, its sales have started to level off in this indication also.
Bayer is still trying to develop Nexavar for new indications and has submitted it for approval for the treatment of locally advanced or metastatic radioactive iodine-refractory differentiated thyroid cancer, however, this is a niche indication and is not likely to impact its declining sales trends.
Nexavar has already failed in a Phase 3 study to prolong the lives of lung-cancer patients, the largest target group in the cancer market. It is a first generation product that is currently, from a pharmaceutical product life cycle management model, considered mature and ready for harvest.
In the United States, Onyx co-promotes Nexavar with Bayer, which owns the global commercial license for the product. By acquiring Onyx, Pfizer will be effectively acquiring a company with a competing product that has limited upside potential and is licensed to, and heavily promoted by, a competitor.
Further Reading:
1. Renal Carcer: Multi-Kinase Inhibitors Growth Market
2. Onyx Pharmaceuticals' Yahoo Moment
3. Pfizer: Renal Cancer Treatment Sutent Sales Forecast
Disclosure: I have no positions in any stocks mentioned, and no plans to initiate any positions within the next 72 hours. I wrote this article myself, and it expresses my own opinions. I am not receiving compensation for it (other than from Seeking Alpha). I have no business relationship with any company whose stock is mentioned in this article.