I don't want to offend anyone, and I'm not writing this article to toot my own horn; however, I told you so.
As we all know, Mortgage REITs are extremely sensitive to market conditions and rates as they employ leverage from 5 to 9x and require constant repurchase agreement financing. As a result, these REITs must hedge their portfolio using a variety of instruments (IOs, swaps, swaptions) and hope the hedges behave and perform as expected. It's important to remember the lessons learned from Thornburg Mortgage and Anthracite Capital which had their repo lines pulled and subsequently filed for bankruptcy.
Mortgage REITs are also sensitive to developments in the mortgage market. The best example of this is when Ben Bernanke implied that the Federal Reserve would begin reducing the amount of mortgages they have been buying per month. As a result and since Uncle Ben made his statement (June 19th), the iShares FTSE NAREIT Mortgage Plus Cap (BATS:REM) is down 9% - that is for 25 days. Annaly Capital Management (NYSE:NLY) is down 8% and American Capital Agency (NASDAQ:AGNC) is down a whopping 11% and Hatteras Financial (NYSE:HTS) has been the strongest and it is down 5%. Compare this to Realty Income (NYSE:O) which is down 3% or Kimco Realty (NYSE:KIM) which is also down 3% - fully one third the loss of the mortgage REIT sector.
I'm Just Reminding You Again
I think most of you who read my frequent articles on Seeking Alpha know that I'm not a Mortgage REIT disciple. In fact, I'm quite the opposite and I often tell folks that the only thing that equity REITs have in common with mortgage REITs is the name REIT. Here's a chronological history of some mortgage REIT warnings:
On December 1, 2011 I wrote:
While analyzing your investments and assessing risk tolerances, it is important to diversify your portfolio appropriately and determining whether your investment returns are effectively compensating for the associated risk. And this essential risk management element should entail "intelligent bearing of risk for profit, the best test for which is a record of repeated success over a long period of time.
On March 13, 2012 I wrote:
As the three little pigs learned, a straw house is not an enduring model which is sustainable over time. Likewise, mortgage REITs are known for their volatility and higher risk composition.
On May 17, 2012 I wrote:
I'm not going to forecast the time of the event. I simply point out that there is a cycle and we are at the point where we are entering a tunnel of uncertainty and there appears to be a yellow sign called "risk" that is flashing ahead.
On May 29, 2012 I wrote:
Recognizing interest rate risk is essential to investing and especially when one is considering an alternative that has considerable debt and use of leverage. Before you go out and buy mortgage REITs for their high yields, keep in mind that these investments are very risky.
On June 25, 2012 I wrote:
Though mortgage REITs can produce significant returns, sometimes in short time frames, they carry significant added risks…Generally, mortgage REITs are considered more for trading in the shorter term than the longer term holding strategy of the equity REITs. Although mortgage REITs have higher dividend yields and can, at times, deliver spectacular returns, equity REITs are less vulnerable to changes in interest rates and have historically provided better long-term total returns, more stable market price performance, lower risk, and greater liquidity.
On September 17, 2012 I wrote:
Mortgage REITs are often subjected to choppy portfolio performance and they are often subject to unpleasant swings (or cuts) in dividend yields, especially when interest rates rise. Like a gravity-free buoy, mortgage REITs pay exceptionally high dividends because of the tremendous leverage they maintain. What's more, they tend to finance long-term mortgage securities with short-term repo.
In that same article I began to ramp up my sermon for dangerous mortgage REIT products. As I explained:
The danger in the water of course is that the Fed maintaining extraordinarily low rates for a long time will generate tremendous demand growth for such leveraged product, as assets continue to increase exponentially. Like a warm sunny day, everyone feels comfortable in the water and who wouldn't with mortgage REITs "always" churning out satisfying income.
On October 31, 2012 I wrote:
That mispriced risk means that the high-yielding mortgages are at a crossroads where refinancing activity is nearing a severe chapter and the days of "gun-slinging" returns are in the past.
On January 21, 2013 I wrote:
To put in bluntly, as I have often argued, MORTGAGE REITs DO NOT BELONG IN A RETIREMENT PORTFOLIO…I am not advocating that mortgage REITs don't serve a place in an investor's portfolio - because they may - I am simply making the argument that mortgage REITs are highly volatile and offer little in terms of diversification making the investment class highly speculative.
On January 28, 2012 I wrote:
It's clear that debt leverage in real estate is no different from leverage in other investments; the more debt you use, the greater potential for gain or loss. When we buy stocks on margin, we are simply leveraging investment returns with debt. Mortgage REITs and other assets carried on high margin involve substantial risk, since a small decline in the asset's value will cause a much larger decline in principal...

Although a modest amount of debt is not terribly dangerous, using too much is not prudent. The most risk-averse REITs have been able to utilize modest leverage when it doesn't compromise the strength of their balance sheet. Essentially, a weak balance sheet (marred by excessive leverage) is simply like an unconditioned athlete and that's why the strongest survive.
On April 26, 2013 I wrote:
Most investors - though not all - should own blue chip REITs. Those seeking a well-established, financially sound blue chip REIT are much less likely to face serious threats that involve deteriorating dividend safety and even cuts (which make any price too high).

But wait a minute. Blue chip REITs are trading at outrageous pricing levels. Should we wait for a correction before we put money to work?
Actions Speak Louder Than Words
As I referenced at the beginning of this article, I'm not trying to brag. I'm simply stating the facts and I wanted to make it clear that there is a reason that I don't follow or research the Mortgage REIT sector. I don't call myself The Intelligent REIT Trader, and there is a very good reason that I call myself The Intelligent REIT Investor.
There is over 40 years of history to back up my articles. Take a look at the 41 year historical returns for Mortgage REITs (source: NAREIT). As you can see, the average return over this 41 year period is 9.33%.

Now take a look at the Equity REIT history and of course I'm using the same 41 year period. As illustrated, Equity REITs have returned an average of 13.76% over the period.

Now let's move in a little bit closer and consider the performance of the Mortgage REITs and the Equity REITs over the last five years (including YTD 2013). As you can see below, the Mortgage REITs have returned a negative 1.3% year-to-date (2013) and the average total return over the last 4 ½ years is 12.56%.

Equity REITs also took a hit over the last 45 days; however, they have not fallen into the red column and with a year-to-date return of 5.79% they are clearly still "in the black." Also, Equity REITs have returned a sound 17.94% over the last 4 ½ years.

Several of my favorite Equity REIT sectors include Triple Net REITs, Industrial REITs, and Self Storage REITs. For comparison purposes, here is how these sectors (or sub-sectors) have performed vs. the Mortgage REITs over the last 4 ½ year period.

Popular Mortgage REITs
Some of the more popular Mortgage REITs include Arbor Realty Trust (NYSE:ABR), PennyMac Mortgage (NYSE:PMT), Capstead Mortgage (NYSE:CMO), Northstar Realty Finance (NRF), Dynex Capital (NYSE:DX), MFA Financial (NYSE:MFA), Two Harbors (NYSE:TWO), Hatteras Financial, Annaly Capital Management, AG Mortgage Investment Trust (NYSE:MITT), American Capital Agency, and New York Mortgage Trust (NASDAQ:NYMT). Here is a snapshot of the 1-month performance of the group: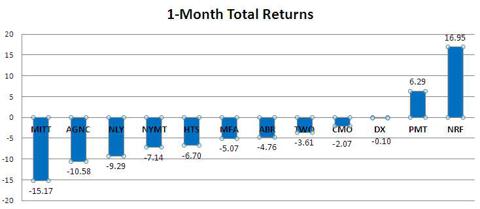 Here is a snapshot of the 90-day performance of the same group (all negative results):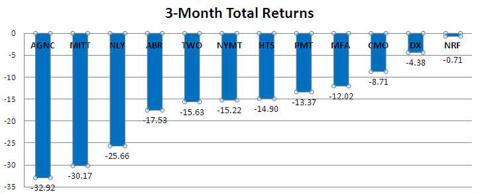 Here is a snapshot of the year-to-date performance of the same group:

Here is summary of the Mortgage REITs referenced:

Popular Equity REITs
Now, as noted, I spend a considerable amount of time (and energy) writing on the Equity REIT sector. Recently I launched a newsletter (link here) that provides real time research and stock picks for many of the "best in class" REITs. I can honestly say that it has been tempting to include a few Mortgage REITs in my SALSA portfolio; however, my research has proven to me that high leverage does not generate steady returns.
To balance this article (with a dozen), I have included a few of the more popular REITs, including Taubman Centers (NYSE:TCO), Realty Income, Simon Property Group (NYSE:SPG), Tanger Factory Outlets (NYSE:SKT), Essex Property Trust (NYSE:ESS), Ventas, Inc. (NYSE:VTR), Kimco Realty, Digital Realty (NYSE:DLR), Healthcare Trust of America (NYSE:HTA), WP Carey (NYSE:WPC), Omega Healthcare Investors (NYSE:OHI), and National Retail Properties (NYSE:NNN). Here is a snapshot of the 1-month performance of the group:

Here is a snapshot of the 90-day performance of the same group:

Here is a snapshot of the year-to-date performance of the same group:

I Told You So and Here's What You Need to Know
My wife will tell you that I'm not always right. In fact, to be truthful, she will tell you that I'm usually wrong. Simple things like picking up the kids from school on time or bringing milk home on the way from work - all typical reasons for my wife to call me the "unintelligent father and investor."
My point is, I'm human and I make mistakes daily. I suppose that humility has earned me the distinction of being patient and not pursuing risky strategies that are less speculative than the facts indicated. To be brutally honest, it has taken me a few financial missteps to fully accept and appreciate the meaning of these words (Ben Graham):
An investment operation is one which, upon thorough analysis, promises safety of principal and satisfactory return. Operations not meeting these requirements are speculative.
The facts are plain and simple, as "we all know that if we follow the speculative crowd we are going to lose money in the long run." (Graham).
Ben Graham once said:
The years of poverty since Father's death had touched me only lightly. They had developed in my character a serious concern for money, a willingness to work hard for small sums, and an extreme conservatism in all my spending habits.
Controlling risk in your portfolio is an essential element in the investment process and the acclaimed investor and author (of The Most Important Thing), Howard Marks, said it best:
...there are two main risks in the investment world: the risk of losing money and the risk of missing opportunity. You can completely avoid one or the other, or you can compromise between the two, but you can't eliminate both. One of the prominent features of investor psychology is that few people are able to (A) always balance the two risks or (B) emphasize the right one at the right time. Rather, at the extremes they usually obsess about the wrong one...and in so doing make the other the one deserving attention.

During bull markets, when asset prices are elevated, there's great risk of losing money. And in bear markets, when everything's at rock bottom, the real risk consists of missing opportunity. Everyone knows these things. But bull markets develop for the simple reason that most people are buying - ignoring the risk of loss in order to keep from missing opportunity - just when elevated prices imply losses later. Likewise, markets reach their lows because most people are selling, trying to avoid further losses and ignoring the bargains that are everywhere.
In closing, I advocate anywhere between 10% to 25% in Equity REITs, and for "some" investors a safer way to buy into the mortgage REIT sector is through the preferred stock of the companies. Any investment in the Mortgage REIT sector makes the assumption that the sector is viable (as any investment does). Remember that the preferred stock is less volatile and the dividend rate is set (unlike the dividend rate on the common). An example of this would be Annaly Series D, which has a dividend rate of 7.50%, survived the financial crisis and is only down 1.3% since Uncle Ben's tapering speech. Another potential preferred candidate would be the American Capital 8% Series A which is down 1.9% since June 19th. Good luck, Sleep Well at Night Investors...

Note: This article is intended to provide information to interested parties. As I have no knowledge of individual investor circumstances, goals, and/or portfolio concentration or diversification, readers are expected to complete their own due diligence before purchasing any stocks mentioned or recommended.
Source: SNL Financial and NAREIT
Disclosure: I am long O. I wrote this article myself, and it expresses my own opinions. I am not receiving compensation for it (other than from Seeking Alpha). I have no business relationship with any company whose stock is mentioned in this article.