Kindred Healthcare, Inc. (NYSE:KND), a large provider of healthcare services, has performed very well this year in line with much of the healthcare services industry. Shares have moved higher by 22% year-to-date, yet have moved slightly off the highs seen in early June around $14.50 per share. The company is diversified across the entire industry through its subsidiaries. Together the subsidiaries provide healthcare services in 2,169 locations, including 116 transitional care hospitals, six inpatient rehabilitation hospitals, 204 nursing centers, 24 sub-acute units, 101 "Kindred at Home" hospice, 103 inpatient rehabilitation units, and home health and non-medical home care locations. Over the last couple of months, I've spent much of my time covering the healthcare services industry as up to this point many of the major players within the sector have received little recognition due to their size. I have personally started positions in many of these names as I believe over the coming decades, great stress will be placed on the healthcare industry as a result of greater accessibility and our graying population. To handle this stress, the fragmented industry is likely to consolidate greatly to improve operating efficiencies and handle the strain. Kindred Healthcare stands in a great position to benefit from these trends. In this article, I would like to review the company's recent performance, financial situation, growth potential and short interest.
Recent Performance
While this company receives little coverage across major investment websites, this is the first focus article related to Kindred here on Seeking Alpha. I would like to take a look at the company's most recent quarter which was reported back in May. Kindred reported a strong first quarter where its earnings per share came in well above analyst estimates. The company reported $0.49 core earnings per share versus $0.43 last year. Within the different business segments, home health continued to be the driver of revenue with 82% growth as a result of organic expansions and recent acquisitions. This segment will increasingly become an important aspect of earnings as the front loaded costs associated with this business have already been sunk in. Below, I created an updated chart which shows the current revenue breakdown by segment: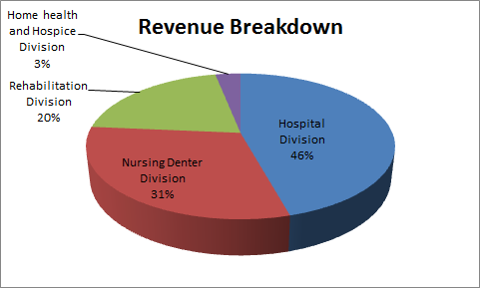 The hospital division, the largest business segment by revenue, experienced strong pricing power amid stable per customer cost. As a result, operating income rose by 4% on a year-over-year basis. Below, I created an updated chart which shows the current operating income breakdown by segment: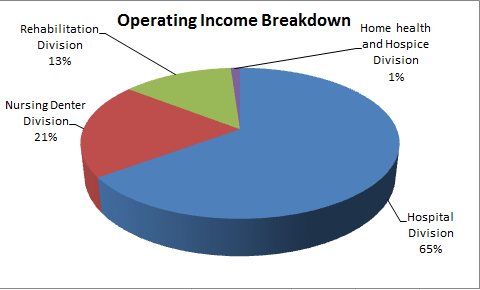 The rehabilitation division benefited greatly due to drastically lower-than-expected employee turnover. Turnover decreased by 50%, thus helping efficiency. As a result, operating income rose 30% during the quarter.
Financial Situation
The company has actively looked to free up its capital so far this year through the sale of non-core assets. Back in April, the company announced it reached an agreement to sell 17 of its facilities for $187 million. The proceeds of the sale will be used to pay down the revolver and additionally be used for future acquisitions within its home health business segment. Moreover, late last month a deal was reached to sell an additional 8 facilities outside Kindred's core market. The $49 million from the sale will similarly be used for the planned home health expansions. At the time of the sale, the company used $350 million of its $750 million credit facility.
As of the most recent filling, total liabilities totaled $3 billion, of which $847 million were current. In comparison, the company held $4.3 billion in assets, of which $1.3 billion were current. Shareholder equity totals $1.26 billion leading to a very low price-to-book ratio of only 0.59. A transition is taking place within the business. Management is looking to transition out of its Ventas properties while building up its real estate portfolio. A deal announced last month, worth $25 million, is the most recent step in this regard. The Ventas transition is already starting to bear fruit for the company, just last quarter $0.05 in EPS was a result of the savings. Accounts receivables remain high with a collect time of 62 days; however, this is normal for companies which are heavily dependent on public programs for revenue. Should the company want to pursue further acquisition, it has the ability.
Growth Potential
As previously mentioned in this article, and in my others as of late, the entire healthcare services industry stands to benefit from a variety of tailwinds over the next few decades. These tailwinds include our aging population and greater accessibility leading to greater healthcare demand. As a result, I expect to see further consolidation within the fragmented industry to better handle the stress and improve efficiency.
Let's first take a look at greater healthcare accessibility through a number of government programs. A recent HealthPocket survey, with 1,396 participants, decided to take a look at the expected demand increases assuming the quality of healthcare coverage improves. The survey found 42% of respondents said they would either see the doctor more frequently or get a medical procedure they had previously delayed if they had better health insurance. In conjunction with the Affordable Care Act, health insurance plans will have to provide a level of minimum coverage or "Essential Health Benefits." While these benefits are fairly basic, only 76% of health plans cover these benefits. The same survey found 15% of participants would have a "medical procedure" they have been putting off should they receive better coverage. As the quality of coverage improves, I would expect a greater volume of patients, thus greater revenues for the entire industry even amid lower government payments.
Next, our graying population, is a huge tailwind in the coming decades. For this segment of the article, I am going to recycle some of the statistics I've previously used within some of my other relevant healthcare articles. A recent report from the National Research Council predicted that by 2050, life expectancies will rise greatly to 84.5 years, almost 7 years longer than we are living today. While the age to which we are living is rising, the quality of life may not be improving to a similar degree. Unfortunately, chronic and detrimental conditions still plague our older population, greatly increasing the demand for home healthcare and nursing services. While Kindred's home health division may be only a small portion of revenues, 3%, and an even smaller portion of income, 1%, I believe the company will grow this segment greatly in the years ahead. According to a recent AARP report, 4 out of 5 Americans over the age of 50 suffer from at least one serious chronic condition. I would expect the sheer volume of these Americans to rise greatly as the population of those over the age of 80 is expected to double by 2050, to 7.4% of the population. Management has stated on numerous occasions it's looking to grow this segment through acquisition in the years ahead in preparation for the rise in demand. Moreover, margins on these revenues should improve going forward as the backbone, one-time, costs have already been sunk into the quarters leading up to this point. Lastly, the entirety of the company will benefit, not just the home health segment. Demand for nursing services, 31% of revenue, is expected to rise amidst a great nursing shortage. I covered the nursing shortage thesis in more depth previously here. However, the argument remains relevant to Kindred.
Short Interest
The following table was sourced from Nasdaq:
While the days to cover has declined over the last few months, the level of short interest remains at the highest level in the last year. As with the majority of healthcare services companies I cover, Kindred has felt heavy short interest even during the great rally this year. While the longer-term benefits from the tailwinds may not be realized within the shorter term, investors may benefit from the continuation of a short squeeze during the rest of the year. The exuberance seen throughout the entire healthcare sector has powered a number of these names to drastically higher returns in comparison to Kindred.
Conclusion
Kindred appears to be yet another healthcare services company set to perform well over the long term. The company will benefit from a variety of tailwinds including consolidation, a graying population, and greater healthcare accessibility. In the short term, I am looking at high short interest coupled with broad healthcare exuberance to fuel the rally for the remainder of the year.
Disclosure: I have no positions in any stocks mentioned, but may initiate a long position in KND over the next 72 hours. I wrote this article myself, and it expresses my own opinions. I am not receiving compensation for it (other than from Seeking Alpha). I have no business relationship with any company whose stock is mentioned in this article.