Simplicity can be good. Businesses which focus on only one thing are often easy to understand and very good at what they do. In the Pipeline MLP space there are big players whom do a number of things at once, piping unconventional things such as ethanol, CO2 and refined petrochemical products. Some others focus on natural gas and natural gas liquids.
Gas is a good story, but I think crude oil is currently better. North American gas is in a multi-year supply glut where crude has a long runway of growth: Right now, the US is actually the world's fastest-growing oil producer and there's an ocean of imports to displace.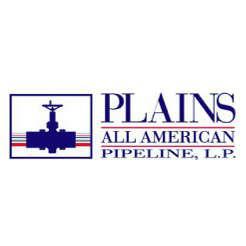 The pipeline most focusing on transportation and storage of crude oil is Plains All American Pipeline (NASDAQ:PAA). Plains transports, stores and terminals crude oil and refined oil products. They do have a gas subsidiary, too. I believe Plains' focus on oil makes it a great pick in the pipeline space for the next 5-10 years. This means long-term, outsized income growth. And Plains will do it in an extremely predictable way, locking in contracts which can last for decades.
Outstanding Distribution Growth
Historically, distributions of the four best pipeline MLPs look like this:
Markwest - 4.2% growth compounded over five years, very shaky before that
Enterprise - 6.8% growth compounded over ten years
Plains - 7.7% compounded over ten years
Kinder Morgan - 13% compounded over ten years
Historical Data from FAST Graphs
For the last ten years, Plains has been second to Kinder Morgan, but Plains could have better growth prospects. The company's target is to grow distributions by between 9-10%. Given the ascension of crude production in the US, I believe this will sustain for the long-run. Plains' solid focus on crude oil is already paying off in the form of accelerated growth this year.
An Ocean of Imported Oil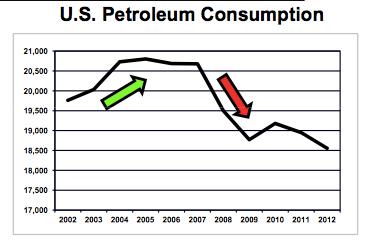 Meanwhile, oil consumption in the US has actually been decreasing since '07-08. On its own, this would not look good for an oil transporter, especially in the face of increasing production. The US, however, imports a lot more than what it produces. As production of shale oil continues to increase, Plains' opportunity is the displacement of overseas crude in North America.
Plains rightly views the US and Canada as a single market. They have identified about 6.5 million barrels of crude oil which is imported from overseas.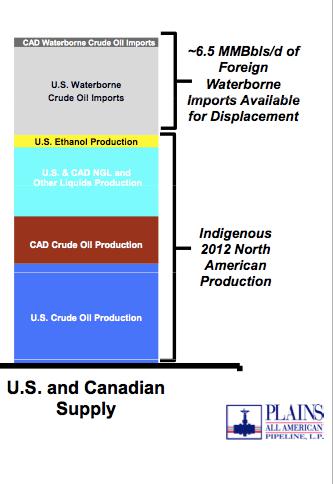 Bottlenecks and a Light, Sweet Challenge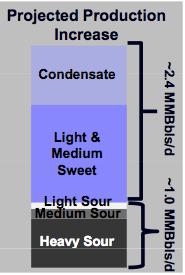 Plains expects North American crude production to increase by about 3.4 million barrels per day. Of that, a disproportionate amount of crude will be light and sweet. Herein lies what Plains believes to be the biggest challenge: so much sweet, light crude will be produced that North America will actually have a glut of it by 2017-18.

Above charts from PAA 2013 Analyst Meeting
If this diagram is correct, light and medium sweet imports will soon be eliminated. Here's another important takeaway: the heavier, sour oil blends will still be imported. So, not all of those 3.4 million aforementioned seaborne imports will be displaced, but we may see light, sweet exports by 2018! In the meantime, we will see quality crude made in regions where there is already a glut. This imbalance will make Plains' transportation and storage role very important.
Lower Crude Prices Will Not Stop This Process
In any oil related investment there is the risk of a fallout in oil prices. As I've mentioned in other articles, however, the shale revolution will insulate the United States from much of this: Many oil producers in the Bakken and Eagle Ford have very high margins and can be profitable with oil prices in the $60s and $70s.
This is very different from more marginal, conventional producing countries such as Venezuela, Nigeria and Russia, all of whom require high oil prices to squeak out even a little profit. These countries will be the first to shutter production. US crude production can continue growing in the Bakken and Eagle Ford even with $70 per barrel oil.
Capital Response
Plains normally prefers acquisitions and small projects over large, longer ones. The commodities market is just too volatile for multi-year, multi billion dollar projects. For the last five years, Plains has averaged $900 million per year in acquisitions. This year, however, their concentration has been on the following smaller capital projects:
$90 million in Permian-Corpus Christi, Texas pipelines
$170 million in Eagle Ford-Corpus pipelines
$180 million on a Mississippian Lime project and $60 million in Oklahoma storage expansion
$90 million expanding the White Cliffs, Bakken pipeline
$80 million on a Virginia terminal project
$90 million on a gulf coast pipeline and another $55 million on the St. James, Louisiana terminal expansion
Interestingly, they are also putting $90 million into rail projects.
As you can see, Plains takes a diversified approach to its midstream logistics. Perhaps it will focus more on acquisitions in the future. For now, management believes these capital projects will provide the most compelling returns.
Economic Value Added
I believe that Economic Value Added, or the EVA ratio, is an important metric. It represents the company's return beyond the cost of capital which it took out. It is a good representation of the real economic value a certain company brings to the table. There is no set way to measure EVA for MLPs, but I believe the best equation would be this:
[(EBITDA / Enterprise Value) - Cost of debt] * 100
With EBITDA earnings of $2.16 billion and an Enterprise Value of $24.7 billion, we get an earnings yield of 8.7%. Their cost of debt is approximately 5.4%, and so we come out with a 3.3% spread of Economic Value Added. For a capital-intensive pipeline, Plains does very well and brings good value to the table. They are good capital allocators.
Debt Analysis
Plains does not carry excessive debt. In fact, they have drawn plenty of capital from their partners, which might be why debt sits at $7.4 billion. Their Debt to Enterprise Value is the second lowest of its peers at only 18% and is the lowest of its peers in Debt to EBITDA. About 97% of its debt is fixed.
Valuation
(click to enlarge)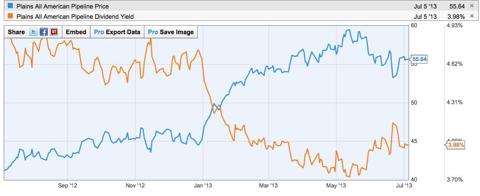 From a short-term perspective, it looks like the ship has already sailed on PAA. The price (in blue) has pulled back by 6.5% or so, but prices were far better this January. While the distribution yield is higher than it was a few months ago, it isn't what it was in 2012. One couldn't be blamed for sitting on the sidelines a little longer.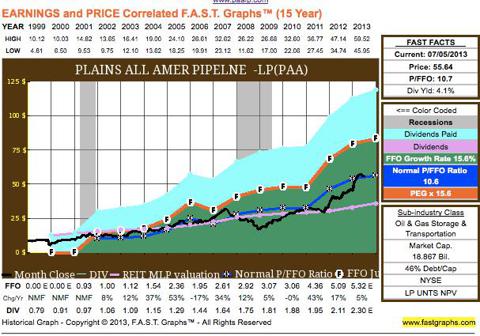 But when we look at things from a more long-term perspective, Plains may be fairly valued here. While Plains certainly isn't trading at 2011 levels, price has correlated with the Normal Price/FFO (Funds From Operations) Ratio, which is now at a very reasonable 10.7. Since FFO is really a better metric for REITs, not MLPs, this number may not appropriate. However, the Price/DCF (Distributable Cash Flow) Ratio is also low, at only 12.17 times expected 2013 DCF.
Conclusion
Plains All American is a great company and one of my favorite partnerships. Here are a few very important takeaways regarding Plains:
It is a fee-based business operating in critical energy infrastructure
Plains is a low risk business because their asset base generates long-term, predictable cash flows
Plains is a great allocator of capital and has generated great returns
Plains has a good runway for growth. They are primarily a midstream oil company and will benefit from the steady displacement of imports.
Therefore, based on growth prospects as well as management's commitment to raising distributions, Plains will deliver superior distribution growth. Expect very high single-digits to low double digits. This makes Plains a compelling investment for long-term income investors.
Disclosure: I have no positions in any stocks mentioned, and no plans to initiate any positions within the next 72 hours. I wrote this article myself, and it expresses my own opinions. I am not receiving compensation for it (other than from Seeking Alpha). I have no business relationship with any company whose stock is mentioned in this article.