We had our first taste of earnings season this week, with Alcoa (NYSE:AA) coming through with a semi-surprise beat to start the week. As we head into next week, we find ourselves in the middle of earnings season, and the chances that a company in your portfolio reports this week are probable.
There's plenty of big names to watch and eventually catalyze the market for the week to come, so I wanted to give everyone a small roundup of what companies to expect, and select metrics to keep an eye on.
Remember, you don't have to own the particular stock for it to affect your portfolio - earnings often move sectors and, occasionally, the major markets for the day.
(All analyst estimates taken are averages provided by Yahoo! Finance analyst estimates)
Monday, July 15th -
Wynn Resorts (NASDAQ:WYNN) who beat last quarter, has been on a tear. The stock is up 35.2% over the last year, making investors wonder if there's more upside coming. The average of 23 analysts are looking for $1.58/share from the gaming and resort company this coming quarter. Boyd Gaming (NYSE:BYD), a competitor, has also had a fantastic six months, up near 75% on hopes of online gaming and continued success from the Borgata in Atlantic City. I love the gaming industry and I see both Wynn and Boyd both as buys going forward.
Cintas (NASDAQ:CTAS), bland looking work wear provider, has also had a great run this year, up 23.1% in the last 12 months. Analysts are going to be looking for $0.70/share when they report after the bell on Monday. Cintas is a staple stock that should hold up as long as the economy fares well - I'm bullish. Marketwatch notes that in a growing economy, uniform sales usually trend upwards.
Citigroup (NYSE:C) hopes to extend a decent run this week by banks, on the heels of Wells Fargo (NYSE:WFC), JP Morgan (NYSE:JPM) and Commerce Bankcorp (NASDAQ:CBAN). Citigroup is likely to set the tone for the banking sector for the week. They report first thing Monday morning and will feature a call at 11AM EST. They are expected to earn $1.18 share. Here's a beautifully detailed piece that provides more information on Citi's earnings. I'm bullish on just about all of the banks right now - the market has been performing for a few years, banks should be in their prime.
Tuesday, July 16th -
Charles Schwab (NYSE:SCHW), recent naked short selling target by the SEC, continues the reporting for banks through the week, as they open up trading on Tuesday. Analysts are looking for $0.19/share.
Transportation supplier CSX Corp (NYSE:CSX) reports on Tuesday as well. They're among the best rail companies in the U.S. and they deal in several types of freight. CSX stock is up 10.1% on the year, but has sputtered over the last 3 months. Analysts are going to be looking for $0.47/share.
Del Frisco's (NASDAQ:DFRG), which consists of fine dining steakhouse establishments, is trading just about even for the last 12 months, but up 40% YTD. The main catalyst, as written about by Ocean Man, is going to be the addition of their newest establishments in 2012 and 2013.
DFRG added two Del Frisco's Double Eagle Steak Houses, in Boston and Chicago, as well as three new Del Frisco's Grilles, in Phoenix, Washington D.C., and Atlanta, in 2012. The company's main focus in 2013 is on adding Grille restaurants. One Grille was opened in Houston in the first quarter of 2013, another will open in Santa Monica, CA, in the third quarter, and three more are planned to open in Palm Beach, FL, Fort Worth, TX, and South Lake, TX, in the fourth quarter of 2013. The company plans to expand its footprint by 10% annually going forward.
Analysts are going to be looking for $0.19/share. As someone that can honestly say I don't enjoy Del Frisco's restaurants, I'm bearish on DFRG both short and long term. I think the concept is a bit played out in major cities and that Del Frisco's missing a boat that left 10 years ago in "upscale steakhouse" dining.
Medical supplier Johnson & Johnson (NYSE:JNJ) is up 32.9% in the last 12 months, and will be expected to post $1.39/share. Robert Honeywill calls the stock a "win-win-win" leading up to earnings.
Drink maker/constant dividend raiser CocaCola (NYSE:KO) also reports on Tuesday. My favorite thing about CocaCola are the dividends. My second favorite thing is Vitamin Water - that's why I've included CocaCola into my personal bullish 2013 portfolio. It has yielded a rock solid 7.1% in the last 12 months, like a good dividend paying income stock should. Analysts are going to be looking for $0.63/share. Here's Selerity Research's detailed earnings preview. I'm bullish on CocaCola for the long-term - this is a buy and hold stock regardless of earnings this quarter.
There's a new sheriff in town at Yahoo (YHOO), and she thinks working from home is a bunch of crap. Can she deliver for shareholders in this earnings address? Marissa Mayer heads up her new ship to report on Tuesday. Bottom Up Investing has done a fantastic detailed analysis leading up to earnings that you can read here. Analysts are going to be looking for $0.30/share. Yahoo, like AOL, may have its best days behind it. I'd be skittish to jump into a long position before earnings here and would feel much more comfortable watching this one from the sidelines.
Wednesday, July 17th -
Bank of America (NYSE:BAC), possibly the most watching banking report of the week. Hawkinvest looks bearish heading into earnings and Profit Fan comments that "bulls will be tested".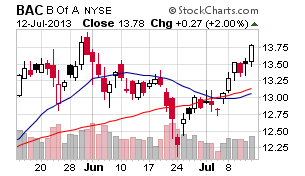 Analysts are going to be looking for $0.25/share.
Online auction site, eBay (NASDAQ:EBAY), reports mid-week as well. eBay had an attractive last 12 months, yielding 45.1%. The company beat estimates by a penny last quarter and is trading with a double digit P/E ratio, even this far into its growth as a company. Analysts are going to be looking for $0.64/share. The Investment Doctor asks the question "Should You Hit the 'Buy It Now' Button?" in his recent article.
Constantly trading in the $15-$25 range is semiconductor company Intel (NASDAQ:INTC) also reports on Wednesday. The company's stock has, over the last three years been a roller coaster ride up and down between the high teens and low twenties. I do believe there is value for Intel due to their relationship with Apple (NASDAQ:AAPL) and their use in electronics across the spectrum of brand names. Intel, to me, is a great long term investment.
Aside from being a perpetual article target for one (1) Ashraf Eassa, Intel has been one of the few stocks over the last year to post a loss, at -3.4%. Analysts are going to be looking for $0.39/share.
Thursday, July 18th -
Chipotle (NYSE:CMG), a casual Mexican chain whose share price currently makes competitor Panera (NASDAQ:PNRA) look like it's trading on the Pink Sheets, reports Thursday. What do we know from experience with Chipotle? When earnings miss, the stock gets absolutely crushed. It was down to the tune of 20% on the last earnings miss, and smart investors might want to take a stab at an options spread into earnings here.
Analysts are going to be looking for $2.81 /share. CMG has performed about even in the last 12 months, but is up 13% in the last 3 months.
Tech giant Google (NASDAQ:GOOG) will be setting the tone for the tech sector and probably the entire Nasdaq when it reports on Thursday. Google has a cast iron balance sheet, a "pipeline of lucrative opportunities" (as put by Andrew O'Byrne), and massive earnings. The company has been a cash cow, netting 61.7% over the last 12 months. Analysts are going to be looking for $10.79 /share. With Google Glass and Google Fiber both in the works, I'd be a buyer before earnings and through the next few years.
Microsoft (NASDAQ:MSFT), who took a major Windows 8 mulligan earlier in the quarter that no one seemed to notice, also reports on Thursday. Investors are going to be looking not only at sales through PCs, but comments on the coming Xbox One, that's already seemed to have lost to PlayStation 4 before the console sales race has even started. Analysts are going to be looking for $0.75 /share. I'm bearish here on Microsoft into earnings based on Windows 8's SNAFU and Xbox One fears.
Friday, July 19th -
First Niagara Financial (NASDAQ:FNFG), another winner posting 33.7% gains over the last year, leads the banking charge on Friday. First Niagara has been the definition of a steady stock to be in, bouncing from $7 to $14 and back down again countless times in the last 10 years.
The bank is growing into more than a regional bank, the dividend yield is 3.92%, and insiders buy shares constantly. Analysts are going to be looking for $0.18 /share. First Niagara is a bank expanding and reminds me of a young TD Bank. I'm bullish here on growth into earnings.
Staple stock of planet Earth, General Electric (NYSE:GE), also reports on Friday. GE has yielded 22% over the past year, but has stuttered as of the last three months. Investors looking for GE catalysts will be turning to news on their new acquisition, Lufkin (NASDAQ:LUFK), and news on the $3 billion company's impact on GE. Analysts are going to be looking for $0.36 /share.
Ingersoll-Rand (NYSE:IR) brings up the rear of the week, closing out a busy earnings week. The company, which includes brands like Trane, Thermo-King, Club Car and Schlage has yielded an astounding 49.1% over the past year. Analysts are going to be looking for $1.08/share. Philip Riekenberg offers up a nicely written and detailed bullish long article on IR here.
Disclosure: I have no positions in any stocks mentioned, and no plans to initiate any positions within the next 72 hours. I wrote this article myself, and it expresses my own opinions. I am not receiving compensation for it (other than from Seeking Alpha). I have no business relationship with any company whose stock is mentioned in this article.