There are few things which frustrate us more than those who fail to adjust to the times or have a fear of something in small quantities because they feel it would open Pandora's Box. We make exceptions for former addicts who refrain from drinking and the like as that is a medical condition, but our European counterparts drive us crazy with their fear of inflation and disdain for our perceived extreme capitalistic ways.
At the end of the day results speak for themselves, and as world growth becomes more of a hot topic due to fears that it may be beginning to hurt US growth (see our discussion on United Parcel Service and FedEx later in the article) we wanted to highlight today how Europe's inability to craft a plan and purposefully move forward has compared to Japan's version of economic blitzkrieg on deflation. We are looking at equity markets so not everything is taken into effect, but whereas Japan has awakened the animal spirits by forcing capital to move around, as displayed by the Nikkei, Germany has seen less of a move like this. Oddly enough, whereas currency usually moves against equity moves, it seems that Germany is experiencing a King Euro-type of phenomenon. As one wants to invest in Europe, both Euros and Equities rise, much like those instances when the US goes through phases of King Dollar.
So yes, it does appear that Europe is attracting capital but the question is exactly how much growth are they leaving on the table by foregoing some quantitative easing? The world could really use some improving data from Europe to jumpstart growth in China and pick up the slack in commodity demand. A weakening Euro could happen through no action of their own though, so long as the US Dollar continues to strengthen, and that could be enough of a spark.
Chart of the Day:
Two different schools of thought, Japan is juicing results via devaluation...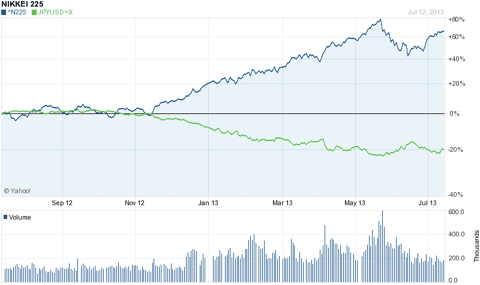 Source: Yahoo Finance
While Europe focuses less on devaluing and going about a recovery without 'Cowboy Capitalism' as they are fond of saying...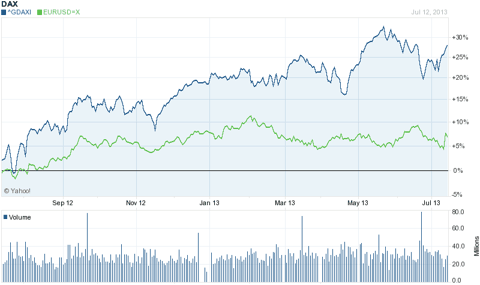 Source: Yahoo Finance
We have economic news due out today and it is as follows:
Retail Sales (8:30 a.m. ET): 0.7%
Retail Sales Ex-Auto (8:30 a.m. ET): 0.4%
Empire Manufacturing (8:30 a.m. ET): 3.6
Business Inventories (10:00 a.m. ET): -0.1%
Asian markets finished higher today:
All Ordinaries -- up 0.16%
Shanghai Composite -- up 0.98%
Nikkei 225 -- CLOSED
NZSE 50 -- up 0.83%
Seoul Composite -- up 0.28%
In Europe, markets were trading mostly higher this morning:
CAC 40 -- up 0.35%
DAX -- up 0.19%
FTSE 100 -- up 0.41%
OSE -- down 0.00%
Manufacturing
The big news on Friday, in our opinion, was Boeing's (NYSE:BA) 787 Dreamliner, which caught fire. The news caused a panic among shareholders and the stock moved sharply lower. Shares ended the session at $101.87/share after falling $5.01 (4.69%) on extremely high volume of 44.4 million shares. The sharp move lower in Boeing shares was a drag on the Dow Jones Industrial Average during the session. The fear was that the this fire was the result of another battery issue; however, the investigators have stated now that it does not appear that the issue is battery related, and since the plane was parked at the time we are optimistic that this will be an airline specific issue and not a manufacturing defect.
The price action was bad on Friday, that is true. Looking at the three month chart though it appears to have just taken the froth off, so that is reassuring, but a fall through $100/share should grab everyone's attention as momentum will have been broken.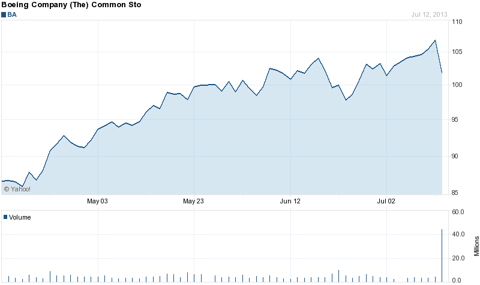 Source: Yahoo Finance
Retail
Last week one of our favorite retailers reported strong same store sales. We are of course discussing Gap (NYSE:GPS) which saw same store sales rise 7% with the Old Navy and Gap chains leading the way. This morning we see that Piper Jaffray downgraded shares to 'Neutral' from 'Overweight' while assigning a $47/share price target. The move was explained by the analyst saying they are concerned with the high expectations surrounding the company's performance and current valuations. We would point out their continued optimism overall for the shares, which is indicated in the price target being above the current stock price. File this under Wall Street double-speak and remember that the name has defied skeptics all the way up. We remain bullish on Gap shares and believe that so long as the Old Navy and Gap stores can continue their growth that shares should do well.
We have been bullish of this name since January of 2012 and have rightfully stayed bullish even during the pullbacks. Is valuation getting high? Yes. But are there other retailers, especially peers, able to deliver results like these over a period longer than a quarter or two? If so they sure have not shown it.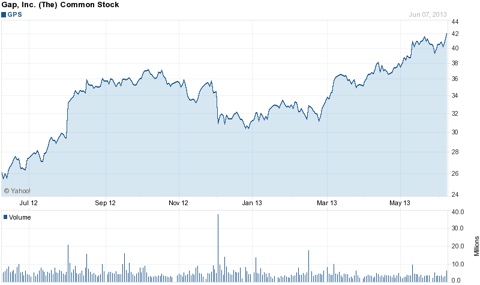 Source: Yahoo Finance
Transports
We spent the weekend looking at United Parcel Service's (NYSE:UPS) pre-announced earnings disappointment and we are torn as to what it truly means. Yes it is a transport and a big one at that. Also true is the fact that its largest direct competitor suffers from the same issues of customers having less Asian traffic and utilizing cheaper methods of shipping. But at the end of the day the numbers conflict the rest of the transports' numbers. UPS says Q2 in the US slowed and this trend that has been developing is more powerful than they anticipated, thus causing the revision in their previous guidance. What ails the couriers does not seem to be something that will spread to the everyday bulk shippers like the railroads or truckers, but it is something we want to pay attention to moving forward.
Technology
As UPS disappointed investors, the preliminary results released by WebMD (NASDAQ:WBMD) caused a euphoric rise in shares. The company blew their anticipated Q2 numbers out of the water and adjusted their full year guidance which caused shares to rise nearly 25.50% to close at $33.82/share. Although the company's guidance now indicates that revenue will only be growing 3-7% for the year, it demonstrates that the turnaround plan is working and provides investors with growth rather than the previously anticipated decline in business. This is a sharp turnaround and caused great interest in the shares, even pushing them to a one and a half year high during trading. Drug ad spending will be key to watch for those long the shares.
Biotechnology
Does anyone else ever wonder why it seems news breaks at 2:00 p.m. EST so often? Are these 'sources' meeting reporters for power lunches or something?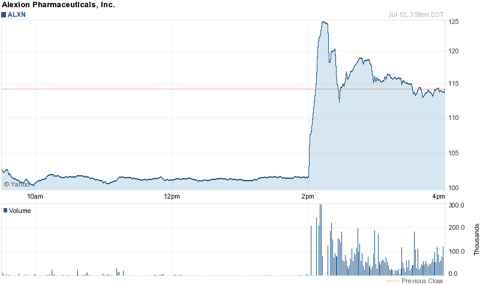 Source: Yahoo Finance
Shares in Alexion (NASDAQ:ALXN) finished at $114.26/share Friday after seeing a large move higher starting at around 2:00 p.m. EST after rumors started circulating that Roche was seeking financing to do a deal. The shares ended the session higher by 12.64% and saw volume of 10.8 million shares. There are a lot of opinions now as to whether Alexion's price is too rich for Roche or not, but looking at their one drug portfolio it appears that this could be a nice little acquisition for Roche. Expensive? Absolutely. But at the end of the day it is a highly specialized drug in a very limited market which needs it. Insurance covers it and the revenues amount to over $1 billion a year. We would not rush in at this time as the upside now is very little (Oppenheimer this morning says potentially $130-140/share) in relation to the risk and Roche does not have the best track record of being able to close deals, nor does it have a reputation of possessing loose purse strings.
Disclosure: I have no positions in any stocks mentioned, and no plans to initiate any positions within the next 72 hours. I wrote this article myself, and it expresses my own opinions. I am not receiving compensation for it (other than from Seeking Alpha). I have no business relationship with any company whose stock is mentioned in this article.