On Friday, July 12, Ryder System, Inc. (NYSE:R) announced a quarterly dividend increase of $0.03/share to bring its upcoming dividend payout to $0.34/share. It should be noted that this boost represents a 9.67% increase from its prior dividend of $0.31/share, which was paid on June 21. In the wake of Ryder's dividend increase I wanted to not only examine the company's recent performance, but also take a look at several catalysts behind my decision to establish a long-term position in the company.
Performance and Trend Status
On Friday, shares of Ryder System -- which currently possess a market cap of $3.10 billion, a P/E ratio of 15.13, a forward P/E ratio of 11.06, and a forward yield of 2.24% ($1.36) -- settled at $60.82. Based on Friday's closing price, shares of Ryder System are trading 0.09% above their 20-day simple moving average, 0.58% below their 50-day simple moving average, and 13.28% above their 200-day simple moving average. These numbers indicate minimal short-term and long-term uptrends for the stock, and a minimal mid-term downtrend for the stock -- which generally translates into a buying mode for most traders.
Click to enlarge image.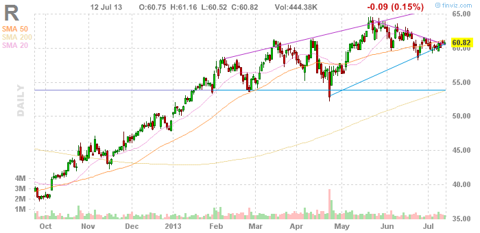 The Addition of 39 Key Vehicles to the Ryder System Fleet
On June 20, it was announced that Ryder System had taken delivery of 39 light and medium duty compressed vehicles with natural gas engines. According to Business Wire:
The 39 new light and medium duty vehicles represent an expansion of Ryders 300 plus heavy duty natural gas vehicle fleet. Ryder became the first outsourced fleet provider to offer heavy duty natural gas vehicles for the leasing and rental industry through a groundbreaking natural gas vehicle project with San Bernardino Associated Governments (SANBAG) in Southern California.
Not only does the expansion of Ryder's fleet put the question of fuel emissions at the forefront of the sector as a whole, it also demonstrates how Ryder could reduce its fuel-related costs on a quarter-over-quarter and year-over-year basis.
Robert Sanchez, chairman and CEO of Ryder, recently noted that the company's "natural gas vehicle program in California is also a model of public/private collaboration that is helping to develop a long-term and sustainable growth trajectory for cleaner, cheaper, and cost-effective natural gas." If the California-based initiative is a successful one, and I truly believe it will be, investors may in fact see similar types of roll-outs in various other regions throughout the country.
Recent Dividend Behavior
Since May 19, 2011, Ryder System has increased its quarterly distribution three times over the last 10 payable quarters (including the upcoming payout on Sept. 20). From an income perspective, the company's forward yield of 2.24% ($1.36) coupled with a payout ratio of 29.00% could make this particular stock a very viable income option for long-term investors in search of a moderate-yielding play in the renting and leasing sector.
Conclusion
When it comes to those who may be looking to establish a position in Ryder System, I'd continue to keep a watchful eye on not only the company's dividend behavior over the next 12-24 months, but also any growth directly related to company's expansion of its natural gas powered fleet.
Disclosure: I have no positions in any stocks mentioned, but may initiate a long position in R over the next 72 hours. I wrote this article myself, and it expresses my own opinions. I am not receiving compensation for it (other than from Seeking Alpha). I have no business relationship with any company whose stock is mentioned in this article.