We've mentioned before that gasoline prices were due to hit the consumer at the pump, and we noticed this weekend that across our state prices are beginning to rise at those stations that have received recent shipments. The moves are on average $0.20/gallon and roughly 10% of the previous prices. That type of move, should it continue to hold -- or worse, continue to rise -- could have a greater impact on the economy than one thinks. What we do have going for us this year is that gasoline prices have been relatively tame during the summer driving months, and actually had a decent drop before the surprise in Egypt.
Chart of the Day
Sticker shock is beginning to set in for consumers with gasoline prices rising in conjunction with oil.
Click to enlarge images.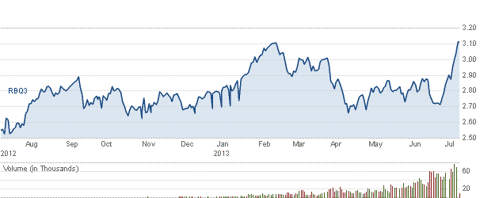 Source: CNBC.
Commodity prices this morning are as follows:
Gold: $1281.80/ounce, up by $4.20/ounce
Silver: $19.83/ounce, up by $0.038/ounce
Oil: $105.33/barrel, down by $0.62/barrel
RBOB Gas: $3.0936/gallon, down by $0.0239/gallon
Natural Gas: $3.678/MMbtu, up by $0.034/MMbtu
Copper: $3.135/pound, down by $0.0205/pound
Platinum: $1413.90/ounce, up by $7.00/ounce
Copper
We have discussed numerous times over the past few months rumors about the copper market specifically, but other industrial metals markets were essentially being cornered by the big investment banks through their ownership of the warehouses where the physical metal was stored. It appears as if one benefit of the U.S.'s new laws is that the banks will have to divest these assets, thus taking away an advantage their trading desks had over rivals. Both JPMorgan and Goldman are looking at the possibility of exiting the business, according to Reuters (see story here). That might not be good news for the metals markets if prices have been manipulated higher because we could see a move downward that would affect not only the physical commodity, but also large companies such as Freeport-McMoRan (NYSE:FCX). This will be a story to continue to watch.
We may finally find out if some of the largest metals markets in the world have indeed been 'controlled' by those owning the warehouses if the sales of those warehouses do take place.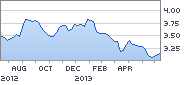 Source: CNBC.
Refiners
While Valero (NYSE:VLO) has shown us that we were correct in calling a top on refiners, the recent rise in oil and gasoline prices, which are now just hitting consumers, may have a further negative impact on business. Joy riding will decrease a bit, but the bigger story is that the differential in WTI and Brent crude has continued to compress and this is impacting margins. First, it was oil producers utilizing truck and rail transportation in order to not be held hostage by the pipelines, but now the narrative has essentially reversed. With investors now realizing the value of domestic crude because of its security of supply, we could be seeing the beginning of refiners' margins returning to more historic levels. Shareholders in other names -- such as Tesoro (TSO) and HollyFrontier (NYSE:HFC) -- have been correct to be cautious as this is industry-wide and we expect this will be an ongoing story in the commodity business through at least the close of the year.
Integrated Oil Companies
The integrateds have always provided safety for investors via their diversification. Yes, one can get more leverage and exposure to refining via the pure plays discussed above, but a name such as Exxon Mobil (NYSE:XOM) might be a far better investment for long-term investors. That's because your volatility is diminished and it has the kicker that is its natural gas exposure, which may turn out to be quite valuable. Even with the poor performance of natural gas, XOM has managed to perform among the top of its integrated peers.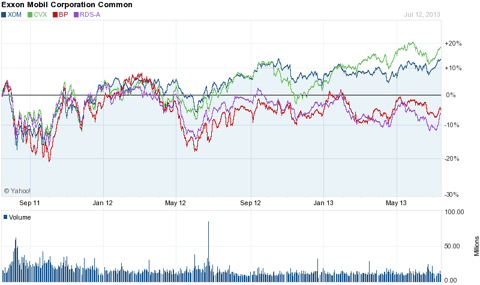 Source: Yahoo Finance.
If one does not like the above idea, then maybe creating your own integrated via the purchasing of ETFs would be the way to go. It at least gets rid of company-specific risks and smoothes out results even further.
Disclosure: I have no positions in any stocks mentioned, and no plans to initiate any positions within the next 72 hours. I wrote this article myself, and it expresses my own opinions. I am not receiving compensation for it (other than from Seeking Alpha). I have no business relationship with any company whose stock is mentioned in this article.