I recently wrote an article on mortgage REIT preferred stock in which some of the comments stated that there were traditional REIT preferred shares that had a comparable yield and yet were less reliant on short-term financing. As I stated in that article:
Mortgage REIT preferred stock should be considered as part of an income focused portfolio.
While many of the comments in the article were less than constructive on mortgage REIT preferred stocks, I continue to believe that they warrant inclusion in an income portfolio. Rather than just state that and leave it at that, I thought it might be more helpful to come up with some traditional REIT preferred shares that have higher than average yields and also warrant consideration for income focused portfolios. If the mortgage REIT sector is not for you, these are meant to be higher yield alternatives (or used to balance the risks in a REIT preferred allocation).
Enter my Seven Over 7% REIT preferred picks. The rationale for the choices was simple:
Stripped yield greater than 7%.
Yield-to-call greater than 5%,and
A clear yield advantage to the common shares.
Also as part of the selection process was to consider "off the run" REITs, or those that are not the largest in their sectors (which typically helps contribute to the higher than average yield) and are typically not as closely followed. These off the run REITs include:
"Off the run" REITs were used for the ability to find REITs that had a decent yield without inordinate risks.
Here is a summary of these higher yield, off the run REIT preferred stock:

Inland Real Estate
Inland Real Estate is an Illinois-based REIT which acquires, owns and manages neighborhood and community retail centers located primarily in the Midwest. Inland Real Estate Corporation currently owns interests in and manages 154 properties, with approximately 15.3 million square feet of real estate totaling nearly $2 billion in asset acquisition value.
Inland is predominately located in Chicago (61%) and Minneapolis (18%), its top tenants are the dominant grocers in their markets [Roundys (NYSE:RNDY), Jewel, Supervalu (NYSE:SVU) and Safeway (NYSE:SWY)] and is currently 94% leased.
I originally wrote about Inland's preferred stock over a year ago (here) and Fellow SA contributor Brad Thomas wrote about the REIT at the end of last year (here) (certainly time for an update, and as this REIT continues to improve, I am on it).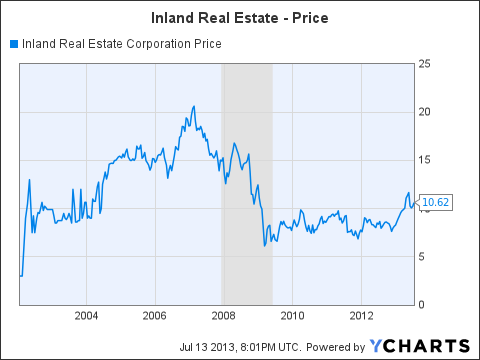 Kite Realty Group
Kite Realty Group Trust is a full-service, vertically-integrated real estate investment trust focused primarily on the development, construction, acquisition, ownership and operation of high quality neighborhood and community shopping centers in selected growth markets in the United States. The Company owns interests in a portfolio of operating retail properties, retail properties under development, operating commercial properties, a related parking garage, commercial property under development and parcels of land that may be used for future development of retail or commercial properties.
Kite is predominately located in Indiana (36% GLA), Florida (28% GLA), and Texas (17% GLA), has strong anchor tenants [Publix [PUSH.PK, Bed, Bath & Beyond (NYSE:BBY), Dicks (NYSE:DKS), Lowe's (NYSE:LOW) and others] and is currently 94.5% leased. I wrote about this REIT last July (here) and the equity has outperformed the S&P since (+24.3%).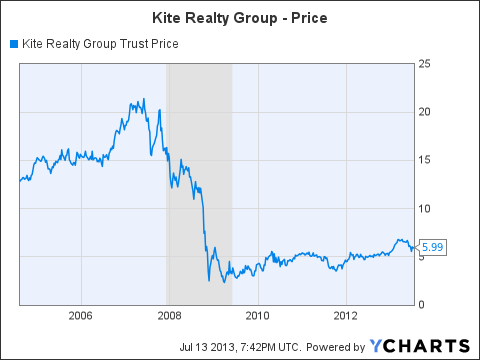 Terreno Realty Corp
Terreno is a San Francisco-based REIT that acquires, owns and operates industrial real estate in six major U.S. coastal markets: Los Angeles, Northern New Jersey/New York City, San Francisco Bay Area, Seattle, Miami, and Washington D.C./Baltimore. The REIT's focus is acquiring functional, flexible properties in infill locations near major population centers and transportation infrastructure.
I wrote about Terreno last August (here) and since then, there has been decent NOI growth (same store - 40bp improvement) and occupancy (260bp improvement). Management continues to be focused on balance sheet integrity and portfolio optimization.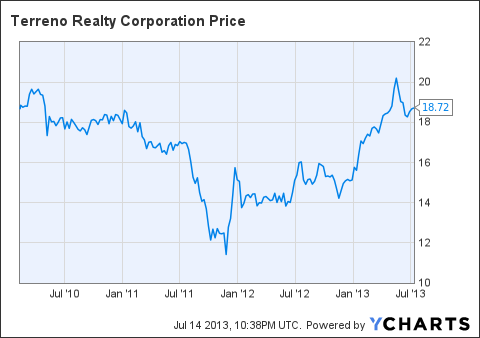 Investor Real Estate Trust
Investors Real Estate Trust was founded in 1970 and is headquartered in Minot, North Dakota. IRET owns a diversified portfolio of income-producing properties. IRET's multi-family residential, office, medical, industrial and retail properties are located in 12 states, primarily in the Upper Midwest.
IRET has often been described as an indirect Bakkan Shale play due to its location and has been focusing on increasing its multi-family exposure. Office vacancy is a bit higher than market levels, but they have been redeveloping where possible. IRET has cut their dividend on the common to a more sustainable level (it was over 100%) which should help them fortify their financials.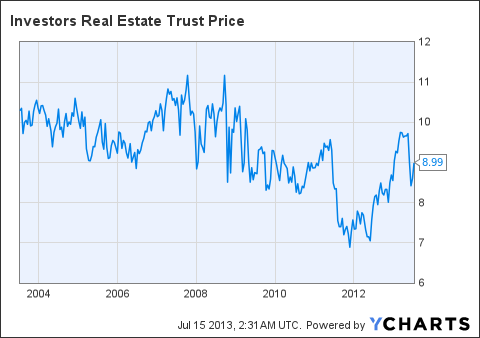 UMH Properties
UMH Properties, Inc. commenced operations in 1968 and has been operating as a public company since 1985. The New Jersey-based REIT has a portfolio of 68 manufactured home communities containing approximately 12,800 sites located in Indiana, New Jersey, New York, Ohio, Pennsylvania, Michigan, and Tennessee. As an owner and operator of manufactured home communities, UMH leases manufactured home spaces on a month-to-month basis to private residence homeowners. In addition, UMH sells and finances homes to qualified residents through a wholly-owned subsidiary, UMH Sales and Finance.
Fellow SA contributor Brad Thomas recently wrote an article on UMH (here) which shows FFO increasing, assets growing and occupancy increasing. While small, the company is growing in a reasonable fashion.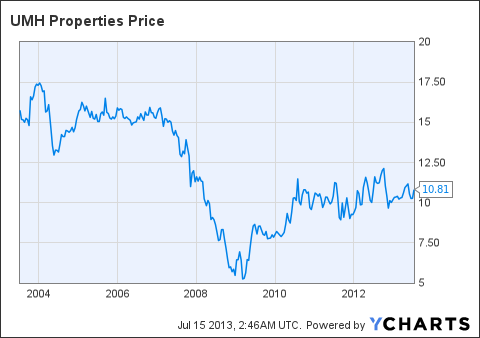 Corporate Office Properties Trust
Corporate Office Properties Trust (COPT) is an office real estate investment trust that focuses primarily on serving the specialized requirements of U.S. Government agencies and defense contractors engaged in defense information technology and national security-related activities.
I last wrote about COPT approximately nine months ago (here) and since then, the company has continued to execute on their plan to increase occupancy, fortify their balance sheet (which is in very good shape) and continue the focus on "smart" government spending, which will mitigate the effect of cut-backs and sequestration.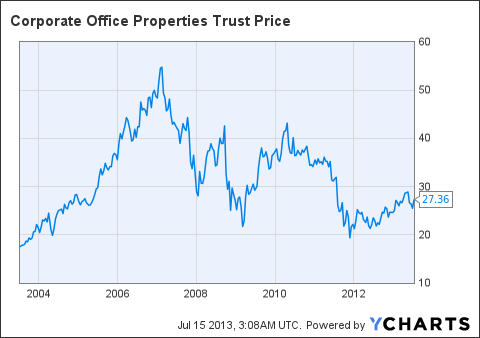 Cubesmart
CubeSmart is a self-administered and self-managed real estate investment trust. CubeSmart owns or manages 519 self-storage facilities across the United States. According to the 2012 Self Storage Almanac, CubeSmart is one of the top four owners and operators of self-storage facilities in the U.S.
The Cubesmart portfolio has seen increased occupancy as well as NOI growth. The storage sector continues to be healthy and growing at a positive real rate. The REIT has a sustainable payout ratio which will continue to help them maintain financial flexibility.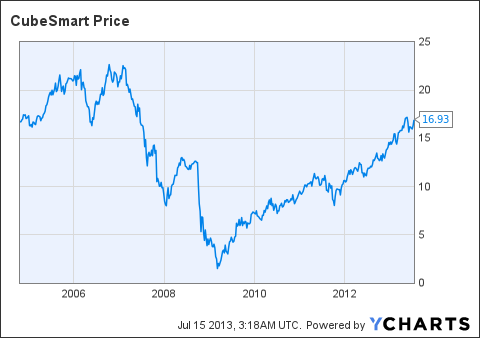 Bottom Line: While I believe that there are many different investment sectors that can comprise an income focused portfolio, I also know that the portfolio can be tailored to the risk profile of the investor. The above REIT preferred stocks can help an investor balance the need for yield and the desire for safety while creating a diversified portfolio.
Disclosure: I have no positions in any stocks mentioned, and no plans to initiate any positions within the next 72 hours. I wrote this article myself, and it expresses my own opinions. I am not receiving compensation for it (other than from Seeking Alpha). I have no business relationship with any company whose stock is mentioned in this article.
Disclaimer: This article is for informational purposes only, it is not a recommendation to buy or sell any security and is strictly the opinion of Rubicon Associates LLC. Every investor is strongly encouraged to do their own research prior to investing.