Risky assets last week again marched higher to the tune of economic data supporting the argument of a global economic recovery. A realization among investors that the economic transition from recession to recovery was gaining momentum resulted in many global stock markets and commodities scaling fresh peaks for the year.
The S&P 500 Index closed the week above the psychological 1,000 level, marking its highest level since November and capping four consecutive weeks of gains. And more upside lies ahead, said Abby Joseph Cohen, Goldman Sachs' market strategist, who expects the Index to reach the 1,100 point by year end. (Is this a contrary indicator coming from a permabull?)
Many commodities such as crude oil, copper, aluminum, nickel, lead and zinc hit their highest levels of the year, not to mention sugar recording a 28-year peak. "The financial crisis has been addressed, the commodity crisis has not," warned Goldman Sachs (via the Financial Times), predicting that this year's rise in prices was "just the beginning" of another rally that was "ultimately likely to be even more extreme" than those seen in the past. However, the Baltic Dry Index - a measure of freight rates for iron ore and bulk commodities that correlates very well with base metal indices - has broken technical support on the downside and short-term weakness in metals prices looks likely, possibly as a result of the Chinese buying frenzy having come to an end.
While high-yielding commodity-linked and emerging-market currencies were in favor, the U.S. greenback dropped to its weakest level since October before staging a rally on Friday after the announcement of the U.S. employment data had pleased some traders (see comments in the "Economy" section below). Government bonds (with the exception of emerging markets) again sold off as the bond vigilantes cottoned on to the improved economic outlook.
The past week's performance of the major asset classes is summarized by the chart below - a set of numbers that indicates continued investor appetite for risky assets (albeit with investment-grade and high-yield corporate bonds taking a breather).
Click to enlarge: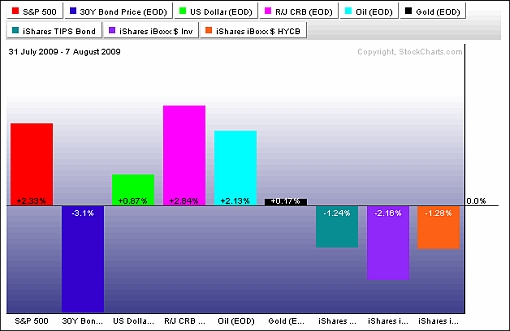 Source: StockCharts.com
A summary of the movements of major global stock markets for the past week, as well as various other measurement periods, is given in the table below.
The MSCI World Index (+1.8%) and MSCI Emerging Markets Index (+1.1%) both made headway last week to take the year-to-date gains to +15.5% and an impressive +50.4% respectively. The U.S. and other markets extended their rallies to four straight weeks in most instances, although some weakness crept in among developing countries such as China, India, Singapore and Taiwan. It is also noteworthy that emerging markets underperformed developed markets for the first time since the beginning of May. Could this be a first sign of a retrenchment in risk appetite?
Click here or on the table below for a larger image.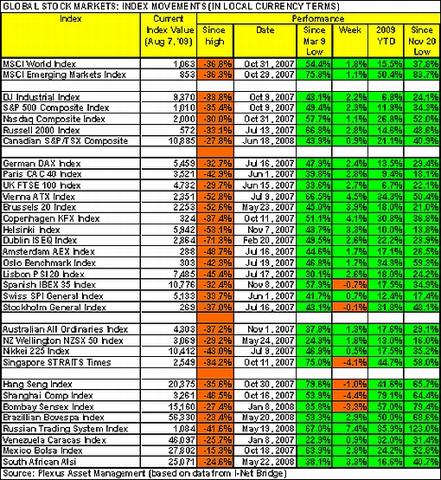 Stock market returns for the week ranged from top performers such as Bulgaria (+15.5%), Romania (+8.3%), Lithuania (+8.2%), Kazakhstan (+8.1%), Estonia (+8.0%) and the Czech Republic (+7.1%). These are all Eastern Europe countries playing catch-up as pundits came to the conclusion that the initial doomsday scenario for the region's debt situation was not as bad as predicted. At the bottom end of the performance ranking, countries included Malta (‑5.8%), China (-4.4%), Singapore (-4.1%), Côte d'Ivoire (-3.9%), Greece (‑3.6%) and India (-3.3%).
After almost doubling since the beginning of the year and notching up seven straight weeks of gains, the Chinese Shanghai Composite Index declined by 4.4% last week - its worst performance for five weeks. The Index has broken its first level of support and it would not come as a surprise if lower Chinese equities serve as the catalyst for a pullback in global stock markets.
Click to enlarge: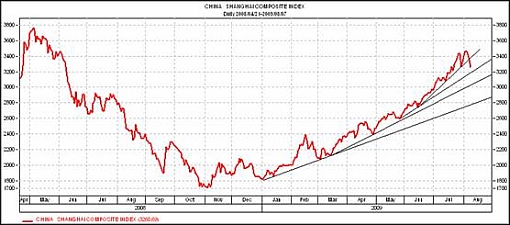 Source: I-Net Bridge
Of the 96 stock markets I keep on my radar screen, a majority of 74% (last week: 74%) recorded gains, 21% showed losses and 5% remained unchanged. (Click here to access a complete list of global stock market movements, as supplied by Emerginvest.)
John Nyaradi (Wall Street Sector Selector) reports that as far as exchange-traded funds (ETFs) are concerned, the winners for the week were dominated by real estate funds, including iShares FTSE NAREIT Industrial/Office (NYSE:FIO) (+19.0%), Cohen & Steers Realty Majors Index (BATS:ICF) (+17.8%) and SPDR DJ REIT Index (NYSEARCA:RWR) (+17.1%).
On the losing side of the slate, ETFs included ProShares Short Financials (NYSEARCA:SEF-OLD) (-10.2%), Vanguard Extended Duration Treasury (NYSEARCA:EDV) (-6.7%) and iShares Lehman 20-year Treasury Bond (NYSEARCA:TLT) (-4.6%). As a sector, biotechnology fared badly, as seen from the performance of iShares Nasdaq Biotechnology (NASDAQ:IBB) (-3.5%).
As far as the credit markets are concerned, after having peaked at 4.82% on October 10, the three-month dollar LIBOR rate declined to a record low of 0.46% last week. LIBOR is therefore trading at 21 basis points above the upper band of the Fed's target range - almost back to normal when compared to an average of 12 basis points in the year before the start of the credit crisis in August 2007.
The TED spread (i.e. three-month dollar LIBOR less three-month Treasury Bills) is a measure of perceived credit risk in the economy. Since the peak of the TED spread at 4.65% on October 10, the measure has declined to a 14-month low of 0.29% - a vast improvement and now actually below the 38-point average during the 12 months prior to the start of the crisis.
Click to enlarge: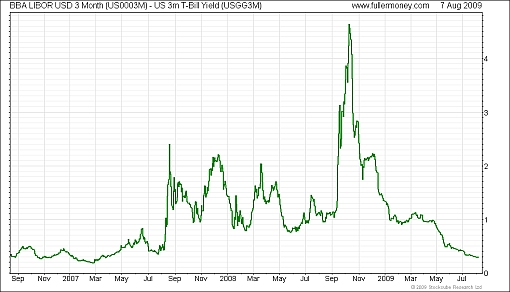 Source: Fullermoney.com
Still on credit, Floyd Norris said on his blog in The New York Times:
It is with a great sense of joy that I read today that Donald Trump is almost back in the casino business. So why do I feel joy at the news? If a casino company run by Mr. Trump can get credit, then the credit crunch must surely be over.
The quote du jour this week concerns the U.S. dollar and again comes from Richard Russell (Dow Theory Letters). He said:
Build a brick house. Then pull the bottom row of bricks out of the house, and what have you got? A wobbly wreck. The dollar is comparable to the bottom row of bricks in the US economy. Everything in this fair land from houses to stocks and bonds is denominated in dollars. But now the dollar is weak.

The U.S. Dollar Index is trading at a new low for the move - below its declining blue 50-day moving average. Worse, the 50-day average is well below its declining red 200-day average. Not a pretty technical picture. The BIG question: Is the dollar on its way to a major down-leg, or is the dollar just temporarily slipping? If it's a big down-leg coming up, there's going to be trouble, and the trouble will start with the bonds and with interest rates.
Click to enlarge: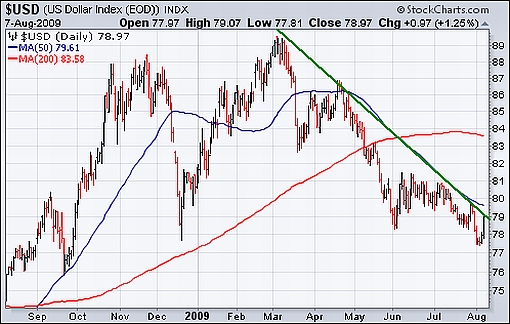 Source: StockCharts.com
Other news is that the U.S. Senate on Thursday approved a $2 billion extension of the government's car sales incentive program, "Cash for Clunkers", while the Federal Deposit Insurance Corp (FDIC) closed two more banks on Friday, bringing the tally of U.S. bank failures in 2009 to 71 (96 since the beginning of the recession).
Also, according to the Financial Times, Bank of America (NYSE:BAC) is to pay $33 million to settle claims by U.S. regulators that it made "materially false and misleading claims" to shareholders about bonuses that were paid by Merrill Lynch last year. Meanwhile, General Electric agreed to pay $50 million to settle the fraud charges brought by the Securities and Exchange Commission (SEC), accusing the company of bending its financial statements in 2002 and 2003 to boost its reported earnings, reported MarketWatch.
Next, a quick textual analysis of my week's reading. No surprises here with the usual suspects such as "bank", "market", "prices", "economy", "government" and "recession" featuring prominently.

The key moving-average levels for the major U.S. indices, the BRIC countries and South Africa (where I am based) are given in the table below. All the indices are trading above their respective 50- and 200-day moving averages. The 50-day lines are also in all instances above the 200-day lines and therefore not threatening the bullish "golden crosses" established when the 50-day averages broke upwards through the 200-day averages.
Although these figures support the bullish case, one should bear in mind that some of the movements have been quite extreme, as borne out by the following:
• As far as mature markets are concerned, 76% are trading more than two standard deviations above their 50-day averages and 56% more than two standard deviations above their 200-day lines.
• Among emerging markets, 59% are trading more than two standard deviations above their 50-day averages and 68% more than two standard deviations above their 200-day lines.
These figures argue that some degree of reversion to mean is probably overdue. This could take the form of either a pullback or a consolidation (i.e. ranging) pattern. The June highs and July lows are also given in the table, as these levels define a support area for a number of the indices.
Click here or on the table below for a larger image.

Referring to my earlier comments about China, the graph below illustrates that for the fist time since mid-1999 emerging Asian stocks are trading at a premium of more than 35% to the 200-day moving average. This represents an overbought situation that is clearly not sustainable.
Click to enlarge: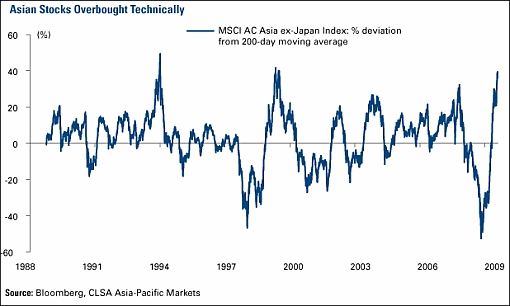 Source: US Global Investors - Weekly Investor Alert, August 7, 2009.
Considering the S&P 500's ten economic sectors, Bespoke provides very useful "sparklines" from which one can see at a glance where sectors are trading relative to their normal ranges - one standard deviation above and below the 50-day moving average - over the last year. As shown below, nine out of ten sectors are currently trading in overbought territory, with most having just recently hit their most overbought levels of the last year. The energy sector is the only one not yet overbought, but getting close.
Said Bespoke:
As you can see in the sparklines, most sectors hit their most oversold levels over the last year nearly ten months ago. It's hard to believe that it has already been nearly a year since the crazy times of last September and October.
Click to enlarge: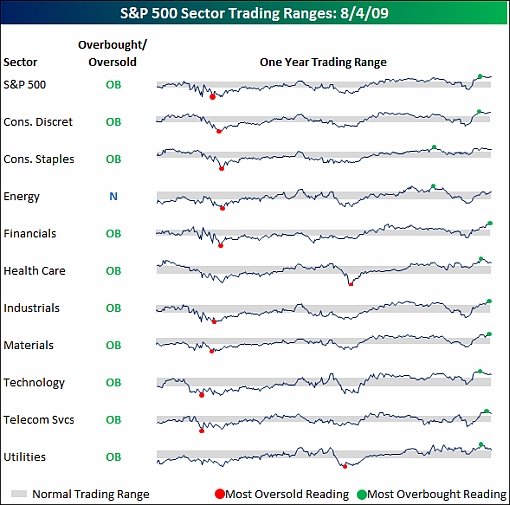 Source: Bespoke, August 4, 2009.
Turning to fundamentals, with the bulk of the Q2 earnings reports in the U.S. now in, 67.9% of the companies have beaten earnings estimates and 37.6% both earnings and revenue estimates. But, according to Bespoke, the most bullish aspect of this earnings season has been guidance.
After three quarters where companies guiding lower far outnumbered companies guiding higher, the trend has reversed to the positive side. As shown, 8.4% of companies reporting earnings have raised guidance in Q2, while 6.1% of companies have lowered guidance. Just two quarters ago, 15.7% of companies lowered guidance, while just 2.7% raised guidance.
Click to enlarge: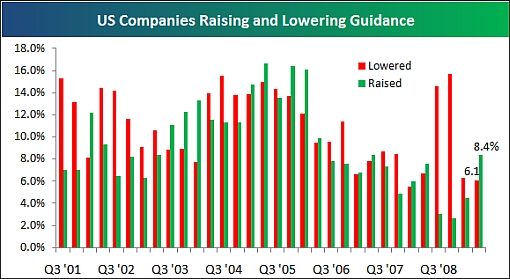 Source: Bespoke, August 7, 2009.
The actual level of earnings nevertheless remains depressed, causing David Rosenberg (Gluskin Sheff & Associates) to comment as follows:
Based on past linkages between earnings trends and the pace of economic activity, believe it or not, the S&P 500 is now de facto discounting a 4.25% real GDP growth rate for the coming year. That is what we would call a V-shaped recovery. While it is possible, though in our opinion a low-odds event, it is doubtful that the economy is going to be better than that. So we have a market that is more than fully priced for a post-recession world - any further gains would suggest that we are moving further into the 'greed' trade.
Looking at the next few weeks, my assessment remains as stated a few days ago:
I am of the opinion that stock markets have run away from fundamental reality and that a pullback/consolidation looks likely. Taking a slightly longer-term view, I think we are in a (possibly lengthy) bottoming-out phase as far as slow-growth (OECD) countries are concerned, but already in new (potentially volatile) uptrends regarding high-growth emerging and commodities-related markets.
Caution seems to be in order.
For more discussion on the direction of financial markets, see my recent posts "Global stock market moving averages hit full house", "Bob Farrell's 10 rules for investing", "Bullion regains its glitter", "Technical Talk: Balance bullish breadth with weak seasonal trends", "Picture du Jour: Keep a close eye on lending standards", and "Video-o-rama: Stabilization benefits risky assets".
Economy
Business sentiment is continuing to improve across the globe. The results of last week's Survey of Business Confidence of the World achieved its best level since early October, reported Moody's Economy.com. Businesses' broad assessments of current conditions and the outlook into 2010 have brightened meaningfully. However, despite the steady improvement in confidence, businesses are still very cautious and the Survey results remain consistent with a global economy that is still in recession.
Click to enlarge: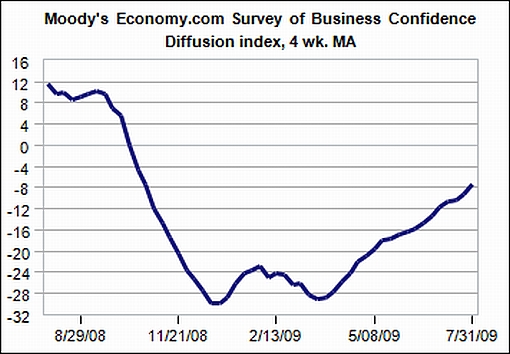 Source: Moody's Economy.com
The Financial Times:
Global manufacturing is clearly on the rebound, with survey reports on Monday showing activity contracting at a significantly slower pace in the US and continental Europe, and U.K. industry back on a growth path. The upbeat results added to evidence that the world's main economic regions stabilized in July, bringing closer the prospect of growth resuming.
Considering hard data, the surplus on Germany's foreign goods trade account rose to €11 billion on a seasonally adjusted basis in June, from a revised €10.2 billion in the previous month, according to the Federal Statistics Office. Exports rose at the fastest pace in almost three years. Although the surplus remains below the €18 billion recorded in June 2008, the outcome added to signs that Europe's largest economy was emerging from recession.
The European Central Bank (ECB) left its monetary policy unchanged at a historical low of 1% in August, while the Bank of England (BoE) Monetary Policy Committee held its key repo rate steady at an all-time low of 0.5%, but increased the size of its asset purchase program by an additional £50 billion to £175 billion.
A snapshot of the week's U.S. economic reports is provided below. (Click on the dates to see Northern Trust's assessment of the various data releases.)
Friday, August 7, 2009
•July employment report - moderation of jobless is noteworthy
Thursday, August 6, 2009
•Jobless claims data are mildly positive
Wednesday, August 5, 2009
•ISM Non-manufacturing Index shows mild decline
•Factory orders higher
Tuesday, August 4, 2009
•June pending home sales - more evidence that trough in sales is behind us
•Real consumption expenditures in reverse in June
Monday, August 3, 2009
•ISM Manufacturing Index - overall tone is positive
•Construction spending rebounds in June
Regarding Friday's employment report being treated as a "green shoot" of major proportions, David Rosenberg said:
While it was by far the best jobs performance of the year, much of the better-than-expected tally in nonfarm payrolls reflected the bounce in auto production as well as the distortion from the federal census workers. Combined, these two influences effectively 'added' 100,000 to the headline number, so net-net, the consensus view of ‑325,000 was not as far off the mark as the market believed at first glance. It may be dangerous to extrapolate today's report into a view that we are about to fully turn the corner on the job market front.
Subsequent to the jobs report, interest rate futures moved to reflect a 25 basis-point increase in the Fed funds rate at the January meeting of the Federal Open Market Committee (FOMC). Markets are also pricing in a first quarter point rate hike for the BoE and the ECB by January and February respectively.
Nouriel Roubini (RGE Monitor) pointed out a few bright spots amid the global recession, as reported by Forbes. He said:
All economies have been affected by the crisis, but a combination of policy responses and strong fundamentals has given some countries, especially some emerging-market economies, a relative edge. These same strengths could lead these countries to perform better as the global recovery begins.

What do these countries have in common? One major theme is that they tended to have lower financial vulnerabilities due to more restrictive regulation and less developed financial markets, as well as larger and stronger domestic markets that sustained domestic demand. Moreover, they had the resources to engage in countercyclical fiscal and monetary policies - actions that were not possible in past crises.
The countries identified by Roubini are Brazil, Australia, China, India, The Philippines, Indonesia, Poland, Norway, France, Canada, Egypt, Qatar and Lebanon.
Week's economic reports
Click here for the week's economy in pictures, courtesy of Jake of EconomPic Data.
| | | | | | | | |
| --- | --- | --- | --- | --- | --- | --- | --- |
| Date | Time (ET) | Statistic | For | Actual | Briefing Forecast | Market Expects | Prior |
| Aug 3 | 10:00 AM | | Jun | 0.3% | -0.4% | -0.5% | -0.8% |
| Aug 3 | 10:00 AM | ISM Index | Jul | 48.9 | 48.0 | 46.5 | 44.8 |
| Aug 4 | 8:30 AM | | Jun | -1.3% | -1.0% | -1.0% | 1.3% |
| Aug 4 | 8:30 AM | Personal Spending | Jun | 0.4% | 0.2% | 0.3% | 0.1% |
| Aug 4 | 10:00 AM | Pending Home Sales | Jun | 3.6% | 0.5% | 0.7% | 0.8% |
| Aug 5 | 8:15 AM | ADP Employment Change | Jul | -371K | -365K | -350K | -463K |
| Aug 5 | 10:00 AM | | Jun | 0.4% | -0.5% | -0.8% | 1.1% |
| Aug 5 | 10:00 AM | ISM Services | Jul | 46.4 | 48.5 | 48.0 | 47.0 |
| Aug 5 | 10:30 AM | Crude Inventories | 07/31 | +1.67M | NA | NA | +5.15M |
| Aug 6 | 8:30 AM | | 08/01 | 550K | 575K | 580K | 588K |
| Aug 7 | 8:30 AM | | Jul | -247K | -370K | -325K | -443k |
| Aug 7 | 8:30 AM | | Jul | 9.4% | 9.7% | 9.6% | 9.5% |
| Aug 7 | 8:30 AM | | Jul | 0.2% | 0.1% | 0.1% | 0.0% |
| Aug 7 | 8:30 AM | | Jul | 33.1 | 33.0 | 33.0 | 33.0 |
| Aug 7 | 3:00 PM | | Jun | -$10.3B | -$5.0B | -$5.0B | -$5.4B |
Source: Yahoo Finance, August 7, 2009.
Click here for a summary of Wells Fargo Securities' weekly economic and financial commentary.
The Bank of Japan and the FOMC will make interest rate announcements on Tuesday (August 11) and Wednesday (August 12) respectively. U.S. economic data reports for the week include the following:
Monday, August 10
None
Tuesday, August 11
Productivity, unit labor costs and wholesale inventories
Wednesday, August 12
Trade balance and Treasury budget
Thursday, August 13
Export and import prices, initial jobless claims, retail sales and business inventories
Friday, August 14
CPI, capacity utilization, industrial production and Michigan sentiment
Markets
The performance chart obtained from the Wall Street Journal Online shows how different global financial markets performed during the past week.
Click to enlarge: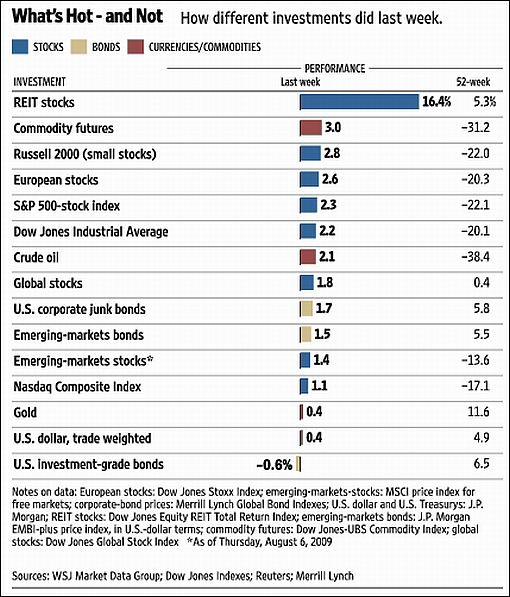 Source: Wall Street Journal Online, August 7, 2009.
"Everyone is wrong in the markets at times. The difference between the great traders and the unsuccessful ones is in how long they stay wrong," said Brett Steenbarger, editor of the TraderFeed blog and author of the books The Psychology of Trading, Enhancing Trader Performance and The Daily Trading Coach. I have the privilege of meeting with Brett, arguably one of the leading trading coaches, during his visit to Cape Town later this week and look forward to exchanging ideas with him. In the meantime, let's hope the news items and quotes from market commentators included in the "Words from the Wise" review will keep the portfolios of Investment Postcards readers on target.