Small-cap focused technology exchange traded funds have outperformed the broad market over the first half of 2013, and now analysts expect large-caps to pick up over the second half, with solid growth estimates and nice dividend yields that are expected to improve over time.
"Capital IQ data indicate flat operating EPS in the first quarter and consensus estimates indicate a decline for the second quarter, but a notable improvement in the second half, with expected growth of 7% for the third quarter and 10% for the fourth quarter, owing in part to easier comparisons. S&P Capital IQ equity analysts have upgraded a number technology stocks over the last several weeks, and we see potential opportunities across the sector," S&P Capital wrote in a recent note.
The timing is right to speculate on the technology sector and related ETFs. The growth is expected to gain momentum later this year, and the average dividend yield of 1.9% is a nice payoff. The following ETFs are all ranked "Overweight" by the ratings company, with the exception of PSCT, rated "Marketweight": iShares North American Tech ETF (NYSEARCA:IGM), iShares U.S. Technology ETF (NYSEARCA:IYW), PowerShares S&P SmallCap Information Technology Portfolio (NASDAQ:PSCT), and the Vanguard Information Technology Index Fund (NYSEARCA:VGT).
The small-cap emphasis of PSCT sets it apart from the rest of the funds, with companies coming in under the market cap of $1.3 billion, compared to the average $138 billion to $176 billion. The ETF is new to the market, launched in 2010, and has been the stand out performer of the sector this year. In contrast, VGT is larger, with 416 holdings, and an expense ratio of 0.14%. Plus, large-cap companies such as Apple (NASDAQ:AAPL) and IBM (NYSE:IBM) are featured in the top holdings.
IYW is a pure play on U.S. technology companies with 126 holdings. At 0.47%, the fund is more costly than VGT, while offering some of the same large-cap technology companies as top holdings. IGM features some of the same holdings as IYW, but about 96% of the portfolio is dedicated to U.S. stocks. The costs are comparable to IYW at 0.48%.
Technology ETFs that have less exposure to the big players such as Apple have fared well this year. The PowerShares S&P SmallCap Information Technology (PSCT) and the Guggenheim S&P Equal Weight Technology ETF (NYSEARCA:RYT) are both up 23% over the past one year. Zacks Equity Research reports that RYT has gathered nearly $88 million in AUM this year, taking the fund's base to $192.80 million. Meanwhile, PSCT accumulated $36.8 million assets to reach a total of $138.5 million.
PowerShares S&P SmallCap Information Technology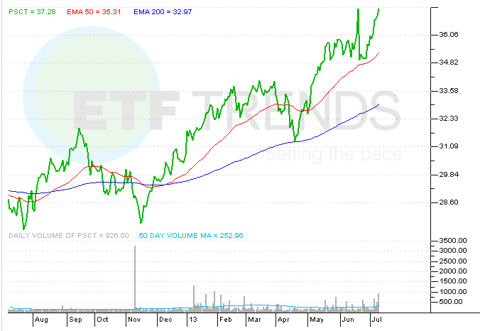 Tisha Guerrero contributed to this article.
Disclosure: I have no positions in any stocks mentioned, and no plans to initiate any positions within the next 72 hours. I wrote this article myself, and it expresses my own opinions. I am not receiving compensation for it. I have no business relationship with any company whose stock is mentioned in this article.