To say that investors are bearish on gold and, in particular, the gold miners, is a trite point of view in the summer of 2013. Everywhere you look, blogs, newspapers, CNBC, cocktail parties, it doesn't matter: investors are terribly negative on the precious metal.
But along with the negativity has come a drastic decline in prices and expectations. Low prices and low expectations, though, are requisite in a favorable risk and reward equation: low prices indicate low risk coincident with potential high rewards.
I'll be the first to tell you that miners are outside my "circle of competence" and that I understand that gold has no productive use and does not throw off any cash flow. But what it does provide is a hedge against fiat currency and fiscal crises. Over the long-term, the metal is also negatively correlated with stocks: gold thrives on bad news when stocks languish.
Therefore, extremely bearish sentiment, a drastic price decline and an optimal hedge against inflation and chaos caused me to take a closer look at NovaGold (NYSEMKT:NG).
The Business:
NovaGold has two primary assets: a 50% interest in the Donlin Gold project (Alaska) and a 50% interest in the Galore Creek copper project (British Columbia). Last year, it spun off its Ambler District copper deposit into a listed company, NovaCopper (NCQ).
Another catalyst is looming: the company is exploring divesting its Galore Creek project to focus on the Donlin Gold asset. The asset is held on NovaGold's balance sheet at $380 million under the equity method of accounting, whereby NovaGold's share of the income less its share of dividends increases and decreases the carrying value, respectively.
With a current market capitalization of $740 million, the Galore Creek asset represents about half that value, but even more of NovaGold's $560 million enterprise value. Prospective investors get the benefit of a substantially lower price than the 35 million share offering in February 2012 at $9.50/share.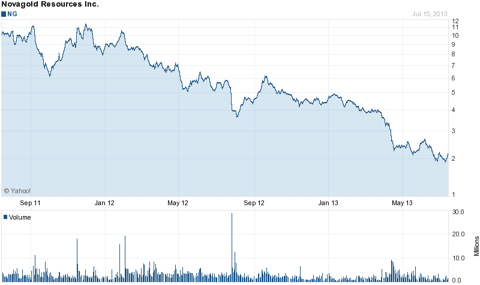 Donlin Gold:
According to management, Donlin Gold is arguably the most important undeveloped gold mine the world, based on combined size, grade, exploration potential, production profile and jurisdictional safety. [1]
It's proven and probable reserves are estimated at around 34 million ounces of gold, with NovaGold's share being 17 million ounces. In addition, the mine isn't expected to be operational until 2017.
The mine is expected to produce in excess of 1 million ounces of gold a year for 27 years at an all-in cost (extraction, royalties, G&A, etc) of $585 per ounce. I can't accurately predict the price of gold, but I suspect that it will be materially higher 27 years in the future, with periodic spikes based on currency and fiscal crises. To be certain, we are in uncharted territory in terms of monetary policy intervention from world central banks: a small wager on gold seems warranted given the amount of opacity in the financial system.
Of course, the risk is that the mine doesn't produce as expected, including for various operational issues such as getting natural gas distributed to the mine for production and the fact that mining can only be performed 6 months out of the year due to the weather at the Donlin Gold location in Alaska.
Another interesting fact is that there is expected to be a dearth of high quality gold being produced when Donlin Gold is expected to come online, providing for an additional supply/demand factor to be considered.
Conclusion:
NovaGold appears like a compelling investment opportunity at current prices. As always, prices could go lower, but I think there is considerable value in excess of the current quote. Therefore, I hold a small position for portfolio management purposes and because NovaGold appears like a low risk, leveraged bet on gold for the next 30 years.
I certainly expect a good crisis or two and likely more over that time frame. So I'm buying my insurance cheap, when no one thinks they need it.
Notes:
[1] June 2013 Investor Presentation, p. 3.
Disclosure: I am long NG. I wrote this article myself, and it expresses my own opinions. I am not receiving compensation for it (other than from Seeking Alpha). I have no business relationship with any company whose stock is mentioned in this article.
Additional disclosure: I am developing an investment research web application to allow investors to create private or shared dashboards of investment research, of which NovaGold is part of the beta portfolio. To sign up as a beta user, go to indievestr.com.