Note: Parts of this article are also contained in the Lares Capital Partners LP Q2 investment newsletter available only privately.
Expectations for second half of 2013
Entering Q3, we are still increasing our short positions and selling off largest long positions. With the earnings season underway, we expect that companies will disappoint as they face multiple headwinds: slowing world GDP (2.1% in 2013 according to The Economist), a possible end of quantitative easing by the Federal Reserve toward the end of the year, investor complacency about political situation in Europe, and slowdown in China and other emerging markets. According to UBS estimates, over 30% of revenues of S&P 500 companies come from abroad. We expect that all "low-hanging fruit" in equities has been picked in the last four years - the best time to invest since the Great Depression - and investing today will require extreme selectivity, thorough hedging, and in-depth research.
According to FactSet, the consensus estimates for Q2 from Q1 earnings and revenue growth is a measly 0.7% and 1%. Market strategists expect the earnings growth to accelerate in the second half of the year. Analysts still project a 7.2% earnings growth in Q3 and 13% in Q4 while only seeing revenues rising 2.6% and 1.3% correspondingly for S&P 500 (FactSet). Based on this, they project a reasonable price to earnings ratio of 15.25 by the end of the year making market still reasonably priced below its 25 year average of 18. In our opinion, the earnings growth will likely severely disappoint and the forward P/E ratio should be estimated much higher.
Let's look at the sources of earnings growth: improved operating margins, lower taxes, higher leverage, and higher revenues (so called "DuPont formula"):

Or to put in words:
Return On Equity = Tax Burden X Interest Rate Burden X Operating Margin X Sales Turnover X Leverage
It's safe to assume that tax rates will not go down. On the contrary, Congress and European politicians are threatening to crack down on various tax shelters used by Apple (NASDAQ:AAPL), Amazon (NASDAQ:AMZN), and Starbucks (NASDAQ:SBUX). Interest burden is directly related to interest rates and, if the economy is improving (as the analysts project), the interest rates will likely rise further. Profit margins depend on the input costs, fixed costs, and labor costs - they've reached an all-time high last year as percentage of GDP according to St. Louis Fed: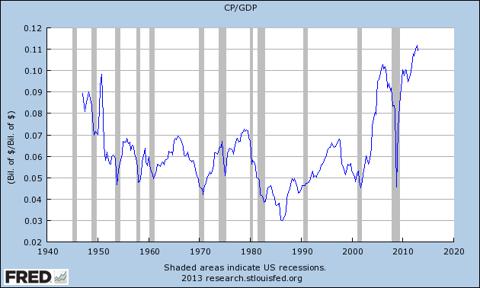 In an environment with low wages, low rents, and low inflation, the profit margins moved corporate earnings forward. However, as the labor market improved and the overcapacity diminished, the profit margins have been falling this year.
Finally, sales are projected to grow only modesty and the financial leverage is not likely to rise as many companies seeing weak demand are not in a rush to take out loans. Wells Fargo in its Q2 conference call specifically pointed out that commercial loans was the only segment to have shown no growth this year.
To sum up all my points, the second half of the year earnings are very likely to disappoint and the analysts are far too optimistic about the stock market prospects. If we estimate zero earnings growth next two quarters, a very reasonable assumption based on falling corporate margins and little revenue growth, end of the year P/E ratio would be about 18.5. This number indicates that the market is neither expensive nor cheap. Therefore, it pays to choose and a good stock picker should be able to outperform a passive index. So how does one hedge overall market exposure while still picking a handful of equities to invest in?
How to hedge market exposure
When hedging, we want to pick a short position which is very liquid, cheap to finance and transact, and most sensitive to a possible downturn in the equity market. We don't want to just select a "high beta" position which will gain more in the up market and lose more in the down one, we want to find an asset, which is fundamentally overvalued and will likely underperform long-term even in the rising market. In the "bull" uptrend market of 2013, the momentum leaders would also likely be the biggest losers if a trend is interrupted. I found, what I consider, two perfect candidates: Consumer Discretionary Select Index (NYSEARCA:XLY) and Dow Jones Internet index (NYSEARCA:FDN). Today, these two broad-based indexes are the best performers since the end of the financial crisis: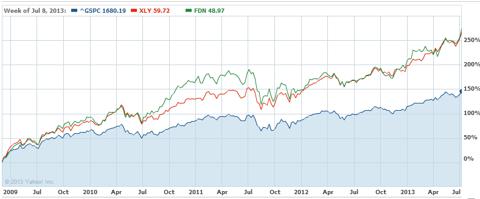 Are the companies in these indexes truly so exceptional that 120% outperformance is warranted by their rising earnings and revenues or are we witnessing yet another long-running fad akin to gold, high-dividend stocks, and emerging markets?
Let's first look at the respective betas vs. S&P 500: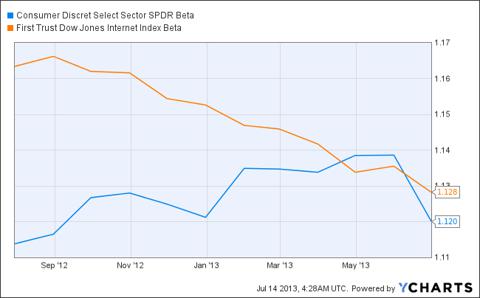 For practical reasons, higher beta stocks are usually more sensitive to economic conditions and their outperformance may be legitimate sign of improving business climate. Both ETFs have slightly higher betas than S&P 500 (1), but this can only statistically explain less than half of their outperformance.
Perhaps, these ETF holdings are exceptional companies that grow their earnings and revenues much faster than their peers (83 holdings in XLY and 41 in FDN). Let's take a closer look at the underlying companies.
I will only look at "top 10" largest positions of each ETF to point out cases of excessive valuations. I will not conduct a detailed valuation of each company and several cases defer to several well-written short cases on Seeking Alpha. I will provide a brief summary, usually picking one metric or explanation, why I think these holdings are overpriced.
Let's start with the FDN ETF, which is based on Dow Jones Internet Composite Index:

Amazon, Salesforce.com (NYSE:CRM), LinkedIn (LNKD), and Netflix (NASDAQ:NFLX) are, in my opinion, ultimate Internet Bubble 2.0 stocks. Every "growth" mutual fund manager has to show them in top 10 holdings in order to please his or her investors yearning to own "disruptive businesses" (just another "fad du jour" buzzword). In reality, Amazon is a low-margin business facing tough headwinds of slowing domestic and international revenue, hostility abroad (France accused Amazon of "dumping" and Germany wants to investigate tax issues), and States sales tax issues. I recommend reading Paulo Santos and Timothy Phillips for making an excellent short case.
Salesforce.com is a fine service, but its offering, customer and sales force management, is still a niche business, which will struggle to grow to its lofty valuation. More importantly, I believe CRM management is engaged in earnings shenanigans trumpeting its Non-GAAP earnings (in reality it's been losing money for a year) while paying employees with stock options instead of cash, which aren't counted as expenses.
Needless to say, the company insiders are happily dumping newly acquired equity to gullible investors.

I recommend reading this succinct explanation of how this company bilks investors.
LinkedIn is popular because it's free for most of its services. If it starts charging money for routine use, users will go elsewhere (I personally know few people who purchased premium service). The company would need to roughly quadruple its sales to get more in line with its more mature peers (who also seem overpriced!). I have a difficult time seeing where this revenue may come from. Last quarter, its revenue grew "only" 6.9% or 31% annualized, which is less than half of the year over year growth (72%). It's obvious that the early phenomenal growth cannot be sustained.
Netflix is an especially egregious example of a bubble valuation. Content streaming business has very low barrier to entry and every "Internet" company offers it. It faces existential threat from Google's (NASDAQ:GOOG) YouTube, Apple iTunes, Microsoft (NASDAQ:MSFT) XBOX, Amazon Prime, and countless others who offer streaming content. The content prices will always be dictated by content owners as content delivery service is a commodity and switching costs are low. Today, Netflix is a barely profitable business with respectable, but very pedestrian by Web 2.0 measures, 17% revenue growth. Perhaps, occasional rumors that Netflix may be an acquisition target drive the price up, which makes little sense as Netflix doesn't really have any valuable intellectual property, patents, and runs on Amazon infrastructure to boot.
Overall, the top companies in FDN ETF sport a 44 P/E ratio, measly cash flow, and incredibly high 6.6 price to sales ratios. It's conceivable that I may be wrong about one or two companies ending up big winners in "digital" race but for each big winner there must be several losers. Therefore, in aggregate, this ETF should be trading at a much lower valuation.
XLY ETF is based on S&P Consumer Discretionary Select Sector Index:

The long-term fundamentals of Comcast (NASDAQ:CMCSA) business are very challenging. It occupies the same unenviable position as AT&T (NYSE:T) did in late 90s with landline phones when consumers started to switch to wireless and internet to make phone calls. So-called "cord-cutting" is becoming prevalent when users drop premium cable service as good quality content can be found on YouTube or a content provider Web site for free (check the "Comedy Central" Web site), watched on Netflix or Amazon Prime for cheap, or downloaded from iTunes for a few dollars. Just last quarter, Comcast lost 60,000 customers compared 37,000 a year earlier. In a few years, Comcast will likely be a provider of commodity low-quality but cheap Internet connections in non-urban areas as much of Internet traffic will probably become wireless. Today, cable companies still enjoy a semi-monopoly as Verizon (NYSE:VZ) FiOS and satellite options aren't available in all areas. A much better wireless technology and superior fiber will likely make their coaxial cables eventually obsolete. This year's completion of the purchase of NBCUniversal will not improve long-term picture as the majority of its assets are broadcasting and old-school film studios which are also in secular decline.
While Comcast management would have you believe that the earnings are steadily growing and the P/E ratio is steady at about 16, the free cash flow yield fall is implying that the quality of earnings is likely deteriorating. A slowly growing company like Comcast should expect to grow its free cash flow faster than its earnings: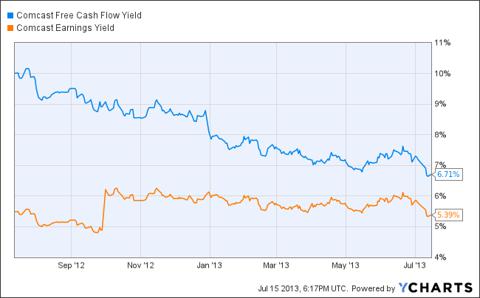 Ford (NYSE:F) today is the favorite "All American" company in the eyes of the investors - pulling through Great Recession without filing bankruptcy and taking money from Uncle Sam. Unfortunately, it carries an unwieldy amount of debt with both Debt/EBITDA and LT Debt/Equity over 6. While its debt rating was lifted above "junk" level last year by all ratings agencies, it is still one very bad year away from going bankrupt. GM and Chrysler, which are (unfairly) in a much stronger financial position with a very manageable debt levels, are likely to take advantage of Ford's debt overhang. One might wonder if it's "deja vu all over again" as American Airlines (AAMRQ.PK) struggled to stay afloat post 9/11 for years since it didn't have a chance to discard its debt and expensive union contracts in the bankruptcy unlike most of its competitors did.
Over the last two years Ford has shown no inclination to reduce its long-term debt: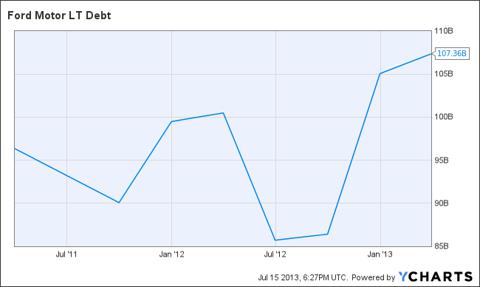 Finally, Starbucks (SBUX) is a fine company with fine coffee but one has to wonder how fast it can continue to grow to justify its 27 P/E ratio. Just a few years ago, it found itself dangerously overstretched with many marginal stores losing money. After all, it just sells coffee and confectioneries. Perhaps, it should be priced more like McDonald's (NYSE:MCD) or YUM! Brands (NYSE:YUM), which have forward P/E well under 20. It's interesting to point out that Starbucks' profitability falls somewhere between YUM, which operates KFC and Pizza Hut, and McDonald's as measured by return on invested capital (Operating Income/Operating Assets). The chart below shows that operating income of YUM and McDonald's seems less volatile and economically sensitive. I don't feel as strongly about Starbucks being overvalued as I feel about Comcast, Ford, and Amazon, but I see the forward P/E ratio with only 11% recent revenue growth as too expensive.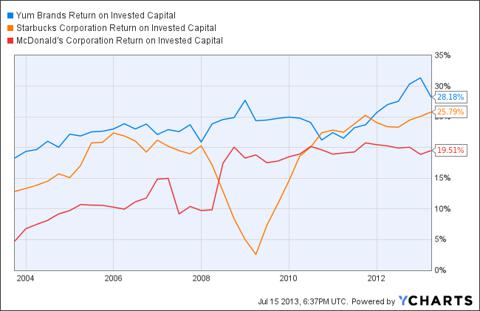 Conclusion
I'm not suggesting selling off all your investments in a hurry. Despite a recent market run-up, we are not in the equity bubble yet. However, a good amount of caution going forward is warranted as the market is more likely to move sideways for the rest of the year and the volatility is likely to rise. Holding a portfolio of equities selected based on their fundamentals, while selling short XLY and FDN ETFs is likely to be an outperforming strategy for next six months.
Disclosure: I am short XLY, FDN. I wrote this article myself, and it expresses my own opinions. I am not receiving compensation for it (other than from Seeking Alpha). I have no business relationship with any company whose stock is mentioned in this article.