Since I wrote on June 6 that Omega Protein's (NYSE:OME) EBITDA was at risk of being cut in half, the stock has fallen by 7% while the Russell 2000 Index has risen by 7%, an underperformance of almost 15% relative to the market. However, I believe greater declines are yet to come. There are two issues in play here, one incremental to those highlighted in my original article:
First, Peruvian supply is already recovering and pricing is responding accordingly. From June 4 to July 9, Peruvian fish meal prices at Chinese ports have already dropped by 8.5%. Indeed, one grain and protein firm reports that "[fish meal] stocks on hand [in China] get bigger every week" with Chinese importers selling below replacement cost: "with growing stocks, falling prices and limited new sales, it would be very difficult to project anything but weaker prices in the short term." There have been no material developments on the Peruvian quotas themselves since I last wrote but the anchovy fishing region in the south of Peru was extended earlier in the month, and I continue to expect that quotas for the second half of the year will be at best flat year over year, which will continue to pressure fish meal prices even lower.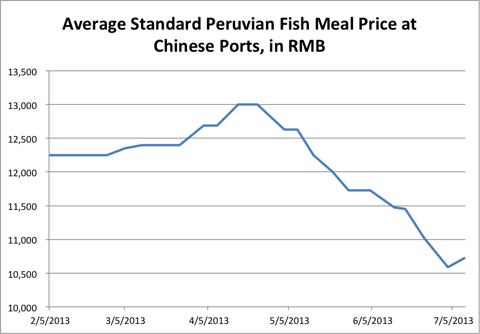 Average standard Peruvian fish meal prices at Chinese ports from February to July. Data courtesy of ChinaFeedOnline.com.
The other headwind Omega Protein faces this quarter, which I had not originally anticipated, is a collapse in US menhaden landings this season. While Omega Protein will not provide investors with an update on its menhaden catch until it releases Q2 earnings (expected in early August), the U.S. National Oceanic and Atmospheric Administration (NOAA) has already released updated periodic data on menhaden landings in both the Gulf and the Atlantic. Through June 30 (almost halfway into the typical fishing season), the NOAA is reporting that menhaden landings in the Gulf are down 33.4% year-over-year, with the Atlantic catch -- which comprises a smaller but nevertheless sizable percentage of the company's annual catch -- down an even more startling 67.6%. These numbers are good proxies for Omega's catch as the company is the sole large-scale commercial fishery in the Atlantic and one of only two such fisheries in the Gulf. While there may be seasonal issues at play in the Atlantic given Virginia's new quota, poor weather and other issues have likely affected the company in Gulf, potentially making the lost catch unrecoverable. According to a UPI article published on June 19, heavy rains in the Midwest might be creating a dead zone in the Gulf of Mexico this year:
A high nutrient content in waters creates a condition known as hypoxia, a condition of very low oxygen levels. This in turn leads to a so-called dead zone where oxygen levels are insufficient to support most marine life.

NOAA said it expects the dead zone in the Gulf of Mexico will measure 7,286 to 8,561 square miles, one of the top 10 largest predictions ever.
With prices already down almost 10% and with bad weather sending the company's second quarter production down potentially as much as 30%, the year has likely not started off well for Omega Protein. I remain confident in the short thesis and continue to expect material EBITDA degradation for the company in 2013.
Disclosure: I am short OME. I wrote this article myself, and it expresses my own opinions. I am not receiving compensation for it. I have no business relationship with any company whose stock is mentioned in this article.
Additional disclosure: Additional disclosure: The firm I work for has a material short position in OME. We may change our views about, or investment positions in, OME at any time for any reason, including within the next 72 hours. This is not investment advice or a recommendation to buy or sell any securities, nor is it purporting to provide investment advice to anyone. The article is based only on publicly available information about OME and therefore could be incomplete. I make no representation or warranty, express or implied, as to the accuracy or completeness of the article. Readers should review the cited sources and other related materials and reach their own conclusions.