Introduction
Dividend growth investing involves buying the stocks of companies that consistently pay and grow their dividends, then reinvesting those dividends to produce compounding of the dividend income stream. I have set two goals for myself as a dividend growth investor:
Create and maintain my own dividend growth machine, a diversified portfolio of stocks that produces a sustainable and rising dividend income stream that handily beats inflation over time.
Achieve a satisfactory total return on my investments.
To evaluate my progress toward achieving these goals, in the current article I will review my investing performance during the second quarter of 2013. Below you will see real results from a real portfolio involving real money.
Real Life Intervenes
An important aspect of a real portfolio is that it is affected by real-life circumstances and decisions. Some investors are able to invest only a few hundred dollars each month because that is what they can save from their job incomes. Other investors may not engage in any investing activity for a few months because of family or work demands on their time. In contrast, there are also investors who have thousands of dollars in new capital each month and make stock transactions on a weekly basis. Each individual's situation is different and it can sometimes be informative to understand how investing is situated within a broader life context.
In the "Outlook For Q2 2013" at the end of my first-quarter review, I wrote:
The second quarter will bring little in the way of change to my dividend growth machine, mainly due to a temporary suspension of new capital investment. At the end of the quarter, I will be moving to a different state to start a new job, so I will be incurring some moving and start-up expenses. There will also be a short transitional period during which I will have no job income. For these reasons, I have decided to allocate my savings for the next few months to the emergency cash reserve outside of my investment accounts.
As planned, I did not invest any new capital during the second quarter because the savings from my job income went to the cash reserve outside of my brokerage account. As expected, I also incurred some moving and start-up expenses. The figure below shows how much I saved during Q2 2013, along with the quarterly savings in 2012 for comparison.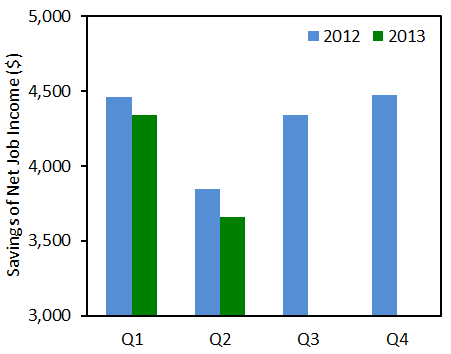 I managed to save $3,662, which is close to my savings in Q2 2012. Besides moving-related expenses, I also incurred some large annual and semi-annual expenses, which accounts for the seasonal dip shown in the figure. The year-to-date average savings of $1,334 per month represents a savings rate of 45.9% of my net job income, more than 10 times the national personal savings rate of around 3% (according to data from the St. Louis Fed).
Thus, I continued to save at a decent rate during the second quarter, but instead of immediately investing my savings, I retained them to help with my life transition. However, my dividend growth machine was still active during the quarter, humming along in the background while I dealt with other things in life.
Parts Of The Machine
Dividend growth stocks represent the parts of my dividend growth machine. The table below shows the composition of my portfolio at the ends of Q1 and Q2 2013: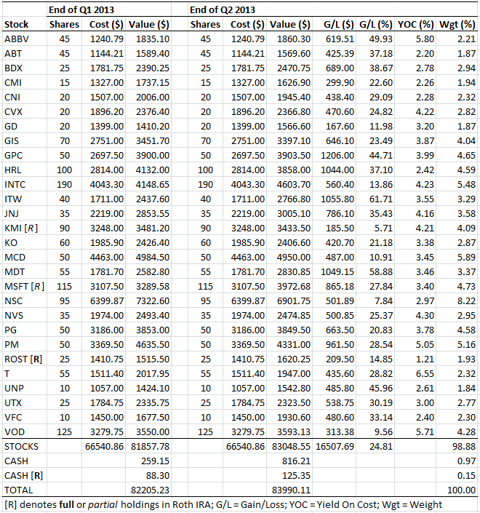 No changes in holdings are highlighted because there were no changes. There was no new capital and insufficient accumulated dividends to buy stocks. There was also no compelling reason to sell any stocks. Thus, inaction seemed to be the best action in this situation.
Given that I have no transactions from the second quarter to review, I will take this opportunity to look back at the three new positions I established in the first quarter:
Microsoft (NASDAQ:MSFT): I bought shares of the world's largest software maker for both my taxable account and Roth IRA because I judged the stock to be undervalued by at least 20% around the time of my purchases. Even though I continue to encounter a lot of negative sentiment about the company, Mr. Market seemed to have a modest change of heart, and I am now sitting on a capital gain in excess of 27% and collecting a nice dividend.
Ross Stores (NASDAQ:ROST): I bought shares of this off-price apparel retailer for my Roth IRA. Some dividend growth investors avoid low-yielding stocks such as ROST, but I thought it would be foolish of me to pass over a very attractive total-return investment simply because of a low yield. I judged ROST to be fairly valued when I bought it, with the following quote from Warren Buffett in mind: "It's far better to buy a wonderful company at a fair price than a fair company at a wonderful price." In the three months since my purchase I have a capital gain of nearly 15%.
VF Corporation (NYSE:VFC): I bought shares of the world's largest apparel manufacturer in my taxable account. I judged the stock to be modestly undervalued by about 10% at the time of my purchase in late January. Throughout the winter at the university where I worked I saw many students wearing The North Face coats and Jansport backpacks (both VF brands), giving this purchase a "buy what you know" vibe. It turned out to be a good vibe, producing a capital gain of 33%.
Even though these purchases have resulted in nice short-term gains, I want to emphasize that I consider the stocks to be long-term investments. I do not sell a stock simply because it experiences a sizable gain soon after purchase. I have encountered some investors who set somewhat arbitrary "sell points" for their stock investments, such as selling after a 20% gain. If I had adopted a 20% rule, then I would not currently have 21 out of 28 holdings with capital gains in excess of 20% (add in dividends and the total return is even higher).
I consider selling when a company's fundamentals show signs of long-term deterioration, its dividend growth halts or becomes anemic, it undergoes a major transition, or its stock becomes extremely overvalued. If a company continues to perform well and its stock price rises accordingly, then the last thing I want to do is sell.
Even though I did not add or subtract parts from my machine during the second quarter, I still want to make sure all the parts are running smoothly. I monitor the operating results of my companies, but I also stay on the lookout for my favorite announcements: dividend increases! Thus far in 2013 there have been dividend increases for 18 of the 28 stocks in my portfolio. The mean dividend increase has been 9.5%. The following dividend increases were announced in the second quarter:
Output Of The Machine
Dividends and capital gains represent the output of my dividend growth machine, all of which is selectively reinvested when sufficient funds are available. As mentioned earlier, my primary investing goal is to create a sustainable and rising dividend income stream. The figure below shows the total dividends I received during Q2 2013, along with the quarterly totals in 2012 for comparison.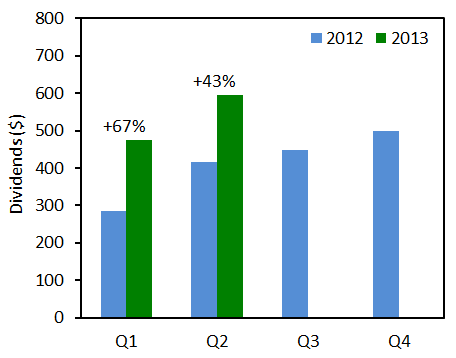 My main measure of success is whether there was a year-over-year increase in dividends. I received $594 in dividends in Q2 2013, which is a 43% increase over Q2 2012. Some of the increase is attributable to dividends from stocks purchased earlier in the year and in the second half of 2012, but a sizable chunk comes from companies growing their dividends (all the companies in my portfolio have active dividend growth streaks). Overall, I am pleased with the growth of my dividend income stream, and by the end of Q2 2013 my forward 12-month dividend total was $2,417.
My secondary investing goal is to achieve a satisfactory total return. The portfolio table (see above) shows that my portfolio's value increased by 2% during the second quarter, from $82,205 to $83,990, which is not bad considering the market volatility near the end of the quarter and the complete absence of investing activity on my part. The figure below shows end-of-month portfolio values since the start of 2012.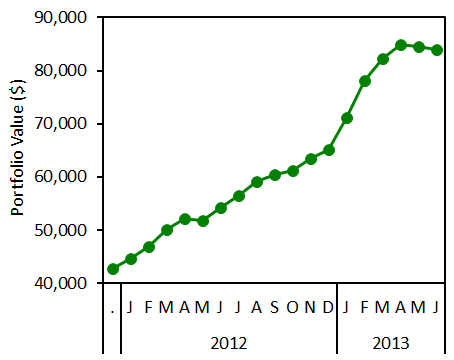 The strong start to 2013 petered out during the past two months, which does not concern me at all. Using the XIRR function in Excel, which takes into account when new capital was added in previous quarters, I have achieved an annualized return of 18.4% since January 1, 2012. I consider that to be a satisfactory total return.
Outlook For Q3 2013
The third quarter will see a return to regular investing activity starting in August. By that time I will start earning income from my new job, some of which will turn into savings that will become new capital for investment. I also expect that the remainder of my savings from the second quarter (i.e., whatever was not spent during my move) will be reallocated for investment. On top of all that, I was surprised to learn recently that I will be more than reimbursed for the bulk of my moving expenses with a small one-time salary supplement. Thus, I expect to have a fair amount of new capital to invest in August and September, which should make for a more interesting review for the third quarter.
Disclosure: I am long CVX, JNJ, KMI, MDT, MSFT, PG, ROST, VFC, VOD. I wrote this article myself, and it expresses my own opinions. I am not receiving compensation for it (other than from Seeking Alpha). I have no business relationship with any company whose stock is mentioned in this article.
Additional disclosure: All stocks in my portfolio are shown in the table presented in the article.