With oil having been the one bright spot in the commodity sector of late, we took a look last night at factors that have impacted commodities over the past year. They were all general market events and best highlighted by the S&P Volatility Index. Since 2013 has started, we generally go about two months between each of these flareups in the market, and with volatility decreasing from the last spike, would it be foolish to think that we could have another month of clear sailing? It is not scientific by any means, but it does highlight the timeline of events in a rather interesting way.
Chart of the Day
Click to enlarge images.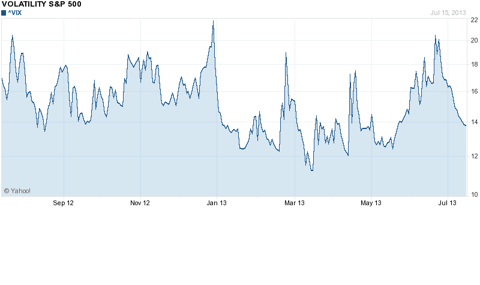 Source: Yahoo Finance.
Commodity prices this morning are as follows:
Gold: $1284.60/ounce, up by $1.10/ounce
Silver: $19.83/ounce, down by $0.009/ounce
Oil: $106.51/barrel, up by $0.19/barrel
RBOB Gas: $3.1179/gallon, up by $0.015/gallon
Natural Gas: $3.668/MMbtu, down by $0.006/MMbtu
Copper: $3.1545/pound, up by $0.01/pound
Platinum: $1419.30/ounce, down by $2.10/ounce
Solar
We strongly dislike solar and have been rather vocal about that dislike, so we were not at all surprised by all the messages we received yesterday. We saw names like Canadian Solar (NASDAQ:CSIQ), which is focused more on China, rise the most as news broke that China was looking to dramatically increase its solar capacity in order to prop up that sector of its economy. Names that do not have a large exposure to China, such as First Solar (NASDAQ:FSLR), saw shares rise as well, but at a much more reasonable rate. With Europe having propped up this industry for so long and then having to yank subsidies for fiscal reasons, we believe that there is no reason for investors not to have a good case study and handle on where this will ultimately lead.
China continually has to help prop this industry up, and the U.S. version of solar subsidies did not fair especially well. Like the airlines, we will need to see a heck of a lot more consolidation in the industry and an unwillingness among creditors to continue to finance these companies through bankruptcies. We are not short, have not been short, and will continue to simply be neutral for the simple fact that trying to time this on the downside is a fool's game.
Potash
Driving around our state over the past few weeks, we have noticed many farmers have fields that are under water right now. The rain has been so heavy in some parts that these low spots have caused crop issues. We are in South Carolina and the farmers now plant many different things, but we are left to wonder what the fields elsewhere in the South look like. Even more importantly, we wonder what those fields in the breadbasket look like. Grains have seen prices under pressure, especially as many suspected overplanting for them would lead to another record harvest -- but we wonder about that.
Yes, Mosaic (NYSE:MOS) has outperformed Potash Corp. of Saskatchewan (NYSE:POT). But they are tracking each other and the business/sector is not exciting anyone right now.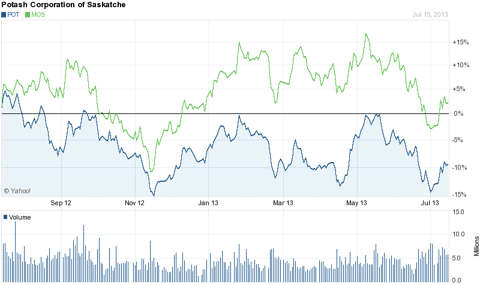 Source: Yahoo Finance.
The large plantings of grains, coupled with the large quantities of rain that have been falling, might lead to rising demand for potash moving forward. Grains and cotton deplete the soil's resources rather quickly and without proper crop rotation, one needs extra fertilizer. The rain also adds to the future demand because the more water that works its way through the fields, the higher the loss of added nutrients (this is due to water taking them further underground or simply washing fertilizers out of the field). We have been waiting to see either Potash or Mosaic start to come alive, but that has been an exercise which, to this point, has led nowhere.
Uranium
Looks as if we will be moving lower before higher now.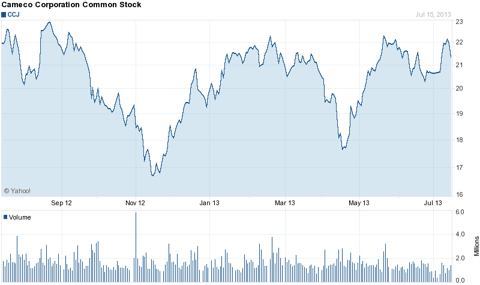 Source: Yahoo Finance.
Looking at another one of Saskatchewan's jewels, Cameco Corp. (NYSE:CCJ), has us believing that we might have hit some resistance and will now head a little lower to make another run higher. That $22-$23/share level has held pretty strongly over the past year, and a breakout above that level will require some strength not only in the name but in the industry. We would look for another buy opportunity in this name somewhere in the $20/share area. This is the blue chip and cornerstone of the uranium portfolio to play the bounce in uranium we see beginning in the last few months of 2013, and gaining traction through 2014.
Disclosure: I have no positions in any stocks mentioned, and no plans to initiate any positions within the next 72 hours. I wrote this article myself, and it expresses my own opinions. I am not receiving compensation for it (other than from Seeking Alpha). I have no business relationship with any company whose stock is mentioned in this article.