I like to start a series of Small-Cap Stocks focusing on stocks with a market capitalization of less than $5 billion dollars to show you that you can make great profits investing in those over looked stocks. The first stock is CVB Financial (NASDAQ:CVBF) a bank with a market cap of $1.31 Billion, revenue of $373 million, net income of $61 million and a trading volume of 581,130 shares a day. Before we look at this stock let's discuss why we look at small caps at all.
So why Small Caps?
I've got two main reasons for investing in small caps, the first being you just don't want to go head to head with the big boys. There are thousands of mutual funds, closed end investment and holding companies, pension funds and insurance companies all with hordes of CFAs and MBAs who have all gone to same business schools where they all used the sames textbooks and learned the same investment analysis techniques.
To be profitable a mutual fund must have at least $10 million dollars under management. If the fund had at least 20 holding we are talking about moving around $500K blocks of stocks. To do that you almost have to limit your investing universe to the S&P 1500 and NASDAQ 100 stocks. That means you have maybe 100,00 analysts all trying to out guess each other on the investment merits of only 1600 stocks. That's a game I as an individual investor choose not to play.
There are about 12,000 tradeable stocks of which about 6,000 trade on a regular basis. If I knock out the 1,600 larger cap stocks I mentioned above that leaves about 4400 stock where the big boys don't go. If I use screeners I can whittle that list down to about 500 stocks that are small caps and I can find enough information to make a calculated decision.
The second reason I like small caps is since I graduated from business school in 1970 the investment world is a different place. I now can get more information on my laptop in just a few minutes than a legion of fresh MBAs could get in a week back then. For free I can use Barchart, Seeking Alpha, TheStreet, Yahoo Finance, Motley Fool and also free at my library or for a small fee the on-line version of the Value Line Small Cap Survey. Everything I need to know is available in just a few minutes. Now let's look at the stock, CVB Financial.
To begin with I'd like to know that the stock I'm considering is at least having better momentum than the average stock. I use the Value Line Arithmetic Index of 1700 stocks which actually covers more than 90% of the total US stock market capitalization. Here's how the stock's recent price has compared to the price of that index: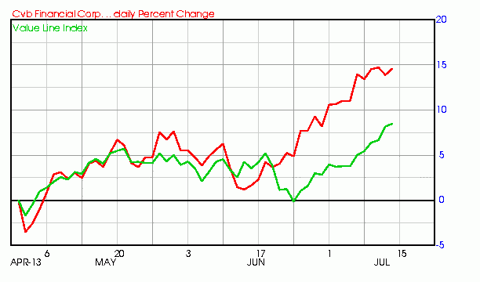 Fundamental factors:
Market Cap $1.31 billion
P/E 16.73
Dividend yield 3.23%
Average volume per day 581,130
Revenue $373 million, expected to decrease by 5.60% this year and grow by .70% next year
Earnings estimated to increase by 14.90% this year, 7.10% next year and continue to increase 8.50% annually for the next 5 years
Wall Street analysts have issued 1 strong buy, 4 buy and 5 hold recommendations to their clients
Financial Strength B+
Technical indicators and chart provided by Barchart: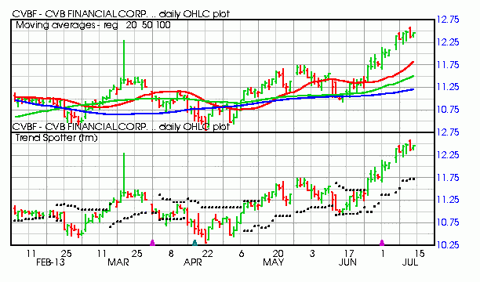 96% Barchart technical buy signals
Trend Spotter buy signal
Trading above its 20, 50 and 100 day moving averages
16 new highs and up 12.96% in the last month
Relative Strength Index 70.88%
Barchart computes a technical support level at 12.31
Recently traded at 12.46 with a 50 day moving average of 11.51
Wall Street analysts and investor interest:
Wall Street firms following the stock on its model portfolios - Wunderlich, Stifel Nicolaus and JMP Securities
Reseach firm with reports available - ValueEngine, Zach's Investment Research, Ford Investor Services. Market Edge
104 individual investors on Motley Fool voted 68% that the stock will beat the market
Jim Cramer's TheStreet rates the stock A-
Short interest is declining slightly from 4,200,000 shares at the end of April to 3,200,000 shares recently
Momentum compared to its Peers:
During the last 6 months while CVB Financial was up 13.64%, Bank of NY Mellon (NYSE:BK) was up 9.75%, Itau Unibanco Banco (NYSE:ITUB) was down 29.80% and Banco Bradesco (NYSE:BBD) was down 32.63%: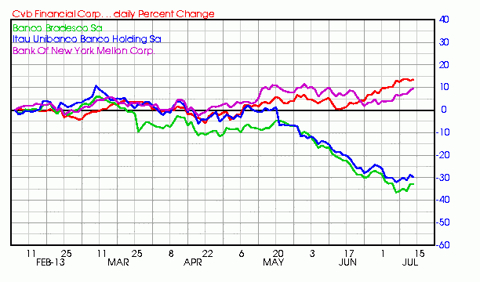 Summary: CVB Financial is a small cap that is beating the market and it's peers, has tradeable volume and a following by Wall Street, Research firms and Individual Investors. The bank is making a profit and has positive price momentum. I'd buy this stock but as always will keep a close eye on the moving averages and turtle channels to gauge when the momentum reverses: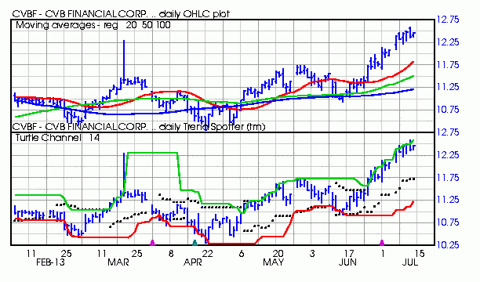 Disclosure: I have no positions in any stocks mentioned, but may initiate a long position in CVBF over the next 72 hours. I wrote this article myself, and it expresses my own opinions. I am not receiving compensation for it (other than from Seeking Alpha). I have no business relationship with any company whose stock is mentioned in this article.