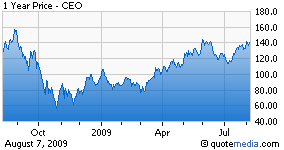 Buy recommendations CNOOC Ltd. (NYSE:CEO) and PetroChina (NYSE:PTR) have stepped up overseas purchases of oil and gas properties at advantageous prices for shareholders, we believe. Actually, it is the government-owned parent company in each case making the purchases. All but the most politically sensitive acquisitions are likely to be transferred to the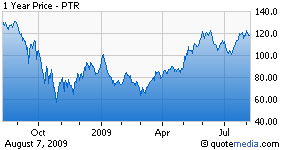 publicly held subsidiaries, CEO and PTR. The unique relationship between the Chinese government and the publicly traded companies means the properties may be transferred closer to when production is achieved, thus sparing CEO and PTR from reporting spending without matching revenue.
In the second quarter of 2009, the parents of CEO and PTR along with Sinopec (NYSE:SHI) engaged in $14.6 billion of transactions involving oil and gas production resources outside China, Platt's Oilgram tallies. Announced July 17, the 50:50 joint venture of CEO's parent with refiner Sinopec agreed to pay $1.3 billion for a 20% stake in Angola Block 32 offshore West Africa. Buy-recommended Marathon (NYSE:MRO) is the seller of the 20% stake while retaining 10%. Remaining owners of Block 32, including buy recommendations Total (NYSE:TOT) with 30% and ExxonMobil (NYSE:XOM) with 15% could be the purchasers instead if they exercise their rights of first refusal over a partner's disposal.
At a McDep Ratio of 0.78, PTR is a competitive buy while at a McDep Ratio of 0.99, CEO appears priced near Net Present Value of $135. The continuing prospect of a public offering of CEO shares in the Shanghai market may buoy the stock further.
We also believe that trends are generally positive for oil and gas stocks as the global economy recovers from a bout of excessive financial leverage. Latest settlement prices for the average of futures for the next six years are $78 a barrel and $6.59 a million btu. Oil is trading above the 40-week average of $70 while natural gas is just under the 40-week average of $6.97.
Originally published on July 21, 2009.