Internap (NASDAQ:INAP) reported 2Q 2009 results on August, 5.
A few highlights worth reporting:
Revenues were slightly above expectation ($64.4 million), and Internap succeeded in showing a small sequential and Y/Y increase, driven by strength in colocation services;
the Company revised its segment reporting, with CDN services now part of IP Services (and managed servers, about 25% of revenues, allocated to the Colo segment);
due to this new, simplified approach, Internap took another restructuring charge of $55.6 million primarily attributable to CDN (after a roughly $100 million one taken a few quarters ago – now almost ¾ of the acquisition cost of Vitalstream has been written off);
the Company announced a $50 million expansion plan for more Company owned data centers, to be executed in the following 18 months.
As Rob Powell noted at Telecom Rumblings, finally a realistic approach to CDN:
Internap will now be reporting revenue for only the IP and colocation segments, absorbing the CDN activities and no longer treating them independently. That doesn't mean that the company is abandoning the CDN market entirely, but it does strongly imply a change in focus away from that market. In other words, Internap probably isn't going to be a major CDN player any time soon and certainly wishes the Vitalstream acquisition never happened.
The Company itself is quite skeptical about the possibility to grow the IP services segment in the close future, as it is explained in its latest 10Q (emphasis added): (.pdf)
IP services revenue decreased 7% over the same period last year. The rate of total revenue growth in the quarter was impacted due to higher customer churn, particularly in our data center services segment. Our IP services revenue continues to be more affected by pricing pressure and the ongoing negative economic conditions.
IP traffic increased approximately 27% from the three months ended June 30, 2008 to the three months ended June 30, 2009. The increase in IP traffic resulted from customers requiring greater overall capacity due to growth in the usage of their applications, as well as in the nature of applications consuming greater amounts of bandwidth. However, as we focus on more profitable growth in IP services, we do not expect to see significant growth in total IP services revenue in the near future.
Given the general scenario described by Internap, the announcement of further expansion of Company-controlled data centers seems the most interesting development to analyze.
About five months ago, we wrote an article about Internap and the previous $40 million investment, announced in June 2007, and executed mainly in 2008, to increase Company-owned data centers: InterNAP's Colocation Expansion: Better Late than Never?
To cut a long story short, we noticed that the expansion plan took about 7 quarters to be completed, rather than the 3 to 4 quarters forecasted. At that time, we were inclined to blame bad execution for the delay.
This time, Internap is giving itself 6 quarters to grow its data center presence in key markets – which, by the way, have not been announced.
A closer look at some numbers, and a quick Q/Q comparison - quotes from Seeking Alpha conference call transcripts, emphasis added:
Since the first quarter of 2008, the company has deployed 40,000 of company-controlled build-outs square footage and 17,000 square feet in partner sites. Historically, approximately 80% of company-controlled and 90% of partner sites build-out space is available to sale to customers.

In the first quarter, off the 99,000 square feet of build-out space at partner sites, 86,000 was occupied. In company-controlled sites 87,000 square feet was occupied compared with 144,000 square feet build-out. Our Boston and Seattle markets have been among our strongest company-controlled facilities from the demand perspective.
So, in our partner data centers, in the second quarter, we had approximately 106,000 built out square feet, of which 90,000 square feet was occupied and our company controlled data centers we had approximately 144,000 square feet of built out and about 86,000 occupied.
()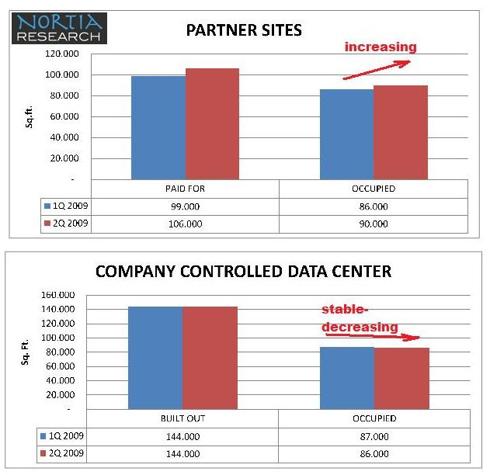 Occupation in Company controlled data centers is actually decreasing, even if slightly. High churn is generally blamed for this poor result:
Data center services revenue increased 17% over the second quarter of 2008. Our data center expansions and increased occupancy along with stable pricing benefited revenue growth and offset significant churn from a couple of large customers during the quarter.
Higher churn experienced in our data center services segment was the primary driver of the total increase, which I'll provide some additional comments on in a moment.

While new revenue in this segment remained solid, we experienced higher data center revenue churn in the quarter. Data center churn totaled 2.9% in the quarter up from 1.3% a year ago. We had several customers consolidate their data center footprint in the second quarter as the economy impacted end user demand.
It's also interesting that margins are decreasing Q/Q in this segment – having all the fixed costs of the new centers without growing occupancy/revenues doesn't certainly help improving this metric. It has to be reminded that Internap is generally experiencing lower margins than the other pure players in the colocation sector, also because it's using partner sites in many key locations.
Data center services segment gross margin as the second quarter, were 25.1%, down 150 basis points both compared with the first quarter and the same period last year as the initial addition of square footage increased expense during the quarter without an associated increase in data center revenue.
A look at a longer time frame confirms that Internap is actually growing faster in partner sites, and adding occupancy in its own data centers quite slowly (data from conference calls or Company filings):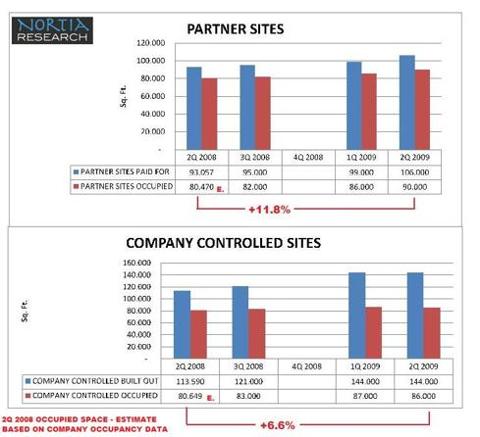 While adding about 40.000 sq.ft. of Company-controlled data center in 2008/beginning 2009, Internap has been able to fill up only 5.350 sq.ft. in one year - and partner sites are growing at a much faster pace, in the same time frame (almost twice as much, 9.500 sq.ft.).
We obviously hope that the Company enjoys a very strong pipeline, and these numbers do not reflect its trend for the future, as it might not justify adding another 50,000 sq.ft. of data center space. It must be noted that management has announced its intention to reduce the number of partner sites and consolidate customers in its own center, but we remain skeptical this strategy will work in all cases (location is very important in this business, and Internap does not cover the major Tier 1 markets. We also believe some customers will not move out of, say, Equinix (NASDAQ:EQIX) easily and will probably opt for trying to stay in the same data center while continuing to buy Internap's IP services).
We should also remember that Internap recently suffered a 28 hour outage in its Seattle data center, that certainly upset many of its customers. This event will both cost the Company money in refunds due to customers, and might also lead to a higher that expected churn in that specific location, even if, luckily, Internap can offer an alternative data center in the same market.
Internap itself is describing the situation as follows (from Techflash.com):
Earlier this week, Internap told tenants that the plan is to build a new switchgear room. Internap said Fisher Plaza officials believed it would be "several months" before a permanent solution is in place.
Bottom line, unless the Company starts executing better, showing higher occupancy rates in its own centers, we feel that this announcement is more a distraction to investors that a sign of a real growth driver for Internap going forward.
Disclosure: no position with INAP, long EQIX.