Spectra Energy Corp. (NYSE:SE) is one of the best-performing energy stocks, with year-to-date growth of a stunning 30.43%. On top of that, it has a good dividend yield at 3.4%. Spectra Energy Corp. is a U.S.-based midstream company that belongs to the list of Fortune 500 firms. While it mainly operates in the United States, its operations expand to Canada as well. The company has about 350 billion cubic feet of natural gas, and it has the capacity to supply 4.5 billion cubic feet of natural gas per day to high-demand markets. It also has more than 22,000 miles of crude oil pipelines and natural gas liquids.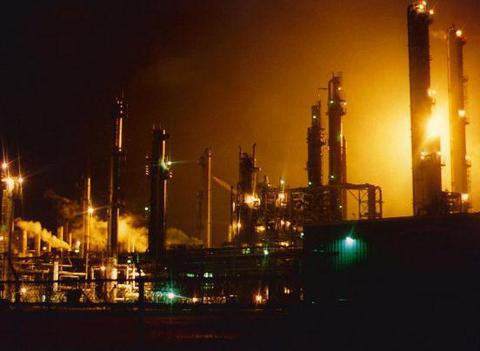 Spectra Energy Corp. has a 50% stake in the largest producer of natural gas liquids in the United States -- DCP Midstream, which owns DCP Midstream Partners (DPM). It also formed Spectra Energy Partners (NYSE:SEP) way back in 2007, having 74% retained ownership of the company. This is a master limited partnership (MLP), which serves as a general partner of Spectra Energy Corp.
Spectra Energy Corp. Financials
For the first quarter of 2013, Spectra Energy Corp. reported slightly improved operating revenue from $1.544 billion in Q1 2012 to $1.589 billion in Q1 2013. Ongoing net income from controlling interests also rose 2.7% to $340 million from $331 million during the same period in 2012. However, its ongoing earnings per share remained flat at $0.51.
Moreover, ongoing earnings before income tax (EBIT) were down 1.7% from $624 million during Q1 2012 to $613 million this year. This was pulled down by the declining EBIT in the U.S. and the Western Canada transmission segments, as well as in the Field Services segment. At the end of the quarter, the company has available liquidity of $1.7 billion. This is reinforced by total credit capacity of $2.9 billion. This will give the company enough room for growth this year.
Drop-down of Express-Plate Segment
Another key takeaway for the first quarter was the planned liquidity of the Express-Platte segment, which it did in the second quarter. On May 2, the company announced its plan to drop down 50% of the Express-Platte Pipeline system to its general partner, Spectra Energy Partners. This will consist of about $555 million in cash, and about $139 million in newly issued partnership units. But this also includes the acquired debt of Express-Platte System amounting to approximately $129 million.
This move was part of the company's planned drop-down of fee-based assets amounting to $2 billion in the next few years. According to CEO and President of Spectra Energy Corp. Greg Ebel, the aim of dropping down its assets is to create value for the investors of both firms.
The Express-Platte System is a 1,717-mile crude oil pipeline that starts from Hardisty, Alberta, and ends in Wood River, Ill. It is one of the three major pipeline systems transporting crude oil from Western Canada to the Rockies and Midwest markets and refineries. The Express pipeline has a capacity of 280,000 barrels per day, while the Platte pipeline has a capacity ranging from 145,000 barrels per day in Illinois to 164,000 barrels a day in Wyoming. According to Julie Dill, president and CEO of Spectra Energy Partners, the drop-down from Spectra Energy Corp. creates great opportunities for the company to take part in the speedy exponential growth of the North American crude oil transportation and storage market.
Dill further emphasized that the drop-down is accretive to distributable cash. It will also underscore the firm's focus on distribution growth, which is good news to the investors. This will strengthen its financials as well. The Express-Platte system is projected to infuse additional EBITDA amounting to $72 million for full-year 2013. This will further increase the cash available for distribution amounting to $20 million.
Drop-down of All U.S. Transmission and Storage Assets
One month after the drop-down of the Express-Platte System, Spectra Energy Corp. announced on June 11 the full drop-down of all U.S. transmission and storage assets to Spectra Energy Partners. While the first drop-down of the Express-Platte barely had significant effects on the share prices of both firms, this time the announcement was met with an optimistic outlook among many investors.
Consequently, shares of Spectra Energy Corp. soared 11% from $30.32 to $33.68 at the end of the trading day on June 11. Shares of Spectra Energy Partners, on the other hand, skyrocketed from $37.19 to $39.48 -- a jump of 6.15% in a single day. According to Greg Ebel of Spectra Energy Corp., this move is a win-win situation for both companies. This will allow Spectra Energy Corp. the chance to increase its dividend growth to 12 cents per year from the present growth of 8 cents per year. Aside from that, this will also strengthen its MLP to further advance the growth opportunities of Spectra Energy Corp.
On the part of the Spectra Energy Partners, the complete drop-down of all U.S. transmission and storage assets will give the company a chance to provide higher distribution growth to its investors. The quarterly distribution rate is expected to increase from the present three quarters of a cent to a penny a quarter.
Shares and Dividend Performance
For this year, both companies have robust shares growth. Spectra Energy Corp. posted positive year-to-date growth as mentioned at the start. On the other hand, Spectra Energy Partners outperformed its general partner with much better performance on the trading floor, posting YTD growth of 49.46%. Its dividend yield is higher as well, at 4.37%. The drop-down strategies boosted the share prices of the company.
At the current shares growth of both firms, some investors can't help but begin to doubt if the companies can sustain the momentum on the trading floor. While the possibilities to weaken are always there, there are more reasons to remain optimistic. Spectra Energy Corp. has $25 billion growth projects to ignite and maintain the momentum. It will further drop-down the remaining $2 billion in the ensuing years. These are among the major growth catalysts for both companies, aside from their strengthened portfolios.
Recommendations
On May 24, Fitch Ratings confirmed the "BBB" Issuer Default Rating and senior unsecured rating of Spectra Energy Partners. This means that the Rating Outlook is Stable, and it reflects the company's solid credit profile and low business risk despite its MLP nature. For the current month, a majority of the analyst firms on Yahoo Finance recommended a "Hold" for Spectra Energy Partners.
Spectra Energy Corp., on the other hand, was upgraded from hold to buy rating by Deutsche Bank on June 12. It increased the price target from $32 to $36 per share, which is just pennies away from the current trading price of $35.87 per share on July 15. Five out of 12 analyst firms on Yahoo Finance recommended a hold, four voted for a buy, and three firms advised a strong buy.
Aside from having robust growth in shares, Spectra Energy Corp. and Spectra Energy Partners have a good dividend profile. Since 2007, the annual dividends of both companies are increasing. With the current developments and financial health of both companies, the yearly dividend increase will be sustainable. They are, therefore, great stocks for dividend investing.
Disclosure: I have no positions in any stocks mentioned, and no plans to initiate any positions within the next 72 hours. I wrote this article myself, and it expresses my own opinions. I am not receiving compensation for it (other than from Seeking Alpha). I have no business relationship with any company whose stock is mentioned in this article.