Elevator Pitch
Abercrombie & Fitch (NYSE:ANF) is one of the companies that I have been looking into lately. The price of ANF shares doubled during last year, and it seems that it is not stopping its upward movement. I looked for reasons that would justify the price increase. In this article, I will provide facts about ANF and analysis why I think it is still undervalued.
Thesis & Catalyst For Abercrombie & Fitch
During the global crisis ANF suffered a decrease in revenue as many companies did. Afterwards, ANF recovered and has shown growth in its revenue.
ANF Revenue Annual data by YCharts
As it can be seen from the chart above, ANF has recovered from crisis in terms of revenue and has been growing its revenue for the last few years reaching $4.511 billion in the last year.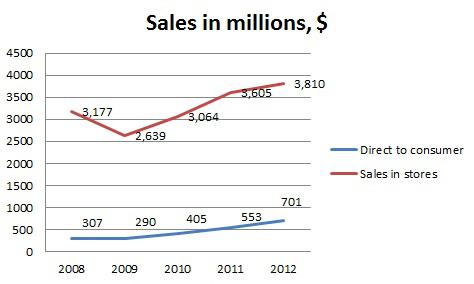 Above I have inserted the sales breakdown chart. Conclusion is that ANF has done a great job with increasing Direct to consumer sales. Logically thinking sales in the online store should have lower costs of goods sold as less staff is needed, and there is no need for expensive store location.
Direct to consumer sales have been growing much more rapidly than sales in stores. Although there is a slowdown in both sales channels in the last year comparing to previous years, the growth is still there and cannot be dismissed as irrelevant. I suspect that online sales won't grow with the previous rates of 30% or more as it becomes more and more difficult to grow so fast when online sales have reached already $701 million. Also, I expect that sales in stores growth will stay at the single digit rates and that high growth rates in 2010 and 2011 was more or less a rebound effect.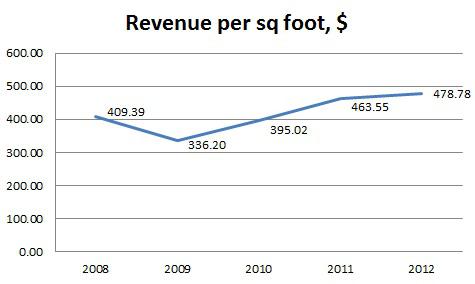 One of the most important ratios in the analysis of retail companies, in my view, is the revenue per square foot. Data, shown above, slightly differs from those that the company has shown in its annual report due to the fact that the company has used some kind of equation that is not disclosed. It shows how efficiently the company is employing its store space. As it can be seen from the chart above, revenue per square foot dropped in 2009, but ANF has done a great job by recovering already in 2011 and having slight growth in 2012.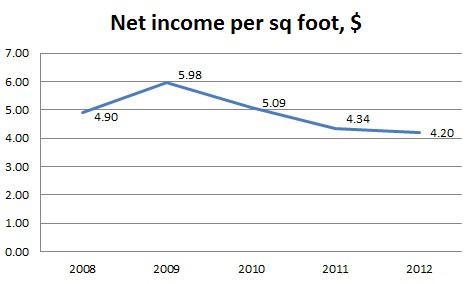 The last ratio that I looked into is the net income per square foot. As you see in the chart above, the highest net income per square foot was in 2009 while in the same year revenue per square foot was the lowest in the last five years. Although ANF has managed to increase revenue per square foot, the net income shows the reverse process and has been decreasing since, having the lowest point in the last year. I would suggest for ANF to look closely into this matter and see why this trend exists and what could they do to change it.
Valuation
To establish the fair value for ANF shares, I used the Discounted Cash Flow method. The hardest part is to estimate the growth of free cash flows that the company will have in the coming years. Looking back at the last ten years, I came up with the average year over year growth rate of 7%. The growth rate of 7% is used for first three years, then the rate is decreased by 10% for years 4-7, and for years 7-10 rate is decreased further by another 10%. For years 10-20, the rate is estimated to be 2%. For discounting purposes, the weighted average cost of capital rate was employed, which in the case of ANF is equal to 10%. So the fair price for an ANF share is $65.91, which means that there is a 22% margin of safety.
Conclusion
ANF was able to recover from the downturn it had in 2009. ANF has been growing its revenue as well as revenue per square foot. I expect that the company will close some stores that are not generating enough revenue or are even generating losses in coming quarters. If the company will be able to solve the issue with decreasing net income per square foot, I see a great investment opportunity.
Disclosure: I have no positions in any stocks mentioned, and no plans to initiate any positions within the next 72 hours. I wrote this article myself, and it expresses my own opinions. I am not receiving compensation for it (other than from Seeking Alpha). I have no business relationship with any company whose stock is mentioned in this article.