For those who follow my writings here at Seeking Alpha and my investment analysis at Motley Fool, you might know that I tend to veer towards stocks that offer the highest reward potential, which means I end up buying a lot of "medium risk" and "high risk" securities. However, there's nothing I love more when the market offers stocks in what might-be-traditionally considered "lower risk" sectors at prices with "high reward" potential.
When I first started buying into REITs that was part of my rationale; there were many REITs with reasonable leverage and excellent hard assets on their balance sheets that were selling at ridiculous discounts to Net Asset Values [NAV] and historical cash flows. Even if I assumed worst-case scenarios, I'd still end up with values higher than the market in many cases. We've seen companies like Colonial Properties Trust (NYSE:CLP), Brandywine Realty Trust (NYSE:BDN), and DCT Industrial Trust (NYSE:DCT) make significant gains since I originally wrote about them. At Motley Fool's CAPS, I also mentioned another company with a lower beta that offered sizable reward potential recently that has started moving upwards: Callaway Golf (NYSE:ELY).
My point is that sometimes, you don't even have to venture into the higher-risk areas to find potential for large gains. Sometimes you can find stocks that are much safer than the market might be giving them credit for, as the market tends to overreact in certain times.
It's rare that I venture into the grocery sector because grocery stocks tend to not offer the higher rewards I seek out, but I believe Ruddick Corporation (RDK), parent company of Southeastern grocery chain Harris Teeter, may be beaten down enough to make it attractive even to higher growth investors.
Overview
Ruddick Corporation is headquartered in Charlotte, NC and operates in two business segments:
(1) American & Efird manufactures and distributes industrial sewing thread, embroidery thread, and technical textiles
(2) The Harris Teeter grocery chain operates grocery stores in eight states and the District of Columbia.
American & Efird (A&E) is one of the world's largest manufacturers of industrial sewing thread and technical textiles. Revenues from A&E only constitute about 8% - 9% of Ruddick's consolidated revenues and it's a declining contribution to RDK's total revenue picture, so I focus my analysis more on Harris Teeter.
Harris Teeter
Harris Teeter operates over 176 supermarkets mostly in the Southeastern United States. The greatest concentrations of Harris Teeter stores are in North Carolina (127 stores) and Virginia (28 stores). South Carolina comes in third with 9 Harris Teeter stores. Based on that, it's safe to say HT is not a national brand, at this point, as they are heavily concentrated in the NC/VA area. The good news about this is that it means they have a lot of potential for growth in the future.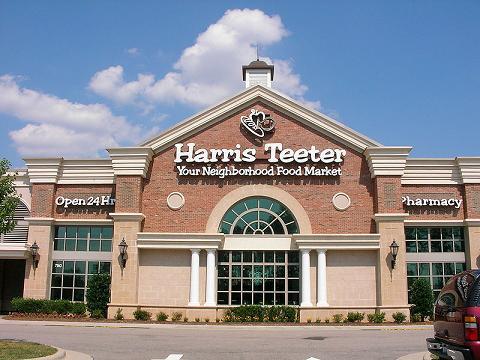 Harris Teeter is generally considered an "upscale grocery store," but I believe that can be a misleading label. From my own personal experience with Harris Teeter stores in the Research Triangle, NC and Northern Virginia, most of their stores are well-stocked, clean, and prices are fairly inexpensive compared to other grocery chains. Their produce is high quality and their bakery is very excellent. This might be why they get the "upscale" label attached to them, but they are more discount oriented, despite having a bit higher quality selection. I would consider them to be a notch or two above their competitors and there are even reasons why consumers might prefer the Teeter to the Wal-Mart Supercenter (NYSE:WMT).
Harris Teeter, like many of its peers, markets many store-brand items that tend to be less expensive than major label products. I feel like this is a particular strength for Harris Teeter, as their products tend to be very high-quality for the "store brand."
Now time for a little personal anecdote --- I am a regular purchaser of Harris Teeter-brand grape juice. It's available both in the traditional form and "organic" version. It's the best grape juice I've found on the market and it's significantly better than the store brand juice I've encountered from many of their competitors. People say you shouldn't put emotion into your investment analysis --- that's true to an extent, but I think you should pay close attention to how you yourself as a consumer judge things and that's one thing that makes me like Harris Teeter's business model a lot. If I had to choose only one place to shop in the Northern Virginia area, I'd choose HT without much hesitation. That makes me like it more as an investment, as well.

I once saw Harris Teeter described as "Whole Foods for the masses." That might not be a bad description for the Teeter. It's nice enough so that it routinely gets tagged with the "upscale" label, yet the prices are low compared to most of their peers in the grocery industry; even if a slight bit more expensive than the Wal-Marts and Targets of the world. From my observations, this is one of the most consistently well-managed grocery chains out there, with a loyal customer base that could be expanded significantly over time. That's why I find it particularly intriguing as an investment opportunity.
A Strong Balance Sheet
Of course, I never base my stock buys on business models alone. Price and fundamentals are always of the utmost importance to me as a deep value investor and this is the most important reason why I believe Ruddick might be a great buy right now.
There are a lot of grocery chains out there with ugly balance sheets. One of the nation's oldest chains, the Great Atlantic & Pacific Tea Company (GAP) has negative net tangible assets, on top of being unprofitable! We've also seen chains like SuperValu (NYSE:SVU) make questionable acquisitions, such as the 2006 takeover of Albertson's, that has left it with a balance sheet that looks no less ugly than the Great A&P. (Fortunately for SVU, they are still profitable unlike GAP.)
While Harris Teeter has made a few acquisitions over the years, including buying out a few Winn Dixie (NASDAQ:WINN) stores in 2005, they have grown responsibly, maintaining a strong balance sheet while doing it. Moreover, they have experienced a great deal of organic growth.
Even after discounting intangible assets, Ruddick Corporation has a Liability/Value ratio of about 51.9%, which is very low for the industry. The equivalent figures for SVU and GAP are over 100%. Industry heavyweight Kroger (NYSE:KR) is around 84% Liability/Value and Safeway (NYSE:SWY) is around 69%. The takeaway here is that RDK has managed their balance sheet much more conservatively than most grocery chains.
Tangible common equity for RDK is equal to about $17.40 per share. Compare that to the current selling price, which is around $24 - $25 per share, giving RDK a Price/Book ratio around 1.38. Of course, that wouldn't mean anything if Ruddick weren't profitable, but RDK has been consistently profitable and has increased earnings and cash flows over the past several years.
Earnings and Cash Flows
In FY '06 Diluted Earnings per Share (DEPS) were $1.52 per share for RDK. By FY '08, DEPS had grown to $2.00 per share. While RDK's FY '09 earnings have fallen a little bit, they still look to be in good shape. For the first three quarters of FY '09, they've earned $1.29 per share compared to $1.49 per share in the same period for FY '08. That might seem like a bit of a drop, but consider the fact that a lot of that "drop" has come from small non-cash writedowns that have become so common for nearly every company during this recession.
As an example, in RDK's most recent quarter, they earned 34 cents (per diluted share) vs. 51 cents the prior year. Seems like quite a drop, right? Before rushing to judgment, however, take a look a closer look at their income statement and you see that all of that drop can be attributed to a non-cash impairment charge. In actuality, they are earning almost exactly the same as they were last year. Once you take out the one-time charges, Earnings Before Taxes only fell from about 83 cents to 78 cents per share; after taxes, that translates to about a 3 cents per share difference. That's not bad when you consider the fact that Harris Teeter is headquartered in Charlotte and heavily concentrated in North Carolina, a state right at the epicenter of the financial crisis.
RDK's operating cash flows ("CFOs"), have been impressive as well. CFOs have been improving over the past four years and have continued to increase even while earnings have slid a little bit over the past year.
The chart below shows earnings and cash flow from operations over the past four years: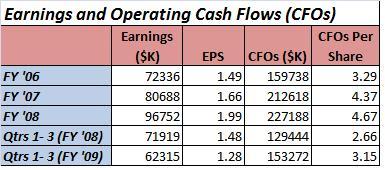 Ruddick has also managed to keep itself free cash flow neutral in spite of being in growth mode. When you consider growth prospects, combined with prudent, conservative management by Ruddick Corporation, I think you potentially have a good investment here.
Macroeconomic Outlook
One final consideration for Ruddick and grocers in general. The biggest threat for grocers over the past few decades has been the emergence of Wal-Mart and Target as "megagrocers", so to speak. While Wal-Mart and Target do threaten parts of the industry, it's also important to note that the Wal-Mart business model is based around the concept of cheap, readily-available oil. As oil prices drift higher and higher, people tend to start shifting back towards neighborhood discount grocers as slightly higher prices are offset by higher gas prices for the trip to Wal-Mart.
I would not consider this a major consideration in any buy analysis of Ruddick or the grocery stocks, but I do believe it goes against the more prevailing view that Wal-Mart will eventually destroy all the neighborhood grocers. I'm simply not convinced that Wal-Mart has gained enough advantages to do so. The main advantage they have is the power of pricing, but as Americans become more concerned about the quality of their food, we've seen that grocers with a more "high quality" bent can compete successfully against Wal-Mart and some of Wal-Mart's pricing advantages get eroded by higher oil prices. For those reasons, I am not one that automatically fears investing into the grocery sector.
Valuation and Conclusion
I ran a few valuation scenarios for Ruddick Corporation. If I go with a more timid $14.25 NTA figure (less than the actual figure of $17.40 per share), use a 9.5% cost of capital, and assume steady state earnings of $1.75 per share with 3% growth, I come up with a valuation of $40.50. And that may be somewhat conservative since I might be (a) over discounting their asset values, (b) understating their earnings, and (c) making too weak assumptions on growth. And yet, I still come up with a price about 67% higher than the current stock price of $24.
In my more custom valuation, with earnings for Year 1 starting closer to $2 per share, I came up with a valuation of $45. I think that's probably about right. My downside probable valuation is $36. My upside probable valuation is $50. Downside risk is around $15. Upside potential --- $60, but that might be a bit arbitrary. In reality, I'd be pretty happy to see this return to $40 - $45, which I believe it has a reasonable shot at doing.
Given Harris Teeter's growth prospects and the fact that even a reasonably conservative valuation comes up significantly higher than the stock's current selling price, I believe Ruddick (RDK) is a good buy in the grocery sector right now. It might even be worthwhile to do a pair trade by going long on RDK and going short on one of the more pricey grocers like Whole Foods (WFMI).
The market is overreacting on Ruddick. While I tend not to recommend too many stocks in more "conservative sectors", I believe at the current price, RDK has enough upside potential to make it appealing for even a more high-growth portfolio.
Disclosure: No position on RDK or any grocers.