Editors' Note: This article covers a micro-cap stock. Please be aware of the risks associated with these stocks.
Holloman Energy Corp. (OTCPK:HENC) is located in Houston, Texas, and is focused on finding and producing oil in Australia's Cooper Basin. HENC is traded on the OTCQB, and is current with its SEC filings. The company holds petroleum exploration licenses in the Cooper Basin; 1,000,000 acres of exploration leases are held on the onshore basin. 3D seismic has been shot on around 30,000 acres to determine where to drill. Drilling of the first hole will be in PEL 112, and should be any day now if it hasn't started yet.
The last 10-Q was filed on May 14, 2013, and is a good source of information on HENC. The following quote is from the 10-Q:
The Company currently holds working interests of 66.67% in two onshore Petroleum Exploration Licenses (PELs) in Australia. PEL 112 is comprised of 2,196 square kilometers (542,643 gross acres). PEL 444 is comprised of 2,358 square kilometers (582,674 gross acres). Both licenses are located on the southwestern flank of the Cooper Basin in the State of South Australia. The Company's oil and gas properties are unproven. As such, the costs capitalized in connection with those properties are not currently subject to depletion.

Effective May 11, 2012, the Company entered into a definitive Oil and Gas Farm-In Agreement with Terra Nova and its wholly owned subsidiary Terra Nova Resources Inc. ('Terra Nova'), Australian-Canadian Oil Royalties Ltd. ('ACOR') and Eli Sakhai ('Sakhai') on PEL 112 and PEL 444 (the 'Agreement'). The Agreement provides terms under which Terra Nova may earn up to a 55% undivided working interest in PEL 112 and PEL 444 (the 'Farm-In Interest').

During 2012, in connection with the Agreement, Terra Nova paid the Company non-refundable cash fees totaling $350,000, and 666,670 shares of its common stock with a fair market value of $193,334. The shares were measured at fair market value on a non-recurring basis using quoted market prices, and are categorized as a Level 1 fair value measurement under ASC Topic 820. The Company agreed to provide ACOR and Sakhai a full accounting of its use of the cash fees, and to share with ACOR and Sakhai, any excess of the cash fees over the transaction costs it incurred in connection with the Agreement. As a result of its analysis, the Company identified a total of $54,719 in excess fees to be refunded to ACOR and Sakhai. Of that amount, the Company has withheld $37,340 as a recovery of exploration costs payable to it by ACOR and Sakhai.
Terra Nova has contracted out the seismic work and drilling. Reading of the 10-Q will give more details. Heavy rains impacted drilling for 18 months starting in February 2010, and many are skeptical drilling will actually start this time and expect a postponement.
The following are company press releases that show drilling is on schedule:
Oil plays such as this are highly risky. The use of 3D seismic reduces the risk substantially, but many still consider this type of investment as gambling. HENC is an ideal speculation play for people wanting timely catalysts. Even for the player that isn't up for the binary event, the next press release may produce double-digit trading profit.
If the first well comes up dry, the stock will most likely be cut in half. If oil is hit, the stock should climb dramatically. How high will be determined by the grade of oil found and the amount calculated.
It looks promising when looking at the neighboring companies in the Cooper Basin. Take a look at Beach Energy's May report:
Cooper-Eromanga Oil -- Western Flank

The drilling program in PEL 92 (Beach 75% and operator, Cooper Energy Ltd (Cooper) 25%) continued in May with the drilling of two development wells in the Callawonga oil field (PPL 220, Beach 75% and operator, Cooper 25%). Both Callawonga-7 and -8 were cased and suspended after intersecting 3.5 and seven metre gross oil columns, respectively, within the McKinlay/Namur reservoir. The next well in the PEL 92 campaign is Mills-1, which is an exploration well located in the southern part of PEL 92.

In PEL 91 (Beach 40% and operator, Drillsearch Energy Ltd 60%), Sceale-1 discovered a six metre gross oil column in the Namur Sandstone and McKinlay Member, and tested oil at a rate of 830 barrels of per day from the McKinlay zone. The well has been cased and suspended for completion as a future oil producer. Congony-1 was spudded on 29 May and is designed to test a structure approximately 2.6 kilometres west of the recent Kalladeina-2 oil discovery. Congony-1 is drilling ahead at a depth of 1,987 metres.

Bauer-10 was drilled as a vertical development well on the eastern side of the Bauer oil field. The well reached a total depth of 1,727.5 meters on 1 June, intersecting an 11 metre gross oil column in the McKinlay/Namur reservoir. Bauer-10 was cased and suspended as a future oil producer.
Beach brought in five of five wells on leases located between PEL 112 and 444. The following inserts show location of PEL 112 and 444: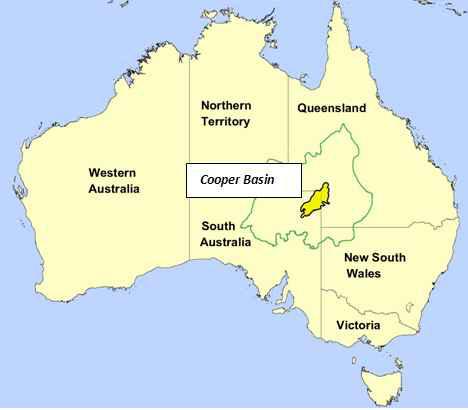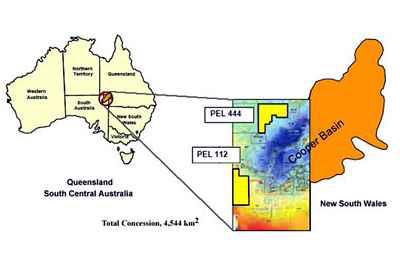 Twenty of 27 wells adjacent to PEL 112 were successful, with initial production rates of up to 3,000 barrels of oil per day. More on this can be found on the HENC homepage. Shareholders will find out this month whether or not the first hole drilled has oil. The second one is scheduled for September. A buyout by a major oil producer may happen in the next year or two if oil is hit. Interestingly, the economics of biotechnology and oil exploration plays are similar in that these very often produce geometric returns.
Disclosure: I am long OTCPK:HENC. I wrote this article myself, and it expresses my own opinions. I am not receiving compensation for it (other than from Seeking Alpha). I have no business relationship with any company whose stock is mentioned in this article.
Additional disclosure: I have a speculative position here due to upcoming catalyst.