The mojo meter for AudioCodes (NASDAQ:AUDC) just popped into the red zone this weekend for me. I don't know if you've been following my AudioCodes thread here on Seeking Alpha over the past 10 months, but my initial excitement was it being a play on Microsoft (NASDAQ:MSFT) Lync (call option) back in September at $1.40 per share. However, as of February, I discovered AudioCodes had a mobile product that was essentially an Over the Top solution (OTT) with its partner MailVision (AudioCodes acquired it in April) that catered to both wireless and wireline network operators. In essence, it has the answer to Mobile VoIP for network operators. On Friday evening, after AT&T (NYSE:T) acquired Leap Wireless (LEAP) for $15 per share ($6 one week ago) plus an additional $200 million (approx $2 per share) it dawned on me that spectrum is scarce and it's at a premium for wireless service providers as we've seen two other big deals hit the tape this year with Metro PCS (PCS) and Sprint (NYSE:S). I believe these deals place AudioCodes in pole position in driving cable providers to its offering of a wireless solution via OTT and just like LEAP, no analysts or institutions are paying attention which I see as a huge disconnect to the true value of AudioCodes shares.
Here's why AudioCodes mobile solution can bring call option type returns in the next 6 months:
The spectrum wars:
T-Mobile (NASDAQ:TMUS) buying Metro PCS, Softbank (OTCPK:SFTBY) acquiring Sprint, and AT&T acquiring Leap Wireless: Bidding wars are in place as service providers acknowledge that spectrum is a rare commodity and the one thing we've witnessed over the past 6 months is that service providers are jumping on it at any price. Cable providers are being left behind in an all wireless world. We saw the first cable player try to enter the wireless market when Dish Network (NASDAQ:DISH) made an unsuccessful bid for Sprint. Many have started Mobile Virtual Network Operator (MVNO) type businesses wholesaling the wireless spectrum, but they need more than this, they need an OTT solution to provide a unique product to its customers. This OTT solution will be surfacing sooner than later with all these bidding wars and the recent Dish move. More cable companies will step into the ring or on the edge of it via OTT.
Two forces are driving the need for spectrum; the growth of smartphones and the increasing proliferation of WiFi hot spots. By the end of 2013, approximately 1.5 billion smartphones will have been shipped. By 2017, research analysts are predicting over 2/3 of the world's population will have a smartphone, equal to 4.4 billion units. These numbers already favor the ability for all network operators to push mobile VoIP through as it takes much needed stress off already jammed wireless networks, it allows for less roaming charges for consumers and enterprises and it opens new markets and new revenue opportunities to the cable providers that are being left out by OTT and the world going wireless at a feverish pace.
In addition, the number of public WiFi hot spots is expected to reach 6 million by 2015. There are already a total of 6 million community WiFi hot spots from Fon. I can remember a few years back the mayor of Philadelphia stating he was going to make the whole city WiFi ready and everyone was like wow how's that going to happen? Well, with the proliferation of smartphones and WiFi hot spots only getting stronger its time mobile VoIP gets addressed.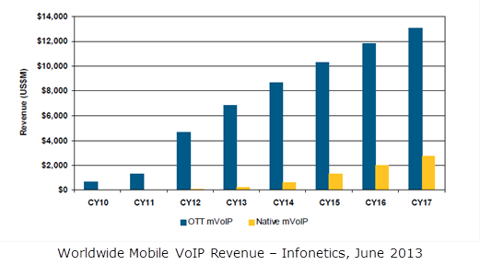 According to Infonetics, worldwide mobile VoIP revenues are expected to grow steadily through 2017 and starting this year we should see revenues coming from Native mVoIP.
AudioCodes Mobile Plus Solution:
It is my belief that AudioCodes' CFO, Guy Avidan is running its mobile OTT group. Guy's background is in communications as he spent 15 years at MRV Communications Inc, where he held various managerial positions. He has the contacts at the service providers and the know-how to push the mobile strategy forward. I believe that he was instrumental in the MailVision acquisition and has taken control of bringing Mobile VoIP to network operators. His background adds more credibility and seriousness to AudioCodes' mobile solution.
I believe AudioCodes' strategy will be to sell the technology and equipment to the telecom service providers that are desperately seeking an answer to the OTT business model and believe the enterprise market is ripe for the proper secure solution. This type of service could be rolled out on a per subscriber basis on a monthly basis creating a high margin, annuitized business to both the service providers and AudioCodes. AudioCodes could receive an upfront fee (E-SBCs, consulting and setup costs) and then charge $0.25 - $1.00 per subscriber per month. AudioCodes is already fully invested in this technology with minimal future R&D expenditures needed on a percentage of future sales, hence a windfall to the bottom line. I additionally believe that there are many high barriers to entry when it comes to the software behind this platform. I believe with a total of 250 million - 350 million enterprise smartphones in the market place it leaves a good size market in front of AudioCodes to make big profits.
With their own OTT solution, enterprises would be more likely to make its UC services available to employees on their mobile devices. A soft client platform would be downloaded onto an employee's mobile phone and a Client Management System would be installed in the enterprise office. The result is that when the employee is on the road, he is still connected to the company server. The employee can make secure, high definition, voice quality calls over Wi-Fi, or cellular calls that go through its E-SBC servers, they have presence, IM, access to contacts, and all the calling features they would have in the office, and all through the enterprises OTT network.
Mobile Plus would work on a variety of mobile devices and on different operating systems including iOS, Android, BlackBerry and Symbian. Next year I see AudioCodes conservatively generating annual revenues of $15 - $20 million on this mobile platform and command a software related gross margin of 75%.
Potential Candidates:
Time Warner Cable (TWC), Comcast (NASDAQ:CMCSA), Telefonica (Spain/Brazil) (NYSE:VIV), Liberty Media (LMCA), Verizon (NYSE:VZ), AT&T, Sprint, Orange etc... You folks all remember your local cable companies calling you for triple play 4-5 years ago? Today, these guys need new revenue generation to keep customers sticking as the internet threatens their phone and core content businesses. A mobile VoIP solution may just be one area that provides some traction.
It's clear that MailVision has established relationships with UPC, Telefonica, Vonage (NYSE:VG), Cellcom (NYSE:CEL) and a few other service providers over the past 3 to 4 years. The opportunity for AudioCodes to land a top tier service provider is very real. It is my opinion that since the acquisition of MailVision was done so hush-hush, I wouldn't be surprised if the outline of a deal was already harvested under the MailVision leadership prior to the acquisition. In any event, when AudioCodes reports its earnings on July 30th the topic must be addressed since the MailVision deal closed in May during this past quarter. Once one Tier One announces a deal with AudioCodes, I believe it'll be very easy to have similar players lining up at the door.
Cable Operator's Mobile VoIP Deployment :
A Polish cable operator Multimedia Polska, recently became the first cable operator to launch a SIP IMS service. Here are some comments from Ross Brennan, CEO of Cicero Networks whose company's software was chosen for the project:
"Ross Brennan, Cicero's CEO, said his company's software is being used by Polish cable provider Multimedia Polska to enable users to start a SIP-based VoIP call on WiFi and migrate onto a GSM networks-or vice versa. "It's an area that's been of interest to cable operators for quite a few years... (but) Multimedia is the first cable operator in the world to launch a SIP IMS service," he said".

"According to Brennan, Multimedia won't be the last cable operator to use FMC as a product differentiator and deployments won't be restricted to Poland or even Europe. "We're seeing more activity from cable operators in North America at the moment than we are in Europe for active projects, with an imminent service launch within the next 12 to 18 months," he said".
Valuation:
I usually break out the valuation on the revenues and the projected EPS for 2014 which I believe is the right way to value a value stock hitting an inflection point of turning into a growth stock. Today, I want to compare AudioCodes to direct competitors that were acquired over the past 12 months (consolidating industry). This will allow you to see the apples to apples valuation on its core business and the opportunity to get a free call option on AudioCodes' mobile VoIP solution over the next 3-6 months.
Sonus Networks (NASDAQ:SONS) acquired Network Equipment Technologies (NET) in August of 2012 for $42 million.
o Revenues ~ $44MM, Cash ~ $30MM, Debt ~ $34MM.
o The company was losing money and bleeding cash up to the time of the announced deal in June 2012.
o Revenues ~ $278MM, Cash ~ $300MM, Debt - Zero, EPS ~ $0.45 - $0.50.
o The company was the 800lb gorilla in the space and deserves the highest valuation.
AudioCodes has a total market capitalization of $187 million.
o Revenues ~ $135MM (2013) and $150MM (2014), Cash ~ $40MM.
o AudioCodes is two weeks away from delivering both positive EPS and positive cash flow for three straight quarters. The CEO on the last conference call stated the pipeline is growing and could materialize into strong growth in the next nine months.
From the above comparison AudioCodes is no APKT (market leader) and is definitely no NET (bottom of the cycle). Moreover, the industry as a whole is experiencing its first tailwind in many years (many competitors vanished in the past 2-5 years) which bodes well in valuing AudioCodes today versus 6 months ago, or even 12 months ago when these two companies were acquired.
I take APKT's 6.5 times revenues and 60 times EPS and NET's 1x revenues and obligations and find the middle at 3x revenues. I discount that as AudioCodes hasn't had its first overachieving quarter and believe AUDC should trade at 2x revenues today. 3x revenues on a takeover is plausible. In addition, a mobile VoIP deal will bring the multiple to 3, 4, or 5+ depending on the size of the service provider and the leverage it brings to the shares. Mobile VoIP will be a hot button in the near future as the evidence shown supports it and it makes fiscal sense. The fair value for AUDC is $7 - $7.79 on its current business. A mobile deal or mobile VoIP getting media attention takes us to $10+ in short order.
Today, Lazard upgraded Sonus Networks from neutral to buy with a $4.00 price target. I equate that this means Lazard is valuing Sonus a company on the verge of becoming profitable at 4x 2013 revenues. Investors looking at a direct comparison between the two companies will see the value in AudioCodes.
Institutional:
Analysts and institutions have been MIA on the name. Management has been proactive for the past 10 months by fielding calls and attending conferences from an assortment of brokerage houses, but the only coverage is Oppenheimer (Buy rated with $5 price target (1.2 EV times revenues)). I'm disappointed that neither Needham, nor Northland, nor Benchmark has picked up coverage. If I'm right on mobile VoIP it's still a cheap stock at $8 per share never mind $4.80. I have to say, looking at Leap, Metro PCS and Sprint it tells me my thesis on AudioCodes is not delusional just because the Fidelity's and T. Rowe Price's of the world haven't bought in, it just reminds me that if they don't come, someone else will overnight. I believe last week some institutional interest bought into AudioCodes when it crossed the 52-week high of $4.75.
I believe that this is the best time for institutions to step in and buy AudioCodes. The fundamentals, growth prospects, and secular outlook have never been better. It is introducing new products, has a mobile strategy that could add leverage to earnings and is a takeover candidate in a consolidating industry. We could finally see large buying and an increase in institutional ownership.
Chart: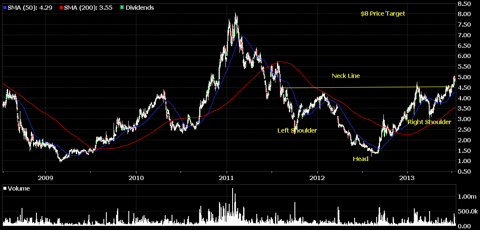 In looking at the AudioCodes chart we can see that it broke out of an inverse head and shoulders pattern. This break out gives a target of $8.00. The key line on the chart is the 50 day moving average, when AudioCodes moves higher the 50 day ma is support and when it moves lower the 50 day ma is resistance. AudioCodes is clearly in an upward move and we should see it ride the 50 day ma line all the way up to $8.00.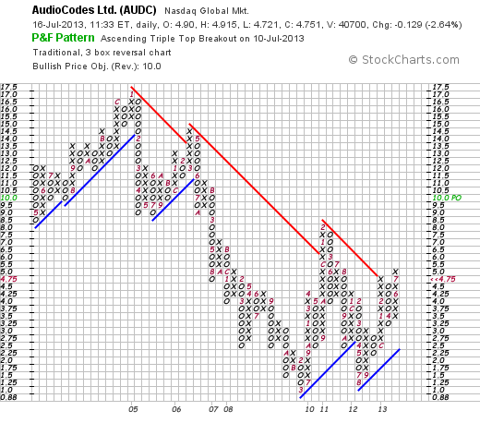 I have included the point and figure chart as last week we saw it break out of a downtrend that had been in effect since 2005. We saw an ascending triple top breakout which gives us a price target of $10.00. Point and figure charts show the balance of supply and demand in a stock, and the recent action tells us that AudioCodes is a stock where demand has taken control.
Conclusion:
AudioCodes currently trades at 1x revenue plus its net cash, leaving the downside at $0.50 - $0.75 if the company delivers this quarter and gives more color on the 2nd half along with a positive outlook for the industry as a whole. AudioCodes has been perfecting its mobile solution for 4 years and it's clear to me that with the explosion of smartphones and WiFi hot spots the market is now ready. I believe AudioCodes acquired MailVision for a call option price and you can buy it for a call option price prior to it discussing its MailVision acquisition on the conference call, the media bringing attention to mobile VoIP or AudioCodes actually signing deals or talking about MailVision's customers.
Disclosure: I am long AUDC. I wrote this article myself, and it expresses my own opinions. I am not receiving compensation for it. I have no business relationship with any company whose stock is mentioned in this article.