It may be a contrarian view - but I'm getting nervous about the Bakken crude oil producers for a number of reasons:
Short-term domestic supply/demand fundamentals.
The available refining capacity for light-sweet crude.
The recent deadly train wreck in Canada.
The RIN tax and high gasoline prices.
The inability of the US to export crude oil.
As we all know, domestic oil production from the Bakken, Eagle Ford, and Permian Basin is booming. Ironically, could the Bakken producers be victims of their own success? If so, it might be time to take some profits. Let me explain.
Supply/Demand
Currently, there are a number of array drilling pilot projects in process from producers like Whiting Petroleum (NYSE:WLL), Continental Resources (NYSE:CLR), and Kodiak Oil & Gas (NYSE:KOG). I described the pilot tests KOG is running in Kodiak Oil & Gas: New Completion Procedure Could Yield Much Improved Results. These projects typically drill a number of wells using pad drilling, simultaneously frack them and bring on all the wells' production at once. Assuming these projects are successful in facilitating communication between wells and benches, and raise per unit production rates and ultimate resource recovery (after all, those are the goals), the next couple of quarters could very likely see a big increase in Bakken production growth as all these backlogged test projects come online.
And of course most of this tight-oil is very high quality, light-sweet crude. As I pointed out in the article Bakken Crude: The Refiners Top Choice, premium light-sweet Bakken crude leads to improved refinery yields (i.e. more gasoline). But where will it go?
At a recent EIA conference, John Powell gave a presentation titled Implications of Increasing US Crude Production. Powell asked a couple of relevant questions that I too have been wondering about:
How much more tight oil can be absorbed by changing refineries?
Will the export market for petroleum products continue to absorb U.S. refinery production?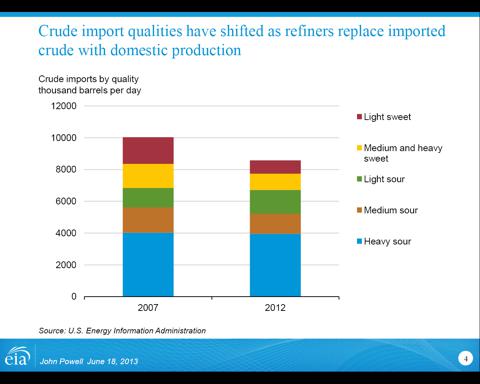 As can be seen from the slide above, light sweet crude imports have declined as refiners have replaced them with domestic supplies. Indeed, light sweet crude oil imports from Nigeria dropped by over 50% in 2011 alone: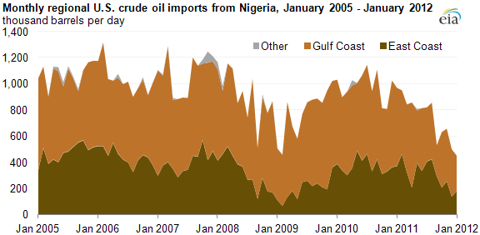 Can Refineries Absorb More Light Sweet Crude?
Before the shale revolution, US refineries spent huge sums to expand capacity to handle heavy crude from Canada, Venezuela, and Saudi Arabia. Even recently, BP (NYSE:BP) upgraded its Whiting refinery to run up to 350,000 bpd of Canadian heavy, up from about 80,000 bpd. That is a 270,000 bpd increase. So the question is, can US refineries absorb even more domestic light-sweet crude?
The ability to utilize more light-sweet crude varies by refinery. Light sweet processing capability can be prioritized, but many refineries would require large capital expenditures in hardware to substantially expand light-sweet capacity. That must be a tough pill for refiners to swallow after spending years devoting cap-ex toward capacity for imported heavy sour.
Depending on price, refiners may choose to blend different grades of crude prior to refining. Meantime, heavy crude processing units could be underutilized and total crude processing could actually decline as more light sweet feedstock means product yields will shift: more gasoline and less diesel. This actually dovetails nicely with the recent long haul trucking shift away from diesel and toward natural gas.
Will The Export Market Continue to Absorb US Refinery Output?
US gasoline and diesel exports principally supply Latin America and Europe. However, European demand is projected to slow and Latin America is bringing more local refining capacity online. Meantime, according to Powell, U.S. refineries are not currently competitive to supply Asia with diesel and gasoline. Bottom line: growth in export capacity may slow with only the most efficient coastal refiners able to capture export market share.
Canadian Train Wreck
The recent deadly oil-train wreck in Canada may likely lead to more government scrutiny and regulations. Platts quotes a report by Moody's that the fallout from the train derailment will likely limit the near-term growth in crude freight via rail. The report also predicts rail shipping and insurance costs will rise. If so, that would crimp Bakken producers' profit margins.
The RIN Tax
Ethanol RIN prices have been rising and directly affect the domestic cost of gasoline: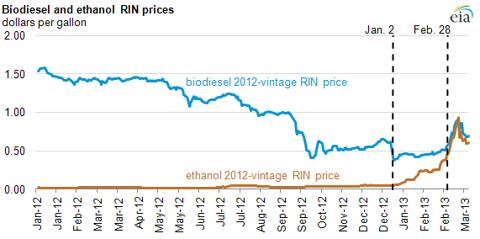 With the increasing Renewable Fuel Standard targets, the EIA expects that the supply of banked corn ethanol RINs will continue to fall over the next two years because of the lingering drought and the ethanol blend wall. This won't be good for gasoline prices, and could lead to slower consumer demand.
Inability To Export Crude Oil
Export licenses are not generally required for refined petroleum products. However, crude oil exports do require a license. There are some exceptions, but light-sweet crude from the shale plays is not one of them: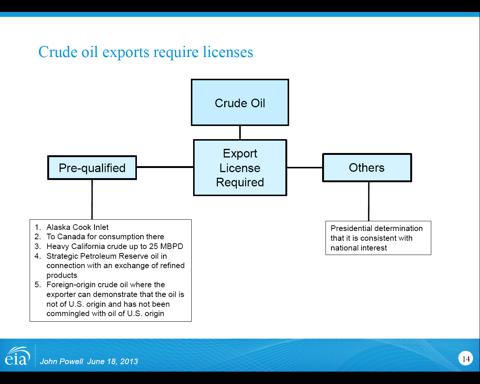 It would take a presidential decree to export light-sweet shale crude.
Bottom Line
Continued success of the Bakken producers, at least for the next couple of years, seems to boil down to the following:
Can domestic light-sweet refinery capacity keep up with domestic light sweet production?
If not, will the President allow light-sweet crude to be exported?
The US is still importing ~1 million barrels of light sweet crude per day. However, the slide below from IHS CERA, predicts domestic production of tight-oil (light-sweet) will grow by almost two million bpd over the next two years. As a result, light sweet domestic refining capacity will need to expand by approximately 1 million bpd over the next couple of years. If not, I would expect WTI prices to decline on basic supply/demand fundamentals. As we all know, the market is forward looking the price correlation could come before the fundamentals are obvious.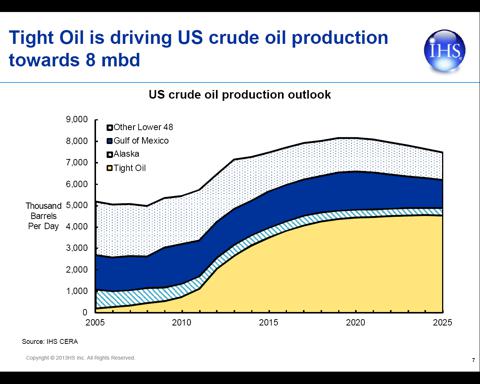 Risks To This Forecast
Recent comments by both CLR and WLL allude to the fact that Williston Basin rail and pipeline takeaway infrastructure is now sufficient to handle current and future production.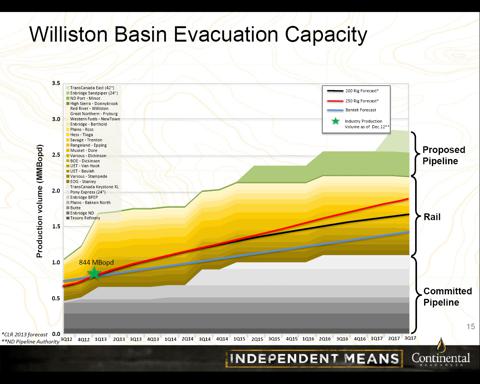 WLL said in its Q1 2013 conference call:
.... current takeaway capacity from the Williston Basin is more than 1 million barrels per day compared to current production of approximately 840,000 barrels per day. The recent increases in off-take are largely due to additional rail. The excess capacity has led to much narrower differentials in the Williston Basin.
So the big issue over the past couple of years for Bakken refiners (takeaway capacity) has largely been resolved. As a result, the Brent/WTI spread has narrowed sharply in 2013, with WTI generally rising. And this should be great for the Bakken producers. But although WTI has been trading nicely higher lately, how come producers' stock prices haven't followed and how long can WTI stay so strong?
There is also a chance the new completion techniques will not be as successful as producers hope. This could lead to slower production growth than expected, but I don't see how that is positive for the stocks.
Growth in the US economy could spur increased gasoline demand, which would keep WTI prices firm. Worldwide economic growth, and thus petroleum demand, in the emerging markets of Asia and Latin America could keep Brent prices strong, and by association WTI.
Summary & Conclusions
I see some near-term headwinds for the Bakken producers. While the takeaway infrastructure issue plaguing the industry over the past few years has been largely solved, it might be replaced by lack of light-sweet crude refining capacity.
Generally, Bakken producers' stock prices have lagged the broader stock market rally over the last year: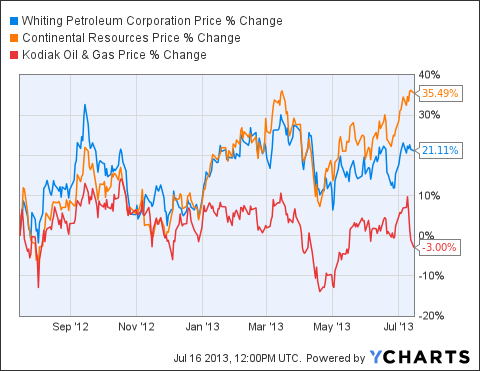 And this underperformance was in spite of impressive production growth. As I have pointed out, Whiting Petroleum has been unable to increase net-income in line with nicely growing production. So if earnings and stock prices haven't grown with production and fairly high oil prices, what will happen if oil prices (in particular WTI) fall if production of light-sweet crude out-strips refining capacity? While I expect refiners to blend and make small tweaks to hardware to absorb more light-sweet crude, I wouldn't expect major cap-ex refinery overhauls unless the price of WTI drops substantially from here. This could lead to prolonged weak prices for WTI while the refiners re-tool - unless producers cut back production. Either way, it is not a rosy scenario.
I also expect gasoline prices to stay high due to the ridiculous ethanol mandates. As a result, domestic gasoline demand is likely to remain tepid.
While I don't expect oil prices to drop to $50/barrel as Gulf Oil CEO Joe Petrowski predicted Monday on CNBC, I do expect WTI to weaken from today's $105 price. WTI prices in the range of $85-90/barrel do not seem out of the question over the next 6 months.
As a result of these market fundamentals, investors should consider taking some profits in Bakken producers (if they have any) in the short term. Consider paring back in shares of Whiting Petroleum, Continental Resources, Kodiak Oil & Gas, and even market leader EOG Resources (NYSE:EOG). Longer term I am bullish on the sector. But I want to see light-sweet refining capacity increase to absorb tight-oil production growth.
Disclosure: I am long WLL. I wrote this article myself, and it expresses my own opinions. I am not receiving compensation for it (other than from Seeking Alpha). I have no business relationship with any company whose stock is mentioned in this article.
Additional disclosure: I am an engineer, not a CFA. The information and data presented in this article was obtained from company documents and/or sources believed to be reliable, but has not been independently verified. Therefore, the author cannot guarantee its accuracy. Please do your own research and contact a qualified investment adviser. I am not responsible for investment decisions you make. Thanks for reading and good luck!