It was just over a month ago that I featured Epizyme (NASDAQ:EPZM) in an article about a company that had recently conducted an IPO and had a terrific pipeline. At the time Epizyme stock, which went public at $15 per share, was at an already impressive $27.99. In the last month the stock has continued impressive gains and now sits at $42.50. Epizyme is pushing on the door of a triple when compared to its IPO price, and is up an impressive 50% in the last month.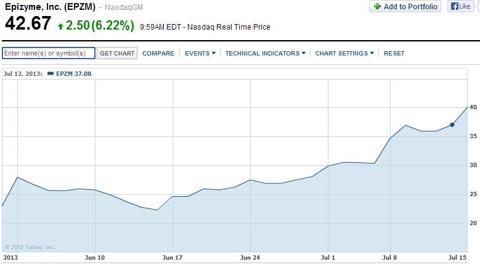 The Epizyme story is much better than a simple stock that is doing well. It is a story of a company that is executing on a well laid out plan. It is a story of a company that is at the forefront of patient specific treatments for cancer. Consider all that has happened in the last month.
Clearly Epizyme is one of the few companies that seems to create a symbiotic relationship between the science of pharma and medicine with the financial savvy it takes to run a public company. All too often companies look at one aspect of that dynamic as more important and because of that fall into mediocrity. Epizyme seems to have grasped the finance end of this business very early on.
Partnerships with big players that fuel the pipeline are already in place. Names like Eisai (OTCPK:ESALY), Glaxo Smith Kline, Roche, Abbott and Celgene (NASDAQ:CELG) all appear on the resume of Epizyme. These partnerships represent power combined with diversification.
Epizyme is now approaching a critical point in its life as an equity. It has sprinted from an IPO price to an impressive high. Nothing can sprint like that without taking a break. Investors need to remember that while the Epizyme story carries a lot of potential, there is still a long road ahead. Individualized treatments can be a challenge in a world where we tend to try to be in a one-size-fits-all dynamic. Monitoring, approving and selecting the exact treatment that works for a candidate is not a mass market proposition. It is a story about quantity vs. quality. On Wall Street quantity sometimes rules the day.
Speculative investments often enjoy more lofty valuations. Investors tend to see only the great things that are certainly due to happen with a company that has a compelling product. Epizyme seems to have passed the first test by impressing the street initially. Now each passing month will be about progress, results, cash flow and cash burn. To keep this company on its current course the milestone payments and successful trials are the keys to watch.
In contrast, as Epizyme continues to reach new highs, it may appear that it is too late. That thinking may cost you. When a company is doing so many things right, there is no bad time to get in. As long as Epizyme executes on its plan and gets the results it anticipates, all will be well. There will be hurdles, but keeping them manageable is key. Of course, each investor has its own strategy. One thing here is certain. If you are not already paying attention to Epizyme you need to be. Stay tuned.
Disclosure: I have no positions in any stocks mentioned, and no plans to initiate any positions within the next 72 hours. I wrote this article myself, and it expresses my own opinions. I am not receiving compensation for it (other than from Seeking Alpha). I have no business relationship with any company whose stock is mentioned in this article.