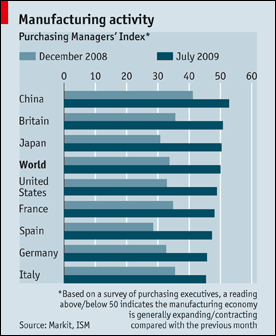 Economic and financial indicators prove green shoots are no UFO
The Institute for Supply Management™ ISM Manufacturing & Non-Manufacturing Report On Business® is considered by many economists to be the most reliable near-term economic barometer available. Six of the 18 manufacturing industries reported growth in July. Seven of 17 non-manufacturing sectors reported growth.
These reports are far from rosy. But they are a major improvement over the 2008 4th quarter and 2009 1st quarter. The improving trends are showing up around the world.
The sightings of green shoots are no fantasy.
Manufacturing industries in the world's leading economies are in a much better state than at the end of last year, according to surveys of purchasing managers. In three of the countries, China, Britain and Japan, the purchasing managers' indices compiled by Markit, a vendor of financial information, are above 50, indicating that manufacturing is growing again. And in the USA, France, Spain, Germany and Italy major improvements over December 2008 have been made as indices rise above 45.
In December 2008 only China's index was even above 40; in January Japan's dipped below 30. In America, the Institute for Supply Management's index rose by more than four points in July to 48.9, the highest reading since last September. That still implies contraction, though at a less marked rate.
Many countries leading economic indicators are rising
The Conference Board is the leading organization monitoring and measuring world economic indicators. The July report once again showed the USA leading economic indicators rising. Moreover the pattern is similar around the world. We knew China and India were showing early signs of improvement during the first quarter. Now the Conference Boards latest July and August reports shows the Leading Economic Indicators are rising in Japan, Korea, Mexico, Australia, France, Germany and the UK. Germany just announced today their exports rose 7%.
Green Shoots are sprouting around the world. Everyone still agrees the climb out of the worst recession in decades will be long and slow. But you'd be in denial to ignore the improvements and economic facts.
Still, the debate over economic monetary and fiscal policy will continue to rage on indefinitely. Keynesian Economist and Austrian Economist still debate the effectiveness of the Great Depression policies of Hoover and Roosevelt. So there is no reason to expect Republican's and Democrats to agree. As for me, I'm just glad to see the world in a state of improvement instead of a economic nuclear winter.
It's now clear the collective wisdom of the stock market proved, once again, to be more rational then irrational.