For my first foray here at Seeking Alpha, I thought I'd try a high-degree-of-difficulty pick - namely short Amazon.com (NASDAQ:AMZN). The pick is particularly difficult given that the stock hit new all time highs on Friday (closing at $307.55) such that anyone who's ever bought the stock feels vindicated by their gains. Nonetheless I'll go on record as predicting that within 9 months (end of Mar 2014) the stock will be down substantially, trading below $200 at some point within that time frame.
Many other SA authors have done admirable work showing how the company's valuation metrics and operating numbers are deteriorating. Both Timothy Phillips and Paulo Santos have done yeomen's work in this regard, and I hope to return to some of their points as I develop my overall thesis. But for now I think it's important to observe that the prevailing approach within the investment community is to consider Amazon a "no-brainer" long and then to generate reasons justifying the belief. Thus when Amazon misses analysts' expectations, the analysts simply revise their models with new numbers to generate new buy targets. It reminds me a bit of the Medieval Scholastics who, when faced with new contradictory evidence, simply proceeded to come up with more esoteric arguments to justify their pre-determined beliefs.
What's needed then, is a review of the notion that Amazon is a "no-brainer" long.
Let me begin my analysis by stating something not usually heard from a short: I think Amazon is a great company. But there are many perspectives from which to measure greatness, and indeed it's easy to confuse some of these for reasons to own the stock - a confusion which I believe to be operative in this case. Clearly Amazon is and has been great for consumers. The company's been instrumental in lowering prices on books and electronics, it's taken customer service to a consistently high level, it's made product reviews more prevalent and easy to use/provide than they ever had been, etc. Indeed as one recent SA author points out, for two years straight consumers found Amazon to have the most desirable brand.
It's a similar story for employees. By most accounts Amazon is a great place to work, and since virtually everyone is paid partially in stock, it has been very lucrative for years now. Moreover it's become cool to work at Amazon, as noted in this article for example. Yet the same article inadvertently makes another telling point. The author has to revise his reporting of the company's motto as follows: "Work hard, have fun, make money history."
Which brings me to my main thesis. Amazon is great for customers and employees, but it's not great - indeed it's terrible - for owners. As the strikeout above demonstrates, making money is not what Amazon is about. In its view, all benefits should flow to customers and employees, such that no earnings remain for shareholders. Figures 1 and 2 help illustrate this point.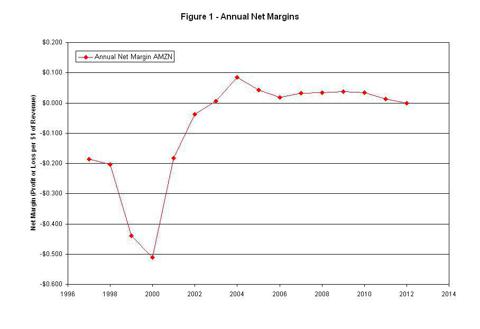 Figure 1 shows the company's historical net margins. For many years they were negative, then they peaked at just under $0.10 and have been decreasing since then. In the 16 years since going public AMZN has cumulative revenues of $245.5 billion, yet has only generated $1,94 billion in cumulative profits. So for every dollar in revenue the company's ever made, they've only returned $0.0079 to owners as earnings. Yes, less than a penny. And lest you think that's a historical remnant of early loss-making years, consider the trend in figure 1 and realize that even in the past 3 years the net margin has only been a meager $0.012 (total profit of $1.774B / total revenues $142.4B).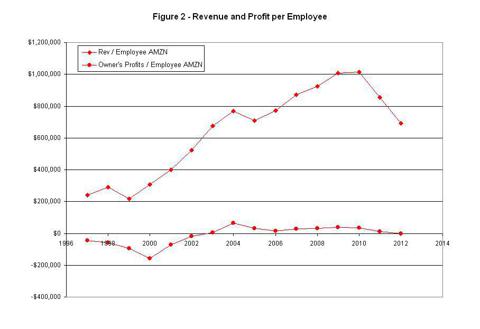 Figure 2 shows annual revenue and profit per employee (using year-end employee count). Over the 16 years since its IPO, each Amazon employee has on average generated $642,000 in revenue, yet only an average of $12,000 of that has been returned to shareholders as earnings. Moreover the trends aren't good (likely because of the increased investment in fulfillment). Both the revenue per employee and the profits per employee have been declining over the past few years - likely portending even worse returns to shareholders.
Growth at what Price?
Of course the argument for high growth companies is, and always has been, that they will grow into their current valuations. No company's proponents have been more vociferous than Amazon's in heralding this view. Fortunately we now have 16 years of public data to test how well it's worked out. Figure 3 shows the cumulative earnings returns for 1, 5 and 10 year periods assuming that we bought the company on the date shown in each year's 10K filing (I used this date because the exact share count is available for it). Taking the enterprise value (which for simplicity I take as market cap + long term debt) we can see how much cumulative pay back is generated in the subsequent 1, 5 and 10 year periods.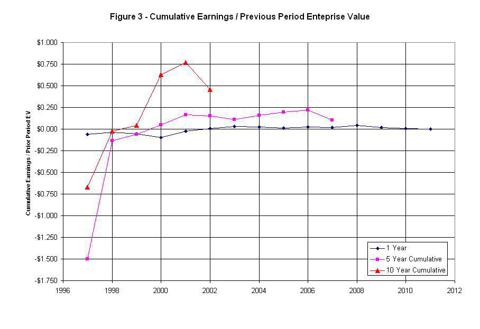 To read the graph, consider any year, then the corresponding points will tell you how many dollars in earnings you would have been paid back for your initial investment that year. So if you'd bought in 2001 after the precipitous market decline you'd have taken a $0.024 earnings loss after one year, and gained $0.163 and $0.769 in cumulative earnings after 5 and 10 years respectively. Thus even in the best possible years you'd never have been paid back your initial investment after 10 years, nor would you ever even get $0.25 back after five years. Given that many companies use 3 and 5 year paybacks as a gage of whether to invest money in a project, these results seem quite poor.
The data suggests that those expecting Amazon to "grow into its valuation" have been sorely disappointed ever since the company's IPO - and the trend is only getting worse.
Forward Looking vs Backward Looking
I realize that companies are valued on future earnings and cash flows and that these can change markedly over time. But for over 15 years now the argument has been "Amazon will make bundles of money in the not-too-distant future". At some point the historical data can help us understand the operating principles and philosophy of a company, and I submit that 15 years gets us well past that point. Moreover, the conclusion is that much stronger when the same CEO has run the company since its inception and he's fully institutionalized his management philosophy.
Accordingly I think that the historical data is very relevant to anticipating future results. And that data suggests that there will be no boom in earnings for shareholders, indeed everything we know about the company demonstrates that making money for owners is simply not in the company's DNA.
The idea that Amazon is not built to generate earnings for its owners is a significant component of my short thesis. But there's more to it, and I hope to present other aspects in future articles. For instance, I'd like to look at an important argument from the long Amazon camp which holds that the company should be valued as a disruptive ground-breaker rather than as a low margin retailer. Similarly, I should answer the obvious question: "Since most of what I argue here has been true for a while, why short now rather than waiting for a $500 or a $1,000 stock price?"
Those topics remain for the future, but before ending this article, let me anticipate some comments with these caveats:
Even though I'm suggesting AMZN as a good short, I fully recognize that Jeff Bezos is much smarter than I am. Yet that's not in itself a reason to be long the stock. There has to be some price at which AMZN is overvalued (though most longs would likely deny this). Moreover the stock price is set by the market, not by Mr. Bezos; indeed Mr. Bezos goes out of his way to reject the voting machine valuation of the company and is adamant that a price rise of AMZN stock is not important to him nor a primary measure of his company's success.
My numbers are taken from the company's 10K reports / annual reports and transcribed to a spreadsheet by hand. I've looked the data over for errors and inconsistencies, but any mistake is mine. Moreover the data is annual and I've chosen a single date each year (corresponding to the date at which the share count is known) to calculate market cap and enterprise value. I consider these values to be representative of the historical data, but of course if one bought on other days of each year, the subsequent returns would be different.
I'm taking top line numbers from each year's 10K to be representative of the overall trends in the company's performance. There have been accounting changes over the timeframe considered, and I have not tried to adjust the numbers to give some type of pro-forma values based on 2013 accounting standards. Any professional accountant out there who thinks this would be worthwhile is encouraged to provide second order estimates adjusted for various accounting treatment changes.
Disclosure: I am short AMZN. I wrote this article myself, and it expresses my own opinions. I am not receiving compensation for it (other than from Seeking Alpha). I have no business relationship with any company whose stock is mentioned in this article.
Additional disclosure: Disclosure: I'm short AMZN the stock. I'm also a happy customer of Amazon.com the company.