Welcome to the summer of 2013 - where the majority of the country is embroiled in rising temperatures, rising oil prices, and rising interest rates. This three-pronged attack may ultimately start to cool down the white hot stock market and alter the landscape of consumer activity for the remainder of the year.
Most of us are used to the seasonal spike in gas prices that typically comes around this time of the year. But the 12% rise in the price of the United States Oil Fund (NYSEARCA:USO) over the last four weeks is certainly going to make life more difficult for travelers that are tightening their belts and preparing for summer vacations. USO tracks the daily price movement of the West Texas Intermediate light, sweet crude oil, which has been gaining steam since the middle of June.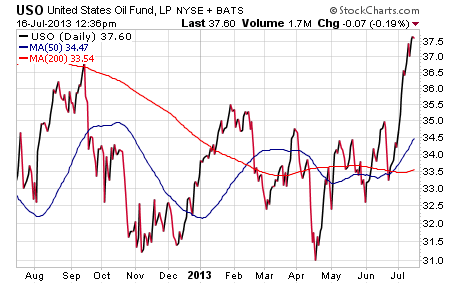 This fund just recently hit new 2013 highs and does not appear to be running out of momentum any time soon. Ultimately, we may see oil prices continue to soar this summer as consumer demands ramps up during the peak driving season and supplies dwindle. This imbalance of supply and demand will most likely favor continued strength in the energy sector for the remainder of the summer months.
Another factor that will weigh heavily on consumers this summer is the recent spike in interest rates, which will undoubtedly temper mortgage and housing market activity. Refinancing and mortgage applications have dropped significantly already as homeowners reevaluate the affordability of their payments in the wake of higher interest rates. Many households may have to scale back their plans to refinance their home or move into a more expensive house that would have been affordable when 30-year fixed mortgage rates were below 3.5%.
Two areas of the market to watch this summer that could be affected by higher interest rates and slowing housing activity are the banking and real estate sectors. The SPDR S&P Bank ETF (NYSEARCA:KBE) is made up of 48 banks across the nation and currently contains $2.4 billion in assets under management. Many of the underlying banks within this ETF derive a portion of their revenue from mortgage activity, which could eat into their future profits if this application downtrend continues. In addition, the iShares U.S. Real Estate ETF (NYSEARCA:IYR) could also hit a stumbling block if higher interest rates slow the acquisition of new property and development by real estate investment trusts.
If we do see consumers start to tighten their belts, it may ultimately lead to a slowdown in discretionary spending which could impact the Consumer Discretionary Select Sector SPDR (NYSEARCA:XLY). This ETF has been one of the market leaders so far in 2013 as stocks in the retail, auto, and entertainment industries have continued to march higher. Right now the trend is still in favor of discretionary stocks but I am watching this sector closely for signs of weakness that may spill over into the rest of the market.
On the flip side, an area of the market that I think will continue to outperform this year is healthcare. The Health Care Select Sector SPDR (NYSEARCA:XLV) has been quite resilient and is clearly a recession proof industry. With aging population demographic and increasing healthcare costs, the earnings of these companies should continue to shine in the coming months.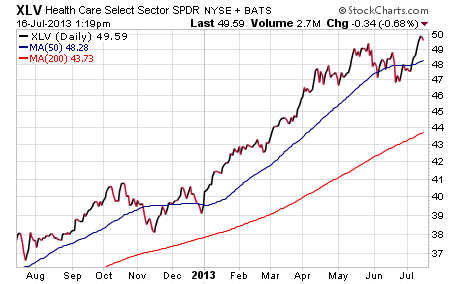 While I don't advocate buying XLV right here near its highs, I do believe that this ETF should have a spot on your watch list for a future purchase on a pullback in the market. I am still anticipating additional summer volatility in stocks, which should setup for a strong finish to the year. In the meantime I am continuing to evaluate both economic and technical data to establish entry points for cash on the sidelines.
Disclosure: I have no positions in any stocks mentioned, and no plans to initiate any positions within the next 72 hours. I wrote this article myself, and it expresses my own opinions. I am not receiving compensation for it. I have no business relationship with any company whose stock is mentioned in this article.
Additional disclosure: David Fabian, Fabian Capital Management, and/or its clients may hold positions in the ETFs and mutual funds mentioned above. The commentary does not constitute individualized investment advice. The opinions offered herein are not personalized recommendations to buy, sell or hold securities.