It is indeed possible to find attractive investments with low risk (in relative terms) in the current market situation, but there is no denying that, with the US indexes very close to all-time highs (S&P 500 just 0.4% below that global maximum, NASDAQ 0.1%, and Dow Jones 0.5%), probably the average intelligent investor will have to put more effort into her investment strategy. But not much more: here I present my 5 top tips for the upcoming weeks:
1) No need to be fearful (at least not yet): the ECB's president Mario Draghi announced a few days ago that the Euribor (the interbank market reference interest rate in the Euro area) "is expected to remain at present or lower levels", and the first (and most important) reaction of the market to this news was extremely positive (see Figure 1: Eurostoxx 600, July 4); plus, the Fed keeps its liquidity-injecting business as usual (QE1: USD 1,650 Billion, QE2: USD 600 billion, QE3: over USD 360 billion). It looks like the world's main central banks have become some sort of "wonder parents", which refuse to let their son (Mr. Market) fall.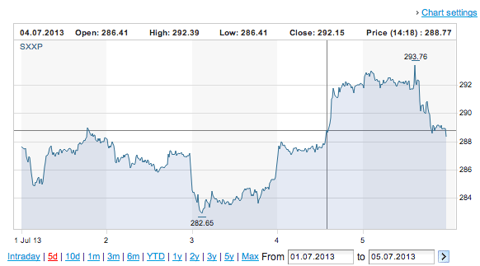 However, I feel I need to make a brief (but essential) remark here: It's true that there's a huge correlation between the US monetary base and S&P 500 performance, but as Dr. John Hussman (PhD in economics from Stanford) reminds us, correlation and causation are two different things; nonetheless, the fact that mathematically cannot be stated that expanding the monetary base will necessarily cause an upside move in the stock market, the opposite is not true either, and in fact the only thing we know for certain is that up until now it has worked this way (and nothing suggests it will stop behaving like this in the near future). I leave the investor with the following compelling chart (Figure 2).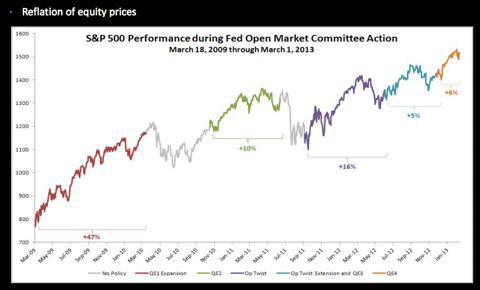 2) Europe, right now a better option than the US and Japan: Europe is still about 15.5% cheaper than the US in terms of P/E: Euro Stoxx 50 (P/E: 15.57, according to informercados.com) vs the S&P 500 (P/E: 18.43, according to WSJ), which makes room for a larger upside move. The Japanese market, on the other hand, because of the radical monetary policy implemented a few months ago, may be a toy in the hands of Ms. Volatility, and therefore technical analysis will not provide the investor with reliable advice. Europe offers stocks with higher expected Sharpe ratio than the US (low expected return) and Japan (huge volatility). For instance, German automobile manufacturer Volkswagen looks very attractive, for several reasons: excellent diversification after the acquisitions of Audi (Germany), Bentley (NASDAQ:UK), Bugatti (France), Lamborghini (Italy), Porsche (Germany), SEAT (Spain), Skoda (Czech Rep.), Ducati (Italy), and 20% of Suzuki (Japan); moreover, Volkswagen is the foreign car maker with the largest market share in the Chinese market; plus, it has one of the most solid cash figures in the industry (€18.5 billion, according to the company's financial statements as of Dec. 31, 2012), this fact combined with no expected further acquisitions, makes room for a possible dividend increase; last but not least, its P/E ratio of just 3.68, which is very cheap compared to major competitors like BMW's 9.22 or Toyota (NYSE:TM) 16.65.
3) What are the best sectors to pick in Europe and the US? I suggest moving from defensive stocks like utilities, fast food chains or supermarkets, and going for the more cyclical stocks like luxury goods or tech stocks. Basically, the point here is to switch from low-Beta stocks (B<1) to high-Beta ones (B>1), so as to amplify the (hopefully upside) movement of a given market (which, by definition, has Beta=1). Here my personal bets would be Coach Inc. (COH), which offers high-end leather goods at very reasonable prices and has a very strong market position in China; and Google (NASDAQ:GOOG), which has so many strengths (to name a few: scale, bargaining power with suppliers, wide diversification, excellent brand positioning, and happy workers).
4) Any M&A deals coming up? As Philippe Lecoq (Vice Director of the European Stocks section in Edmond de Rothschild AM) said in a recent interview, the UK may well become one of the most active regions in Europe in terms of M&A deals, since it's a market with many attractive companies trading at a discount (in terms of P/E), which makes them a potential target for acquisitions and spin-offs. For instance, as Reuters informed on July 4, British energy services company Kentz aims to buy one or two engineering firms this year, so it may be worth to keep an eye in the following weeks.
5) Is dividend investing still a nice alternative? Yes and no: in a low-risk market like the US it might still be a decent option, but in Europe, the investor must be very careful, as the Macro framework is still uncertain (the Cyprus case, for instance) and therefore basing one's investment decision on dividends alone probably is not a good idea (dividend cuts or cancellations, script dividends which increase one's position instead of providing liquidity…) and therefore must be limited to big, solvent companies, that offer attractive dividends. For example, in the US you have AT&T (NYSE:T) 5% dividend yield, Verizon (NYSE:VZ) 4%, Intel (NASDAQ:INTC) 3.7%, or even Coca-Cola (NYSE:KO) 2.7%; and in Europe, for instance Banco Santander (NYSE:SAN) which offers an outstanding 9.3% (yes, I agree that the words "Spanish" and "Bank" put together may sound a little dangerous these days but don't forget that SAN has an extremely geographically diversified income and on top of that is one of the few banks considered "systemically important" or in other words, "too big to fail").
To sum up, the current level of the main US indexes (in all-time highs) does not mean that we are running out of investment opportunities: we have European markets that are interesting in different ways, and we can even keep investing in the US market provided the Fed keeps the monetary stimulus and making a little twist to our investing approach (cyclical stocks and solid high dividend yield blue chips). More specifically, my personal bets for the next weeks (or even months) would be: first, Coach (luxury stock with geographically diversified income and a nice 2.3% dividend on top of that); second, Volkswagen (excellent diversification across market segments and countries, large proportion of income coming from luxury brands, and a possible dividend increase); finally, Santander is also an attractive option due to its high dividend yield, but it is certainly a riskier alternative which may call for a hedging strategy to cover a possible price fall (through a short position using CFDs for instance).
Disclosure: I have no positions in any stocks mentioned, and no plans to initiate any positions within the next 72 hours. I wrote this article myself, and it expresses my own opinions. I am not receiving compensation for it (other than from Seeking Alpha). I have no business relationship with any company whose stock is mentioned in this article.